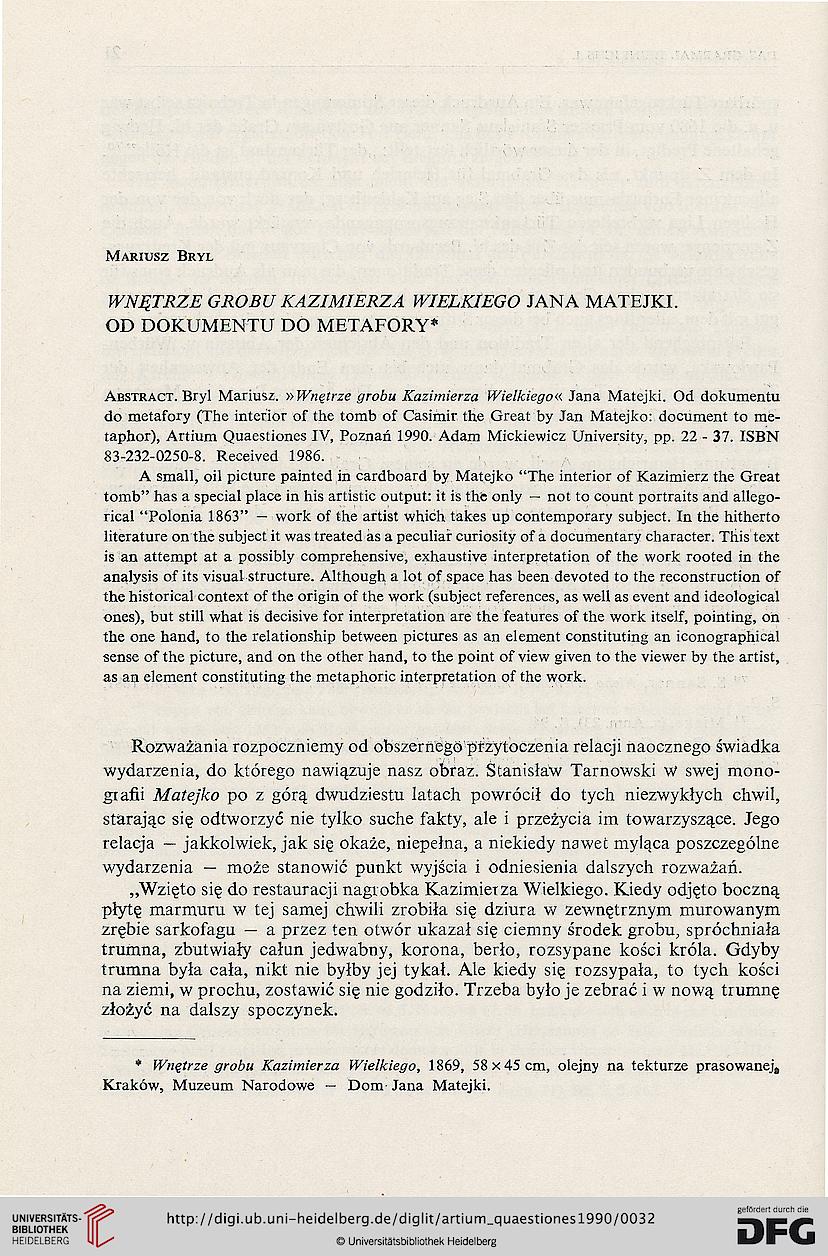 WNĘTRZE GROBU KAZIMIERZA WIELKIEGO JANA MATEJKI.
OD DOKUMENTU DO METAFORY*

Abstract. Bryl Mariusz. »Wnętrze grobu Kazimierza Wielkiego« Jana Matejki. Od dokumentu
do metafory (The interior of the tomb of Casimir the Great by Jan Matejko: document to me-
taphor), Artium Quaestiones IV, Poznań 1990. Adam Mickiewicz University, pp. 22 - 37. ISBN
83-232-0250-8. Received 1986.

A small, oil picture painted in cardboard by Matejko "The interior of Kazimierz the Great
tomb" has a special place in his artistic output: it is the only — not to count portraits and allego-
rical "Polonia 1863" — work of the artist which takes up contemporary subject. In the hitherto
literature on the subject it was treated as a peculiar curiosity of a documentary character. This text
is an attempt at a possibly comprehensive, exhaustive interpretation of the work rooted in the
analysis of its visual structure. Although a lot of space has been devoted to the reconstruction of
the historical context of the origin of the work (subject rqferences, as well as event and ideological
ones), but still what is decisive for interpretation are the features of the work itself, pointing, on
the one hand, to the relationship between pictures as an element constituting an iconographical
sense of the picture, and on the other hand, to the point of view given to the viewer by the artist,
as an element constituting the metaphoric interpretation of the work.

Rozważania rozpoczniemy od obszernegó pfzytoczenia relacji naocznego świadka
wydarzenia, do którego nawiązuje nasz obraz. Stanisław Tarnowski W swej mono-
gtafii Matejko po z górą dwudziestu latach powrócił do tych niezwykłych chwil,
starając się odtworzyć nie tyllco suche fakty, ale i przeżycia im towarzyszące. Jego
relacja — jakkolwiek, jak się okaże, niepełna, a niekiedy nawet rnyląca poszczególne
wydarzenia — może stanowić punkt wyjścia i odniesienia dałszych rozważań.

"Wzięto się do restauracji nagrobka Kazimietza Wielkiego. Kiedy odjęto boczną
płytę marmuru w tej sarnej chwili zrobiła się dziura w zewnętrznym murowanym
zrębie sarkofagu — a przez ten otwór ukazał się ciemny środek grobu, spróchniała
trumna, zbutwiały całun jedwabny, korona, berło, rozsypane kości króla. Gdyby
trumna była cała, nikt nie byłby jej tykał. Ale kiedy się rozsypała, to tych kości
na ziemi, w prochu, zostawić się nie godziło. Trzeba było je zebrać i w nową trumnę
złożyć na dalszy spoczynek.

* Wnętrze grobu Kazimierza Wielkiego, 1869, 58 x 45 cm, olcjny na tekturze prasowanci,
Kraków, Muzeum Narodowe — Dom Jana Matejki.