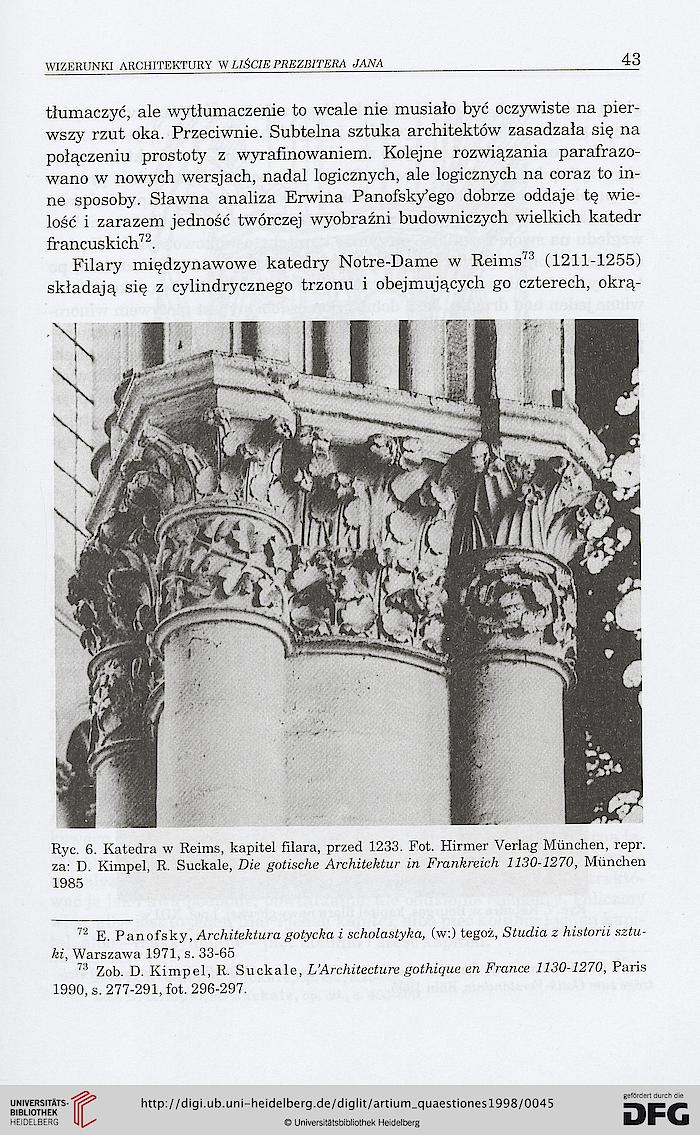 43

tłumaczyć, ale wytłumaczenie to wcale nie musiało być oczywiste na pier-
wszy rzut oka. Przeciwnie. Subtelna sztuka architektów zasadzała się na
połączeniu prostoty z wyrafinowaniem. Kolejne rozwiązania parafrazo-
wano w nowych wersjach, nadal logicznych, ale logicznych na coraz to in-
ne sposoby. Sławna analiza Erwina Panofsk/ego dobrze oddaje tę wie-
lość i zarazem jedność twórczej wyobraźni budowniczych wielkich katedr
francuskich'2.
Filary międzynawowe katedry Notre-Dame w Reims73 (1211-1255)
składają się z cylindrycznego trzonu i obejmujących go czterech, okrą-


Ryc. 6. Katedra w Reims, kapitel filara, przed 1233. Fot. Hirmer Verlag Mimchen, repr.
za: D. Kimpel, R. Suckale, Die gotische Architektur in Frankreich 1130-1270, Munchen
1985

72 E. Panofsky, Architektura gotycka i scholastyka, (w:) tegoż, Studia z historii sztu-
ki, Warszawa 1971, s. 33-65
73 Zob. D. Kimpel, R. Suckale, LArchitecture gothiąue en France 1130-1270, Paris
1990, s. 277-291, fot. 296-297.