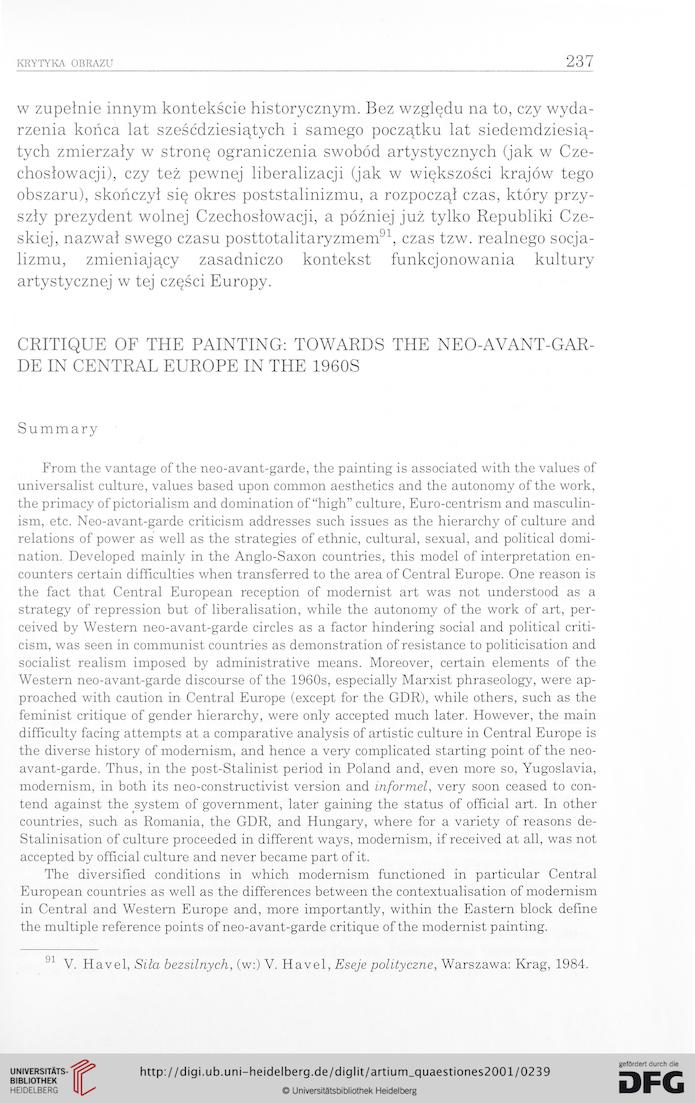 237

w zupełnie innym kontekście historycznym. Bez względu na to, czy wyda-
rzenia końca lat sześćdziesiątych i samego początku lat siedemdziesią-
tych zmierzały w stronę ograniczenia swobód artystycznych (jak w Cze-
chosłowacji), czy też pewnej liberalizacji (jak w większości krajów tego
obszaru), skończył się okres poststalinizmu, a rozpoczął czas, który przy-
szły prezydent wolnej Czechosłowacji, a później już tylko Republiki Cze-
skiej, nazwał swego czasu posttotalitaryzmem91, czas tzw. realnego socja-
lizmu, zmieniający zasadniczo kontekst funkcjonowania kultury
artystycznej w tej części Europy.

CRITIQUE OF THE PAINTING: TOWARDS THE NEO-AVANT-GAR-
DE IN CENTRAL EUROPE IN THE 1960S

Summary
Frorn the vantage of the neo-avant-garde, the painting is associated with the values of
universalist culture, values based upon common aesthetics and the autonomy of the work,
the primacy of pieto rialism and domination of "high" culture, Euro-centrism and masculin-
ism, etc. Neo-avant-garde criticism addresses such issues as the hierarchy of culture and
relations of power as well as the strategies of ethnic, cultural, sexual, and political domi-
nation. Developed mainly in the Anglo-Saxon countries, this model of interpretation en-
counters certain difficulties when transferred to the area of Central Europę. One reason is
the fact that Central European reception of modemist art was not understood as a
strategy of repression but of liberalisation, while the autonomy of the work of art, per-
ceived by Western neo-avant-garde circles as a factor hindering social and political criti-
cism, was seen in communist countries as demonstration of resistance to politicisation and
socialist realism imposed by administrative means. Moreover, certain elements of the
Western neo-avant-garde discourse of the 1960s, especially Marxist phraseology, were ap-
proached with caution in Central Europę (except for the GDR), while others, such as the
feminist critiąue of gender hierarchy, were only accepted much later. However, the main
difficulty facing attempts at a comparative analysis of artistic culture in Central Europę is
the diverse history of modemism, and hence a very complicated starting point of the neo-
avant-garde. Thus, in the post-Stalinist period in Poland and, even morę so, Yugoslavia,
modemism, in both its neo-constructivist version and informel, very soon ceased to con-
tend against the system of govemment, later gaining the status of official art. In other
countries, such as Romania, the GDR, and Hungary, where for a variety of reasons de-
Stalinisation of culture proceeded in different ways, modemism, if received at all, was not
accepted by official culture and never became part of it.
The diversified conditions in which modemism functioned in particular Central
European countries as well as the differences between the contextualisation of modemism
in Central and Western Europę and, morę importantly, within the Eastern błock define
the multiple reference points of neo-avant-garde critiąue of the modemist painting.

91

V. Havel, Siła bezsilnych, (w:) V. Havel, Eseje polityczne, Warszawa: Krąg, 1984.