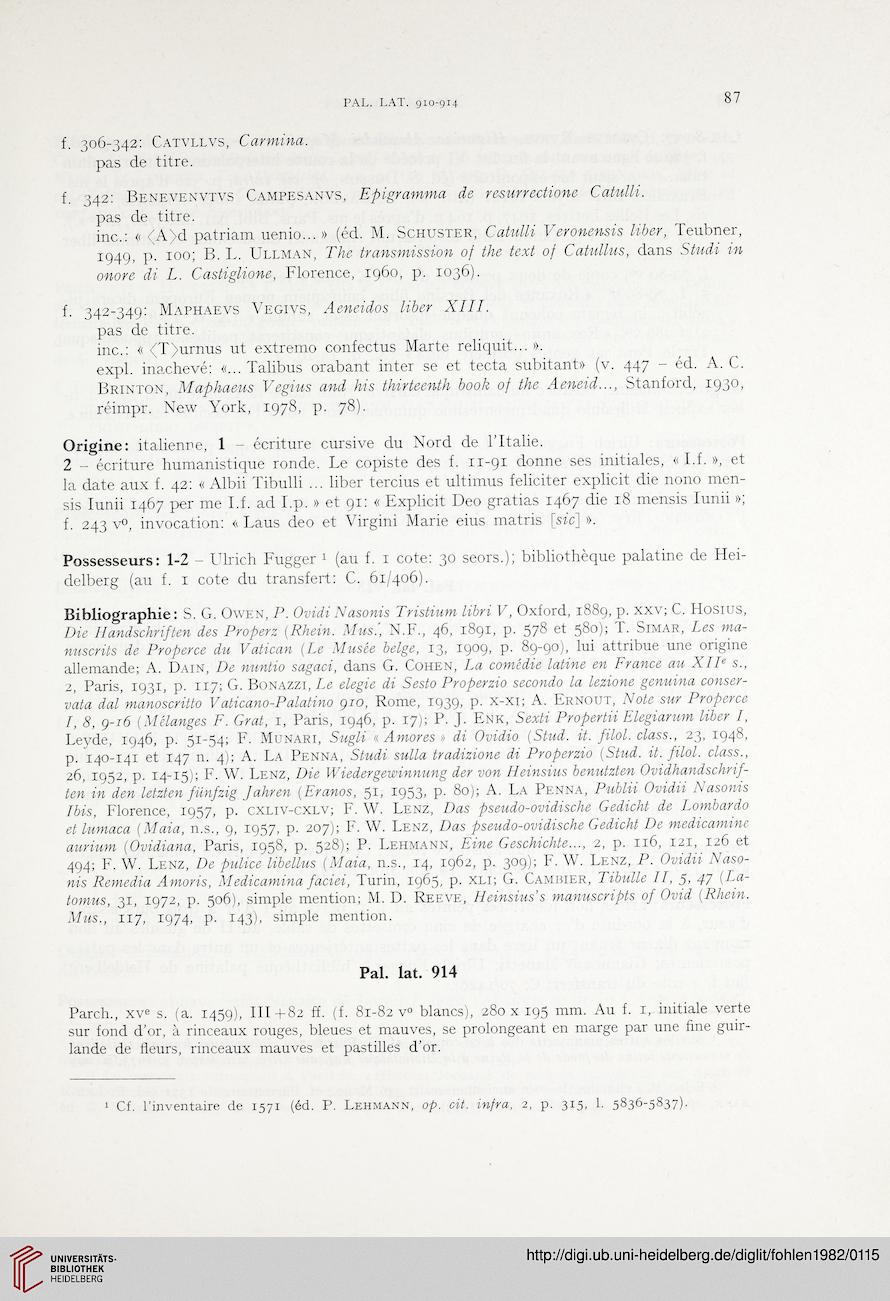 87

f. 306-342: Catvllvs, Carmina.
pas de titre.
f. 342: Benevenvtvs Campesanvs, Epigramma de resurrectione Catulli.
pas de titre.
inc.: « </A>d patriam uenio... » (éd. M. Schuster, Catulli Veronensis liber, Teubner,
1949, p. 100; B. L. Ullman, The transmission of the text of Catullus, dans Studi in
onore di L. Castiglione, Florence, i960, p. 1036).
f. 342-349: Maphaevs Vegivs, Aeneidos liber XIII.
pas de titre.
inc.: « <T>urnus ut extremo confectus Marte reliquit... ».
expi. inachevé: «... Talibus orabant inter se et tecta subitant» (v. 447 - éd. A. C.
Brinton, Mafthaeus Vegius and his thirteenth book of the Aeneid..., Stanford, 1930,
réimpr. New York, 1978, p. 78).
Origine: italienne, 1 - écriture cursive du Nord de l'Italie.
2 - écriture humanistique ronde. Le copiste des f. 11-91 donne ses initiales, « I.f. », et
la date aux f. 42: « Albii Tibulli ... liber tercius et ultimus féliciter explicit die nono men-
sis Iunii 1467 per me I.f. ad I.p. » et 91: « Explicit Deo gratias 1467 die 18 mensis Iunii »;
f. 243 v°, invocation: « Laus deo et Âzirgini Marie eius matris [sic] ».
Possesseurs: 1-2 - Ulrich Fugger 1 (au f. 1 cote: 30 seors.); bibliothèque palatine de Hei-
delberg (au f. 1 cote du transfert: C. 61/406).
Bibliographie: S. G. Owen, P. Ovidi Nasonis Tristium libri V, Oxford, 1889, p. xxv; C. Hosius,
Die Handschriften des Properz (Rhein. Mus.', N.F., 46, 1891, p. 578 et 580); T. Simar, Les ma-
nuscrits de Properce du Vatican (Le Musée belge, 13, 1909, p. 89-90), lui attribue une origine
allemande; A. Dain, De nuntio sagaci, dans G. Cohen, La comédie latine en France air XIIe s.,
2, Paris, 1931, p. 117; G. Bonazzi, Le elegie di Sesto Properzio seconde la lezione genuina conser-
vata dal manoscritto Vaticano-Palatino 910, Rome, 1939, p. x-xi; A. Ernout, Note sur Properce
I, 8, 9-16 (Mélanges F. Grat, 1, Paris, 1946, p. 17); P. J. Enk, Sexti Propertii Elegiarum liber I,
Leyde, 1946, p. 51-54; F. Munari, Sugli «. Amores » di Ovidio (Stud. it. filol. class., 23, 1948,
p. 140-141 et 147 n. 4); A. La Penna, Studi sulla tradizione di Properzio (Stud. it. filol. class.,
26, 1952, p. 14-15); F. W. Lenz, Die Wiedergewinnung der von Heinsius benutzten Ovidhandschrif-
ten in den letzten fünfzig Jahren (Eranos, 51, 1953, p. 80); A. La Penna, Publii Ovidii Nasonis
Ibis, Florence, 1957, p. cxliv-cxlv; F. W. Lenz, Das pseudo-ovidische Gedicht de Lombardo
et lumaca (Maia, n.s., 9, 1957, p. 207); F. W. Lenz, Das pseudo-ovidische Gedicht De medicamine
aurium (Ovidiana, Paris, 1958, p. 528); P. Lehmann, Eine Geschichte..., 2, p. 116, 121, 126 et
494; F. W. Lenz, De pulice libellus (Maia, n.s., 14, 1962, p. 309); F. W. Lenz, P. Ovidii Naso-
nis Remedia Amoris, Medicamina faciei, Turin, 1965, p. xlt; G. Cambier, Tibulle II, 5, 47 (La-
tomus, 31, 1972, p. 506), simple mention; M. D. Reeve, Heinsius's manuscripts of Ovid (Rhein.
Mus., 117, 1974, p. 143), simple mention.
Pal. lat. 914
Parch., xve s. (a. 1459), III+82 ff. (f. 81-82 v° blancs), 280x195 mm. Au f. 1, initiale verte
sur fond d'or, à rinceaux rouges, bleues et mauves, se prolongeant en marge par une fine guir-
lande de fleurs, rinceaux mauves et pastilles d'or.

1 Cf. l'inventaire de 1571 (éd. P. Lehmann, op. cit. infra, 2, p. 315, 1. 5836-5837).