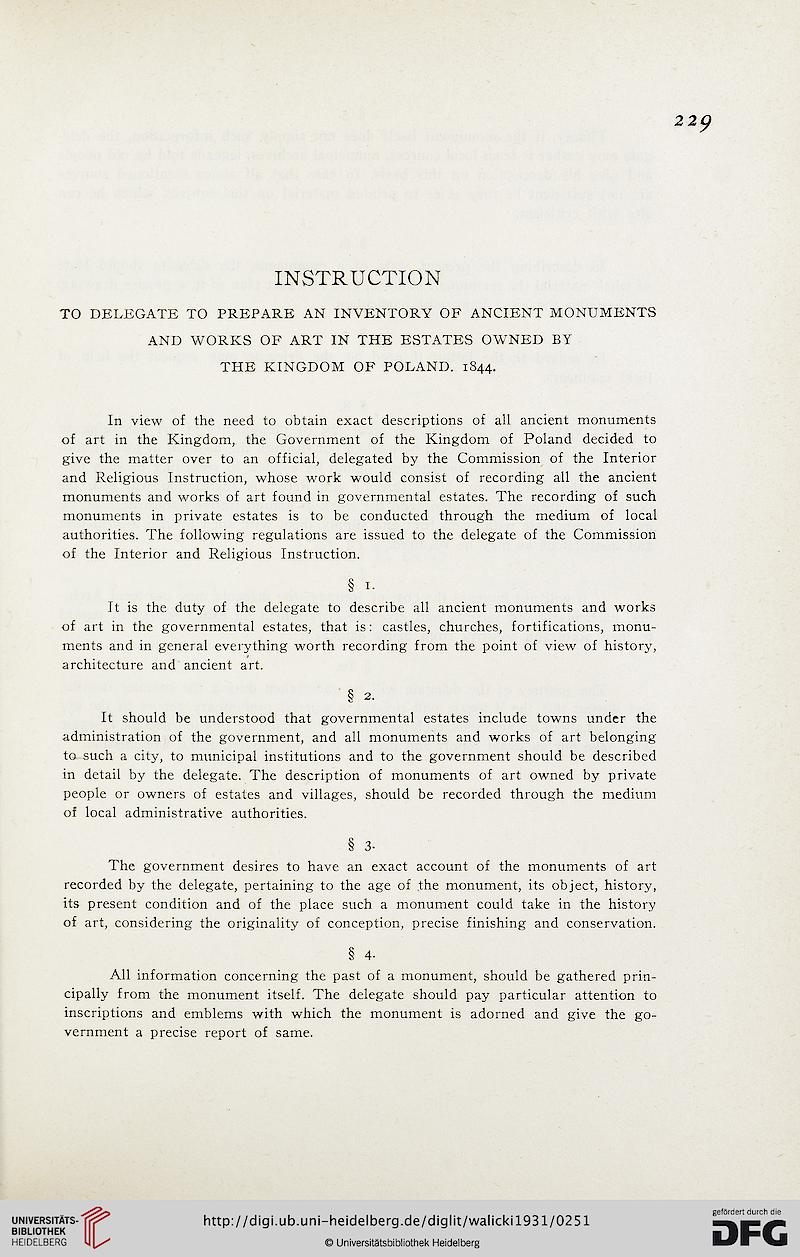 TO DELEGATE TO PREPARE AN INVENTORY OF ANCIENT MONUMENTS
AND WORKS OF ART IN THE ESTATES OWNED BY
THE KINGDOM OF POLAND. 1844.

In view of the need to obtain exact descriptions of all ancient monuments
of art in the Kingdom, the Government of the Kingdom of Poland decided to
give the matter over to an official, delegated by the Commission of the Interior
and Religious Instruction, whose work would consist of recording all the ancient
monuments and works of art found in governmental estates. The recording of such
monuments in private estates is to be conducted through the medium of local
authorities. The following regulations are issued to the delegate of the Commission
of the Interior and Religious Instruction.
§ I-
It is the duty of the delegate to describe all ancient monuments and works
of art in the governmental estates, that is: castles, churches, fortifications, monu-
ments and in general everything worth recording from the point of view of history,
architecture and ancient art.

§ 2.
It should be understood that governmental estates include towns under the
administration of the government, and all monuments and works of art belonging
to such a city, to municipal institutions and to the government should be described
in detail by the delegate. The description of monuments of art owned by private
people or owners of estates and villages, should be recorded through the medium
of local administrative authorities.

§ 3-
The government desires to have an exact account of the monuments of art
recorded by the delegate, pertaining to the age of the monument, its object, history,
its present condition and of the place such a monument could take in the history
of art, considering the originality of conception, precise finishing and conservation.
§ 4-
AH information concerning the past of a monument, should be gathered prin-
cipally from the monument itself. The delegate should pay particular attention to
inscriptions and emblems with which the monument is adorned and give the go-
vernment a precise report of same.