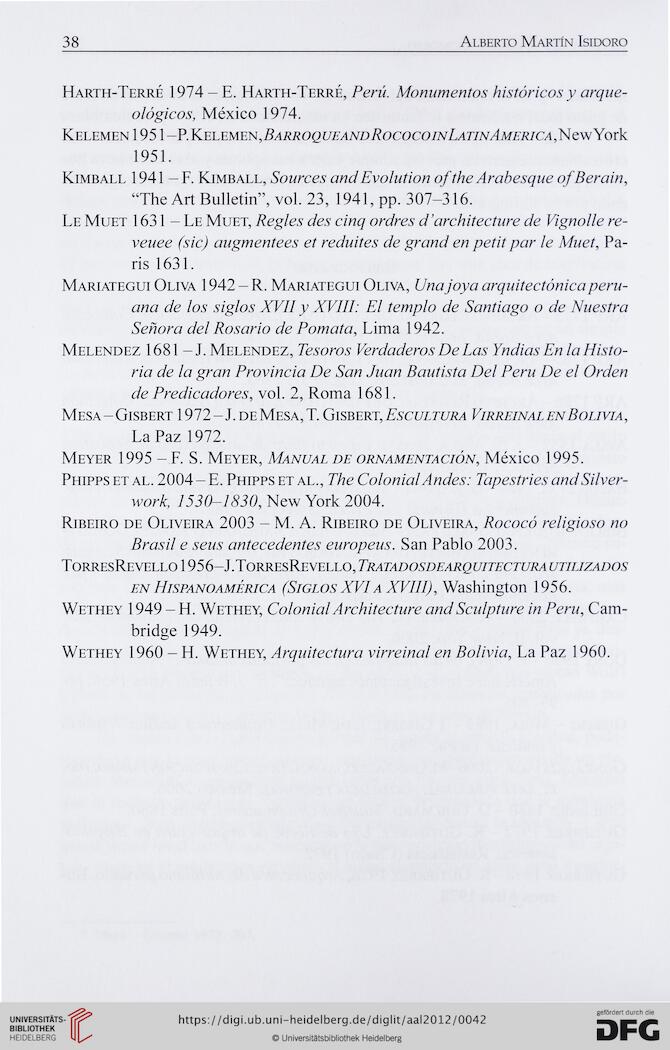 38

Alberto Martín Isidoro

Harth-Terré 1974 - E. Harth-Terré, Perú. Monumentos históricos y arque-
ológicos, México 1974.
KELEMEN1951 -P. &ELEMEN,BARROQUEANDRoCOCOINLATINAMERICA,NevXork
1951.
Kimball 1941 -E Kimball, Sources and Evolution of the Arabesque ofBerain,
"The Art Bulletin", vol. 23, 1941, pp. 307-316.
Le Muet 1631 - Le Muet, Regies des cinq ordres d'architecture de Vignolle re-
veuee (sic) augmentees et reduites de grand en petit par le Muet, Pa-
ris 1631.
Mariategui Oliva 1942 -R. Mariategui Oliva, Una joya arquitectónica peru-
ana de los siglos XVII y XVIII: El templo de Santiago o de Nuestra
Señora del Rosario de Pomata, Lima 1942.
Melendez 1681 - J. Melendez, Tesoros Verdaderos De Las YndiasEn la Histo-
ria de la gran Provincia De San Juan Bautista Del Peru De el Orden
de Predicadores, vol. 2, Roma 1681.
Mesa - Gisbert 1972 - J. de Mesa, T. Gisbert, Escultura Virreinal en Bolivia ,
La Paz 1972.
Meyer 1995 - F. S. Meyer, Manual de ornamentación, México 1995.
Phipps et al. 2004 - E. Phipps et al., The Colonial Andes: Tapestries and Silver-
work, 1530-1830, New York 2004.
Ribeiro de Oliveira 2003 - M. A. Ribeiro de Oliveira, Rococó religioso no
Brasil e sens antecedentes europeas. San Pablo 2003.
TorresRevello 1 956-J.TorresRevello, Tratadosdearquitectura utilizados
en Hispanoamérica (Siglos XVI a XVIII), Washington 1956.
Wethey 1949 - H. Wethey, Colonial Architecture and Sculpture in Peru, Cam-
bridge 1949.
Wethey 1960 - H. Wethey, Arquitectura virreinal en Bolivia, La Paz 1960.