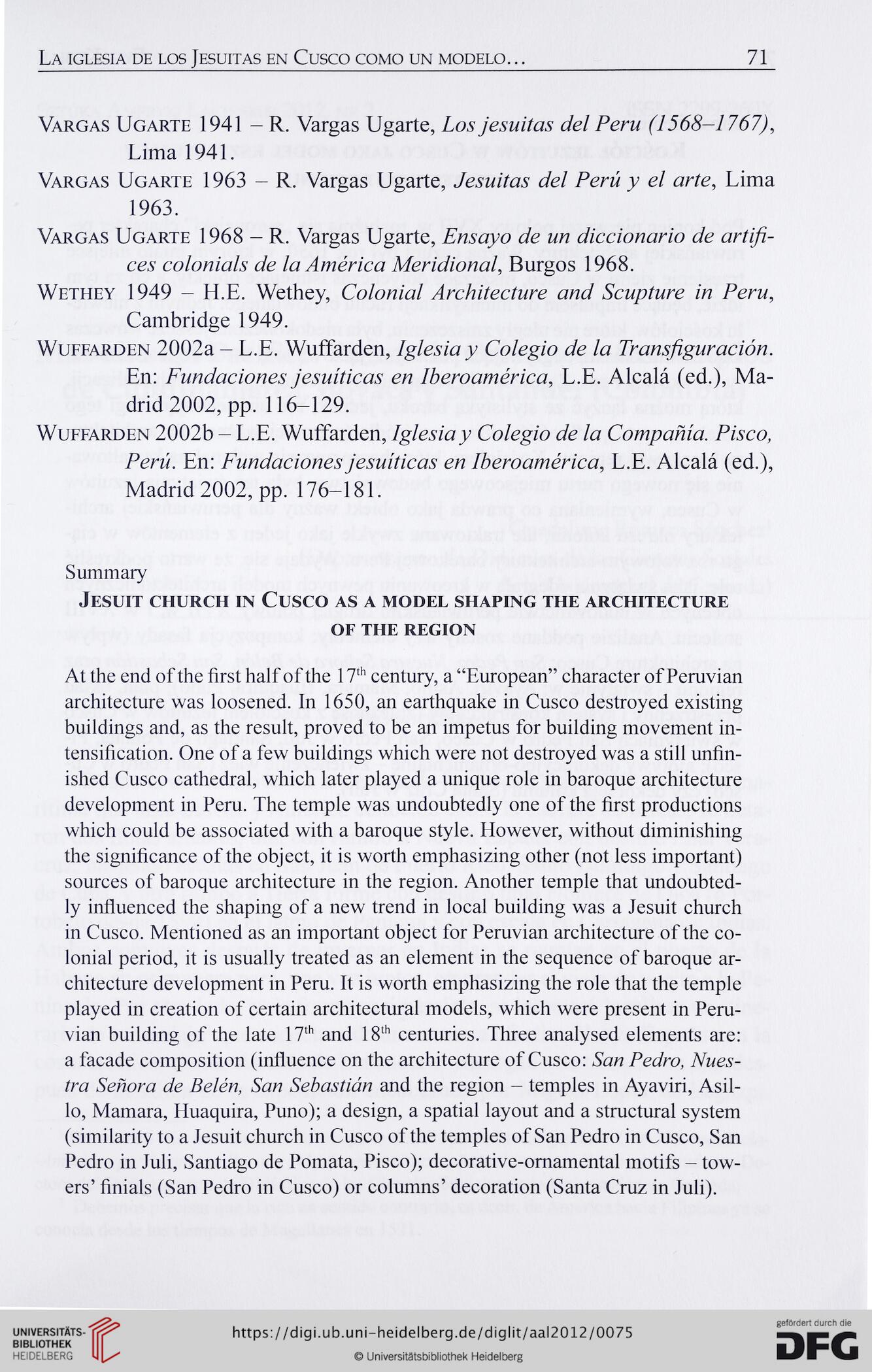 La iglesia de los Jesuítas en Cusco como un modelo, ..

71

Vargas Ugarte 1941 - R. Vargas Ugarte, Los jesuítas del Peru (1568-1767),
Lima 1941.
Vargas Ugarte 1963 - R. Vargas Ugarte, Jesuítas del Perú y el arte, Lima
1963.
Vargas Ugarte 1968 - R. Vargas Ugarte, Ensayo de un diccionario de artifi-
ces colonials de la América Meridional, Burgos 1968.
Wethey 1949 - H.E. Wethey, Colonial Architecture and Scupture in Peru,
Cambridge 1949.
Wuffarden 2002a - L.E. Wuffarden, Iglesia y Colegio de la Transfiguración.
En: Fundaciones jesuíticas en Iberoamérica, L.E. Alcalá (ed.), Ma-
drid 2002, pp. 116-129.
Wuffarden 2002b - L.E. Wuffarden, Iglesia y Colegio de la Compañía. Pisco,
Perú. En: Fundaciones jesuíticas en Iberoamérica, L.E. Alcalá (ed.),
Madrid 2002, pp. 176-181.

Summary
Jesuit church in Cusco as a model shaping the architecture
OF THE REGION
At the end of the first half of the 17th century, a "European" character of Peruvian
architecture was loosened. In 1650, an earthquake in Cusco destroyed existing
buildings and, as the result, proved to be an impetus for building movement in-
tensification. One of a few buildings which were not destroyed was a still unfin-
ished Cusco cathedral, which later played a unique role in baroque architecture
development in Peru. The temple was undoubtedly one of the first productions
which could be associated with a baroque style. However, without diminishing
the significance of the object, it is worth emphasizing other (not less important)
sources of baroque architecture in the region. Another temple that undoubted-
ly influenced the shaping of a new trend in local building was a Jesuit church
in Cusco. Mentioned as an important object for Peruvian architecture of the co-
lonial period, it is usually treated as an element in the sequence of baroque ar-
chitecture development in Peru. It is worth emphasizing the role that the temple
played in creation of certain architectural models, which were present in Peru-
vian building of the late 17th and 18th centuries. Three analysed elements are:
a facade composition (influence on the architecture of Cusco: San Pedro, Nues-
tra Señora de Belén, San Sebastián and the region - temples in Ayaviri, Asil-
lo, Mamara, Huaquira, Puno); a design, a spatial layout and a structural system
(similarity to a Jesuit church in Cusco of the temples of San Pedro in Cusco, San
Pedro in Juli, Santiago de Pomata, Pisco); decorative-ornamental motifs - tow-
ers' finials (San Pedro in Cusco) or columns' decoration (Santa Cruz in Juli).