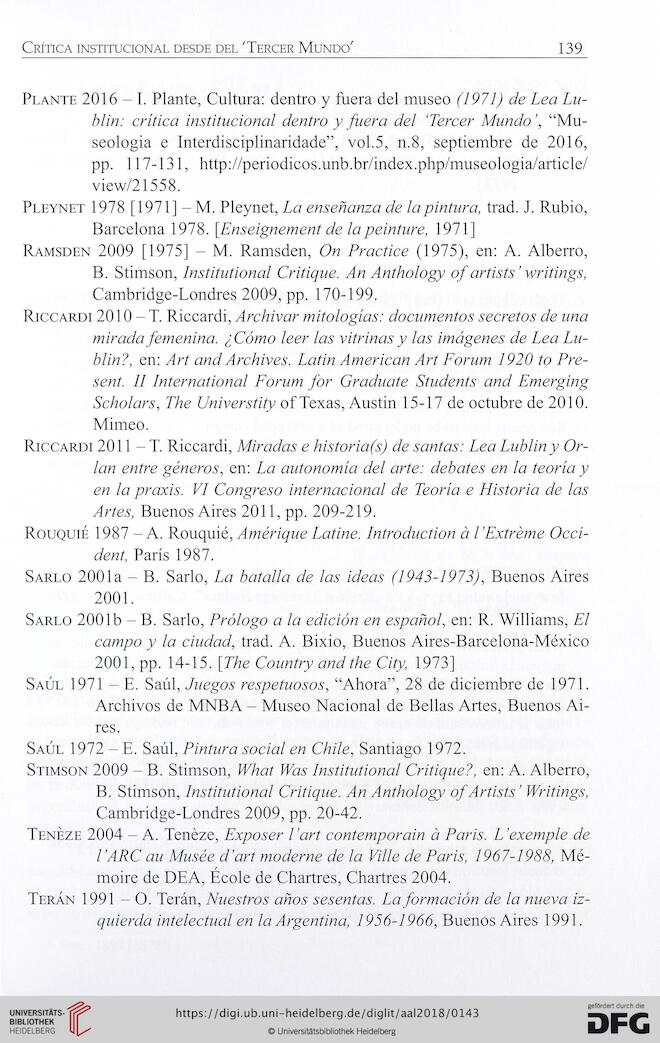 139

Plante 2016 - I. Plante, Cultura: dentro y fuera del museo (1971) de Lea Lu-
blin: crítica institucional dentro y fuera del 'Tercer Mundo ', "Mu-
seologia e Interdisciplinaridade", vol.5, n.8, septiembre de 2016,
pp. 117-131, http://periodicos.unb.br/index.php/museologia/article/
view/21558.
Pleynet 1978 [1971] - M. Pleynet, La enseñanza de la pintura, trad. J. Rubio,
Barcelona 1978. [Enseignement de lapeinture, 1971]
Ramsden 2009 [1975] - M. Ramsden, On Practice (1975), en: A. Alberro,
B. Stimson, Institutional Critique. An Anthology of artists' writings,
Cambridge-Londres 2009, pp. 170-199.
Riccardi 2010 - T. Riccardi, Archivar mitologías: documentos secretos de una
mirada femenina. ¿Cómo leer las vitrinas y las imágenes de Lea Lu-
blin?, en: Art and Archives. Latin American Art Forum 1920 to Pre-
sent. II International Forum for Graduate Students and Emerging
Scholars, The Universtity of Texas, Austin 15-17 de octubre de 2010.
Mimeo.
Riccardi 2011 - T. Riccardi, Miradas e historia(s) de santas: Lea Lubliny Or-
lan entre géneros, en: La autonomía del arte: debates en la teoría y
en la praxis. VI Congreso internacional de Teoría e Historia de las
Artes, Buenos Aires 2011, pp. 209-219.
Rouquié 1987 - A. Rouquié, Amérique Latine. Introduction á TExtréme Occi-
dent, París 1987.
Sarlo 2001a - B. Sarlo, La batalla de las ideas (1943-1973), Buenos Aires
2001.
Sarlo 2001b - B. Sarlo, Prólogo a la edición en español, en: R. Williams, El
campo y la ciudad, trad. A. Bixio, Buenos Aires-Barcelona-México
2001, pp. 14-15. [The Country and the City, 1973]
Saúl 1971 - E. Saúl, Juegos respetuosos, "Ahora", 28 de diciembre de 1971.
Archivos de MNBA - Museo Nacional de Bellas Artes, Buenos Ai-
res.
Saúl 1972 - E. Saúl, Pintura social en Chile, Santiago 1972.
Stimson 2009 - B. Stimson, What Was Institutional Critique?, en: A. Alberro,
B. Stimson, Institutional Critique. An Anthology of Artists' Writings,
Cambridge-Londres 2009, pp. 20-42.
Tenéze 2004 - A. Tenéze, Exposer Tart contemporain a Paris. L'exemple de
TARC au Musée d'art moderne de la Ville de Paris, 1967-1988, Mé-
moire de DEA, Ecole de Chartres, Chartres 2004.
Terán 1991 - O. Terán, Nuestros años sesentas. La formación de la nueva iz-
quierda intelectual en la Argentina, 1956-1966, Buenos Aires 1991.