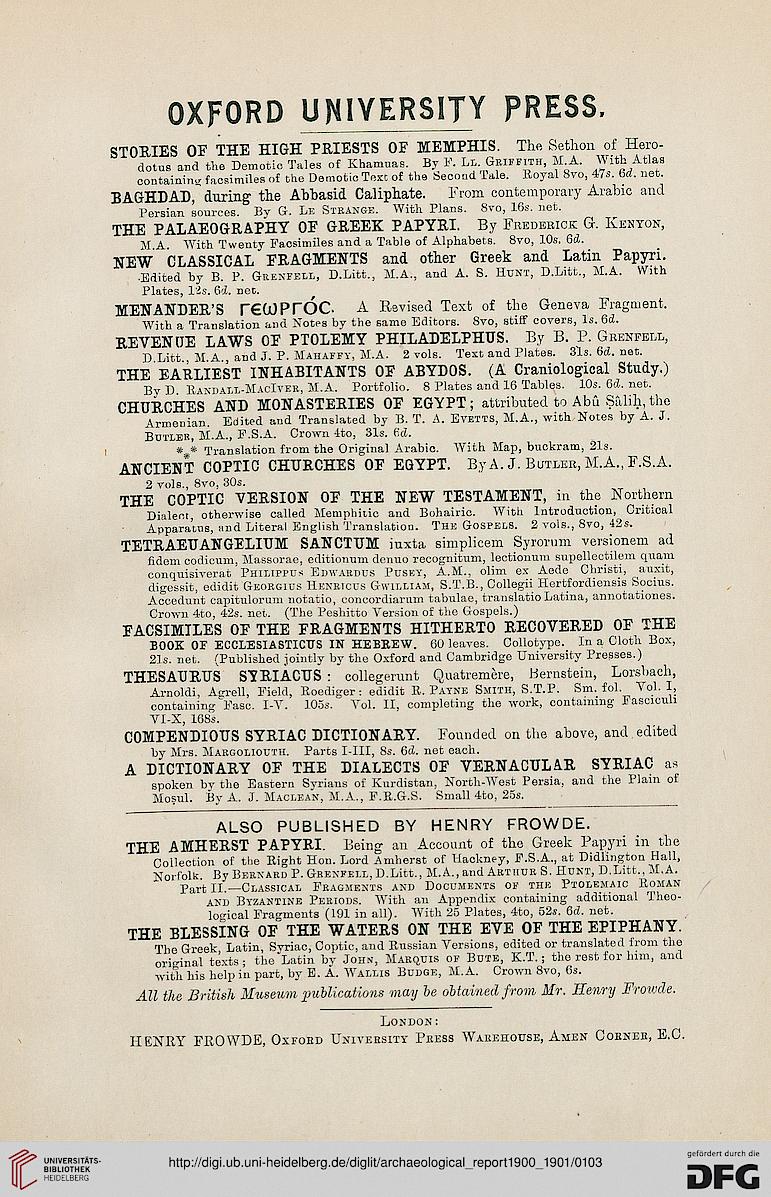 STORIES OF THE HIGH PRIESTS OF MEMPHIS. The Sethon of Hero-
dotus and the Demotic Tales of Khamuas. By F. Ll. Griffith, M.A. With Atlas
containing facsimiles of the Demotic Text of the Second Tale. Royal 8vo, 47s. 6d. net.

BAGHDAD, during the Abbasid Caliphate. From contemporary Arabic and

Persian sources. By G. Le Strange. With Plans. 8vo, 16s. net.

THE PALAEOGRAPHY OF GREEK PAPYRI. By Frederick G. Kenton,

M.A. With Twenty Facsimiles and a Table of Alphabets. 8vo, 10s. 6d.

NEW CLASSICAL FRAGMENTS and other Greek and Latin Papyri.

Edited by B. P. Grexfell, D.Litt., M.A., and A. S. Hunt, D.Litt., M.A. With
Plates, lis. Gd. net.

MENANDER'S retOPTOC A Revised Text of the Geneva Fragment,

With a Translation and Notes by the same Editors. 8vo, stiff covers, Is. 6d.

REVENUE LAWS OF PTOLEMY PHILADELPHIA. By B. P. Geenfell,

D.Litt., M.A., and J. P. Mahaffy, M.A. 2 vols. Text and Plates. 3ls. 6d. net.

THE EARLIEST INHABITANTS OF ABYDOS. (A Craniological Study.)

By D. Randall-MacIver, M.A. Portfolio. 8 Plates and 16 Tables. 10s. 6d. net.
CHURCHES AND MONASTERIES OF EGYPT; attributed to Abu Sfdih, the

Armenian. Edited and Translated by B. T. A. Evetts, M.A., with Notes by A. j.
Butler, M.A., F.S.A. Crown 4to, 31s. Gd.

*#* Translation from the Original Arabic. With Map, buckram, 21s.

ANCIENT COPTIC CHURCHES OF EGYPT. By A. J. Butler, M.A., F.S.A.

2 vols., 8vo, 30s.

THE COPTIC VERSION OF THE NEW TESTAMENT, in the Northern

Dialect, otherwise called Memphitio and Bohairic. With Introduction, Critical
Apparatus, and Literal English Translation. The Gospels. 2 vols., 8vo, 42s.

TETRAEUANGELIUM SANCTUM iuxta simplicem Syrorum versionem ad

fidem codicum, Massorae, editionum denuo recognitum, lectionum supellectilem quam
conquisiverat Philippus Edwardus Pusey, A.M., olim ex Aede Christi, auxit,
digessit, edidit Georgius Henricus G-william, S.T.B., Collegii Hertfordionsis Socius.
Accedunt capituloruni notatio, concordiarum tabulae, translatio Latina, annotationes.
Crown 4to, 42s. net. (The Peshitto Version of the Gospels.)

FACSIMILES OF THE FRAGMENTS HITHERTO RECOVERED OF THE

BOOK OF ECCLESIASTICITS IN HEBREW. 60 leaves. Collotype. In a Cloth Box,
21s. net. (Published jointly by the Oxford and Cambridge University Presses.)

THESAURUS SYRIACUS : " collegerunt Quatremere, Bernstein, Lorsbach,
Arnoldi, Agrell, Field, Roediger: edidit R.Payne Smith, S.T.P. Sm. fol. Vol.1,
containing Fuse. I-V. 105s. Vol. II, completing the work, containing Fasciculi
VI-X, 168s.

COMPENDIOUS SYRIAC DICTIONARY. Founded on the above, and edited
by Mrs. Margoliouth. Parts I-III, 8s. Gd. net each.

A DICTIONARY OF THE DIALECTS OF VERNACULAR SYRIAC as

spoken by the Eastern Syrians of Kurdistan, North-West Persia, and the Plain of
Mosul. By A. J. Maclean, M.A., F.R.G.S. Small 4to, 25s.

ALSO PUBLISHED BY HENRY FROWDE.
THE AMHERST PAPYRI. Being an Account of the Greek Papyri in the
Collection of the Right Hon. Lord Amherst of Hackney, F.S.A., at Didlington Hall,
Norfolk. By Bernard P. Grexfell, D.Litt., M.A.., and Arthur S. Hunt, D.Litt., M.A.
Part II.—Classical Fragments and Documents of the Ptolemaic Roman
and Byzantine Periods. With an Appendix containing additional Theo-
logical Fragments (191 in all). With 25 Plates, 4to, 52s. Gd. net.

THE BLESSING OF THE WATERS ON THE EVE OF THE EPIPHANY.

The Greek, Latin, Syriac, Coptic, and Russian Versions, edited or translated from the
original texts ; the Latin by John, Marquis of Bute, K.T.; tho rest for him, and
with his help in part, by E. A. Wallis Budge, M.A. Crown 8vo, 6s.

All the British Museum publications may he obtained from Mr. Henry Frowde.

London:

HENRY FROWDE, Oxford University Press Warehouse, Amen Corner, E.C.