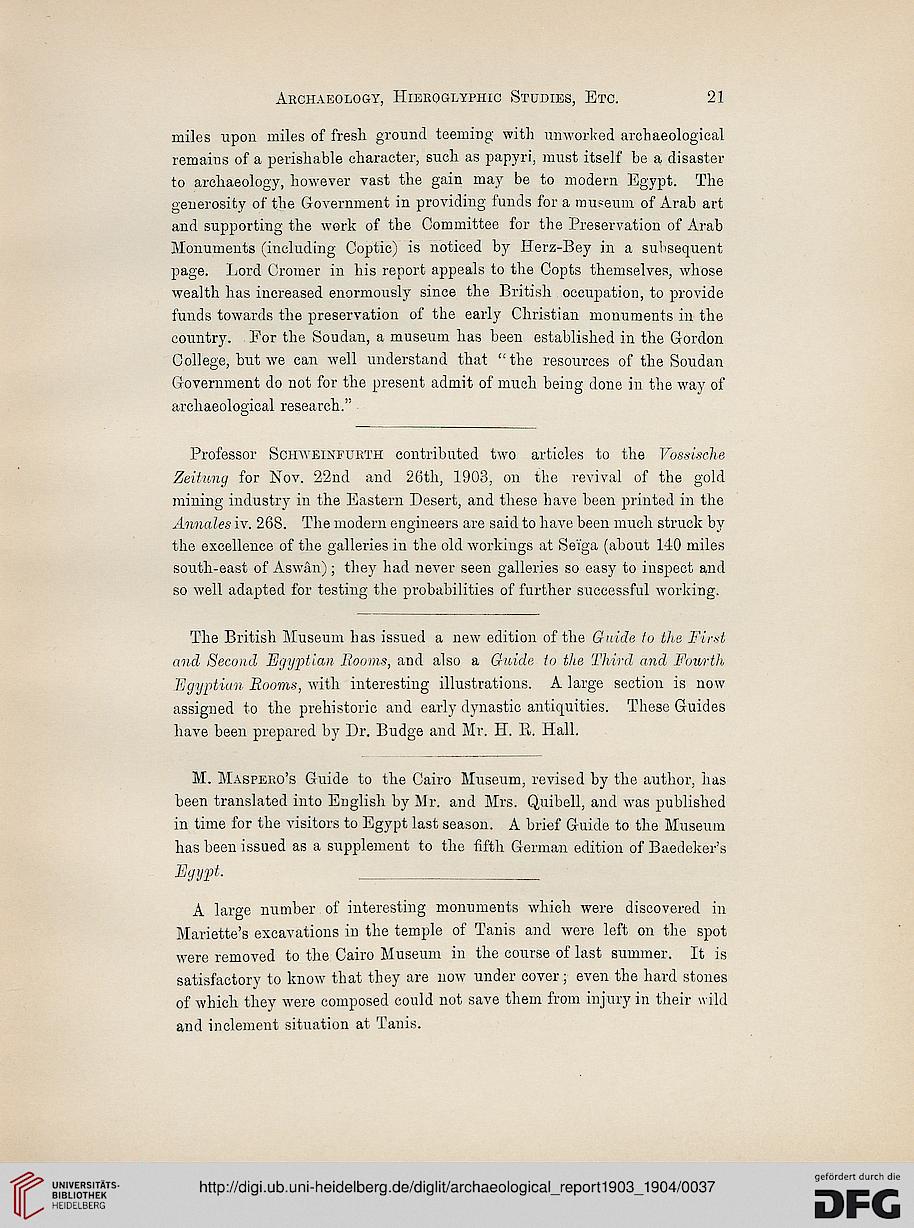 21

miles upon miles of fresh ground teeming with unworked archaeological
remains of a perishable character, such as papyri, must itself be a disaster
to archaeology, however vast the gain may be to modern Egypt. The
generosity of the Government in providing funds for a museum of Arab art
and supporting the work of the Committee for the Preservation of Arab
Monuments (including Coptic) is noticed by LTerz-Bey in a subsequent
page. Lord Cromer in his report appeals to the Copts themselves, whose
wealth has increased enormously since the British occupation, to provide
funds towards the preservation of the early Christian monuments in the
country. For the Soudan, a museum has been established in the Gordon
College, but we can well understand that "the resources of the Soudan
Government do not for the present admit of much being done in the way of
archaeological research."

Professor Schweinfurth contributed two articles to the Vossische
Zeitung for Nov. 22nd and 26th, 1903, on the revival of the gold
mining industry in the Eastern Desert, and these have been printed in the
Annates iv. 268. The modern engineers are said to have been much struck bv
the excellence of the galleries in the old workings at Se'iga (about 140 miles
south-east of Aswan); they had never seen galleries so easy to inspect and
so well adapted for testing the probabilities of further successful working.

The British Museum has issued a new edition of the Guide to the First
and Second Egyptian Booms, and also a Guide to the Third and Fourth
Egyptian Rooms, with interesting illustrations. A large section is now
assigned to the prehistoric and early dynastic antiquities. These Guides
have been prepared by Dr. Budge and Mr. H. E. Hall.

M. Maspeeo's Guide to the Cairo Museum, revised by the author, has
been translated into English by Mr. and Mrs. Quibell, and was published
in time for the visitors to Egypt last season. A brief Guide to the Museum
has been issued as a supplement to the fifth German edition of Baedeker's

Egypt. _._

A large number of interesting monuments which were discovered in
Mariette's excavations in the temple of Tanis and were left on the spot
were removed to the Cairo Museum in the course of last summer. It is
satisfactory to know that they are now under cover; even the hard stones
of which they were composed could not save them from injury in their wild
and inclement situation at Tanis.