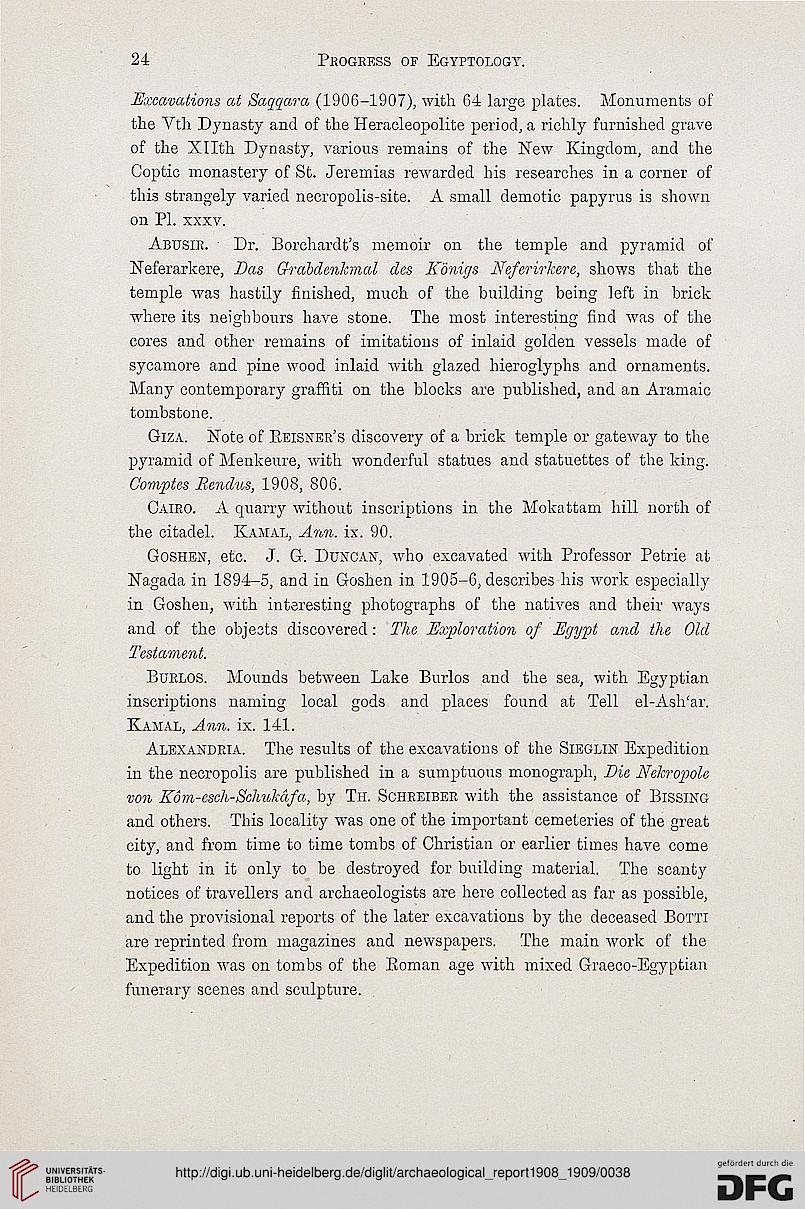 Progress of Egyptology.

Excavations at Saqqara (1906-1907), with 64 large plates. Monuments of
the Yth Dynasty and of the Heracleopolite period, a richly furnished grave
of the Xllth Dynasty, various remains of the New Kingdom, and the
Coptic monastery of St. Jeremias rewarded his researches in a corner of
this strangely varied necropolis-site. A small demotic papyrus is shown
on PI. xxxv.

Abusik. Dr. Borchardt's memoir on the temple and pyramid of
Neferarkere, Das Grabdenhnal des Konigs Neferirkere, shows that the
temple was hastily finished, much of the building being left in brick
where its neighbours have stone. The most interesting find was of the
cores and other remains of imitations of inlaid golden vessels made of
sycamore and pine wood inlaid with glazed hieroglyphs and ornaments.
Many contemporary graffiti on the blocks are published, and an Aramaic
tombstone.

Giza. ISTote of Eeisner's discovery of a brick temple or gateway to the
pyramid of Menkeure, with wonderful statues and statuettes of the king.
Comptes Rendus, 1908, 806.

Caieo. A quarry without inscriptions in the Mokattam hill north of
the citadel. Kamal, Ann. ix. 90.

Goshen, etc. J. G. Duncan, who excavated with Professor Petrie at
iSTagada in 1894-5, and in Goshen in 1905-6, describes his work especially
in Goshen, with interesting photographs of the natives and their ways
and of the objects discovered: The Exploration of Egypt and the Old
Testament.

Buelos. Mounds between Lake Burlos and the sea, with Egyptian
inscriptions naming local gods and places found at Tell el-Ash'ar.
Kamal, Ann. ix. 141.

Alexandeia. The results of the excavations of the Sieglin Expedition
in the necropolis are published in a sumptuous monograph, Die Nelcropolc
von Kom-esch-SchuMfa, by Th. Scheeibee with the assistance of Bissing
and others. This locality was one of the important cemeteries of the great
city, and from time to time tombs of Christian or earlier times have come
to light in it only to be destroyed for building material. The scanty
notices of travellers and archaeologists are here collected as far as possible,
and the provisional reports of the later excavations by the deceased Botti
are reprinted from magazines and newspapers. The main work of the
Expedition was on tombs of the Koman age with mixed Graeco-Egyptian
funerary scenes and sculpture.