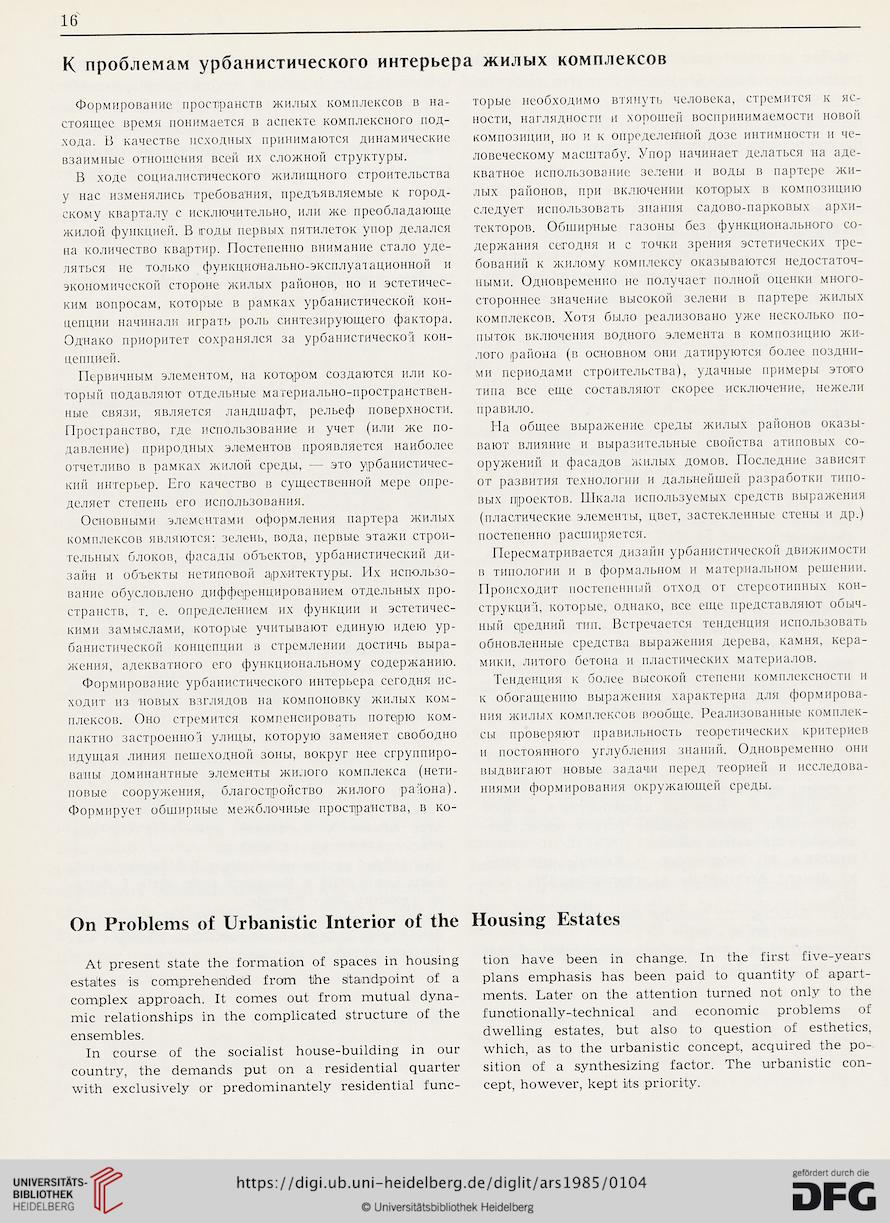 K npoÔJieMaM ypóamicTHMecKoro HHTepbepa jkhjiwx komujickcob

<t>opMnponanne npocrpaHCTB jkhjihx KOMHJieKCOB b na-
CT05im.ee BpeMsi nonuMaeTcsi b acneKTe komhjickchofo noA-
xoAa. B KanecTBe iicxoahhx npiiHHMaiOTCsi AHHaMHHecKHe
B3aHMHbie 0TH0I1ICHH5I BCeft HX C.'lOIKHOÎ'l CTpyKTypbt.
B xoAe couiiaAHCTPmecKoro >KHAHmnoro CTpoiiTeJibCTBa
y nac H3MeH$ijiHCb TpeóoBaHM, iipeAtíiB.-iíteMfaie k ropoA-
CKOMy KBapra.ay c HCKAiowrejibHo, bah >kc npeoßpaAaiome
5KHA0ÍI (|>yiiKiuien. B iroAbi nepßbix nsiTHjieTOK ynop ;ie;ia.'icít
na KOjinqecTBo KBaipTHp. nocTencmio BHHMaHHe crajio yAe-
AHTbCSI Ile TOJIbKO <}>V HKIIHOTa.lbHO-SKCHJiyai apHOHHofl H
SKOHOMHHeCKOH CTOpOHe TKHJIblX paHOHOB, HO H SCTeTHqeC-
KHM BOnpOCaM, KOTOpbie B paMKaX ypÓaHHCTHHeCKOÍI KOH-
uenuHH namiHaAH nrpaTb pojib cnHTe3npyiomero <|)aKTopa.
Oa'hbko npMopHTCT coxpaHSiACsi 3a ypóanHcrmiecKOl koh-
neniiHefl.
riepBHMHblM 3JICMCHT0M, Ha KOTOpOM CO3A3IOTC51 II JI II KO-
Topbift nOAaBJíaiOT OTpeAbHbie MaTepnajibHO-npocTpaHCTBeH-
Hbie CB5I3H, SIB.qlieTCSI JiaHAIUa([)T, pejlbe(|) nOBepXHOCTH.
flpocTpaHCTBO, rpc: iicnojib3OBaHHe h yqeT (hah >kc no-
AaBAeHHe) npHpopHbix bjicmchtob nposiBAsieTCii Haiißojiee
orqeTJiHBO b paMxax íkhjioh cpeAbi, — sto yipóaHHCTHqec-
khh Hiirepbep. Ero KaqecTBO b cymecTBeHHOft Mepe onpe-
ACJiaeT CTenenb ero Hcnojib3OBann5i.
OCIIOBHblMH SJICMCHTaMH O(|)OpMAeHHSI IiapTepa /KHJIblX
KOMHJleKCOB 5IBJ1SII0TCS1: 3CACHb, BOAa, HCpBble 3T35KH CTpOH-
TeabHbix Gjiokob, (jjacaAH oobeicroB, ypóaHHCTnqecKHH ah-
3aíí'H II OÓ-beKTbl HeTHHOBOH apXHTeKTypbl. Hx HCHOJIb30-
BaHHe oöycAOBjieHO AHtjxjíeipeHUHpoBaHHeM OTAeJibHbix npo-
cTpancTB, t. e. onpeAeaenHeM hx (jjyHKUHH h acTeTHqec-
khmh 3aMbicjiaMH, KOTopbie yqHTMBaiOT eAHHyio iipeio yp-
CaHHCTiiqecKoň KOHnemiHii a ctpcmjichhh aocthab Bbipa-
>i<eHH>i, aAeKBaTHoro ero <|)yHKHHOHaabHOMy coAepinaimio.
OopMHpoBaHHe ypöaHHCTHqecKoro HHTepbepa ceropHsi hc-
XOAHT H3 HOBbiX B3TA51AOB Ha KOMHOHOBKy ÍKHJIblX K0M-
HJieKCOB. Oho CTpeMHTCSI KOMneHCHpOBaTb HOTepIO KOM-
naKTHO 3acTpoeHHol yjmpbi, Koropyio saMensieT cboóoaho
HAyuiasi JIHHH5I neuiexoAHoň soiibi, BOKpyr nee crpynnHpo-
Bailbl AOMHHaHTHbie SJICMCHTIiI JKHJOrO KOMHAeKCa (HeTH-
noBbie coopyxeHHFi, CparocTpoflcTBO jkhaofo paSoHa).
<l>opMHpyeT oômiipubie MeJKÔJiOHHbie npociipa'HCTBa, b ko-

TOpble HeOÓXOAHMO BTHHVTb qejlOBCKa, CTpeMHTCSI K 51C-
HOCTH, HarASIAHOCri! H xopouieft BOCnpHHHMaeMOCTH HOBOÍI
KOMHO3HUHH, HO H K OHpeACJieHHOÍI A03e HHTHMHOCTH H qe-
jiOBeqecKOMy MaciiiTaóy. Ynop naqHHaeT AeJiaTbcsi na aAe-
KBaTHOe Hcnojib3OBanne 3e.'ieHH h boabi b napTepe >kh-
AblX paflOHOB, npH BK.llOqeHHH KOTOpblX B K0MH03HHHI0
c.qeAycT ncno.nb3OBaTb snannsi caAOBo-napKOBbix apxn-
TeKTOpoB. Oóinnp'Hbie raaoHbí 6e3 (jiyHKiiHOHajibHoro co-
AepJKaHHH ceroAHa h c ToqKH 3peHHSi acTeTHqecKHx -rpe-
ÓOBaHHH K ÍKHJIOMy KOMHACKCy OKa3bIBaiOTC5I HeAOCTaTOq-
HbiMit. OAHOBpcMeHiio ne HOAyqaer iioahoh ouchkh mhoto-
CTopoHnee 3HaqcHne bhcokoh 3ejieHH b napTepe »hjihx
KOMHJleKCOB. XOTSI ÓbljlO peaAH30BaH0 y>Ke HeCKOJIbKO no-
HblTOK BKAI0HCHH5I BOAHOTO SACMCHTa B K0MHO3HH.HIO >KH-
jioro ipaiioHa (b ochobhom ohh AarapyiOTCsi óojiee hosahh-
mh nepiiOAaMH CTpoHTejibCTBa), yAaqnbie npHMepw btoifo
THiia Bee eme cocTaBjísnOT CKopee HCKjnoqeHHe, hcjkcjih
n paBHjio.
Ha oómee Bupaxenue cpeAH jkhamx pafloHOB 0Ka3bi-
BalOT BAHSIHHe H BbipaSHTeAbHbie CBOHCTBa aTHnOBblX co-
opyjKeHHŮ h cjiacaAOB jkhjimx aomob. RocjieAHHe saBHCiiT
0T pa3BHTH5I TeXHOJIOIHH H AaAbHeHUICH pa3paÓ0TKH THH0-
Bbix njpoeKTOB. IllKaJia ncnojib3yeMbix cpeACTB BbipaæeHHSi
(njiacTHqeCKHe ajieMeHibi, upeT, saCTeK.neHHbie ctchm h Ap.)
h ocre n e h h o p a c li i n,p si ctc si.
IlepecMaTpHBaeTca ah33hh ypóaHHCTHqecKoií abhähmocth
B THHOJIOTHH II B í|)0pMajIbH0M H MaTepHaJIbHOM pellleHHH.
IlpOHCXOAHT IlOCTCIieHHblH OTXOA OT CTepEOTHHHblX KOH-
CTpyKUHÄ, KOTopbie, OAHaKO, Bee eme npepcTaBjuiioT oóbiq-
iibift qpeAHmi ran. BcTpeqaeTCH TenpeHiiHsi Hcnopb3OBaTb
oÖHOBAeHHbie cpeACTBa Bbipaxemm Aepeßa, khmhh, Kepa-
MHKi-i, JiriToro öcTOHa h njiacTHqecKHx MaTepriaaoB.
TenACTin,n5i k óojiee bmcokoh CTenemi komojickchocth h
k oóorameHiiio Bbipattieimsi xapaKTepna ajhi ijiopMHpoBa-
HIISI SKHJIblX KOMHACKCOB BOOÓllie. PeaJlH30BaHHbIC KOMHJieK-
cbi npoBepwr npaBHJibnocTb TeoipeTimecKiix KpnTepneB
h nocToiiHHoro yrjiyÓJieHHii 3HaiiHH. OAHOiipeMeimo ohh
BbiABHraiOT HOBbie 3aAaqni nepep TeopMeft h Hccaepoßa-
HH51MH ibopMHpoBanHsi oKpyxaiomefl cpeAH.

On Problems of Urbanistic Interior of the Housing Estâtes

At present state the formation of spaces in housing
estâtes is comprehended from the standpoint of a
complex approach. It comes out from mutual dyna-
mic relationships in the complicated structure of the
ensembles.
In course of the socialist house-building in our
country, the demands put on a residential quarter
with exclusively or predominantely residential func-

tion háve been in change. In the first five-years
plans emphasis has been paid to quantity of apart-
ments. Later on the attention turned not only to the
funotionally-technical and économie problems of
dwelling estâtes, but also to question of esthetics,
which, as to the urbanistic concept, acquired the po-
sition of a synthesizing factor. The urbanistic con-
cept, however, kept its priority.