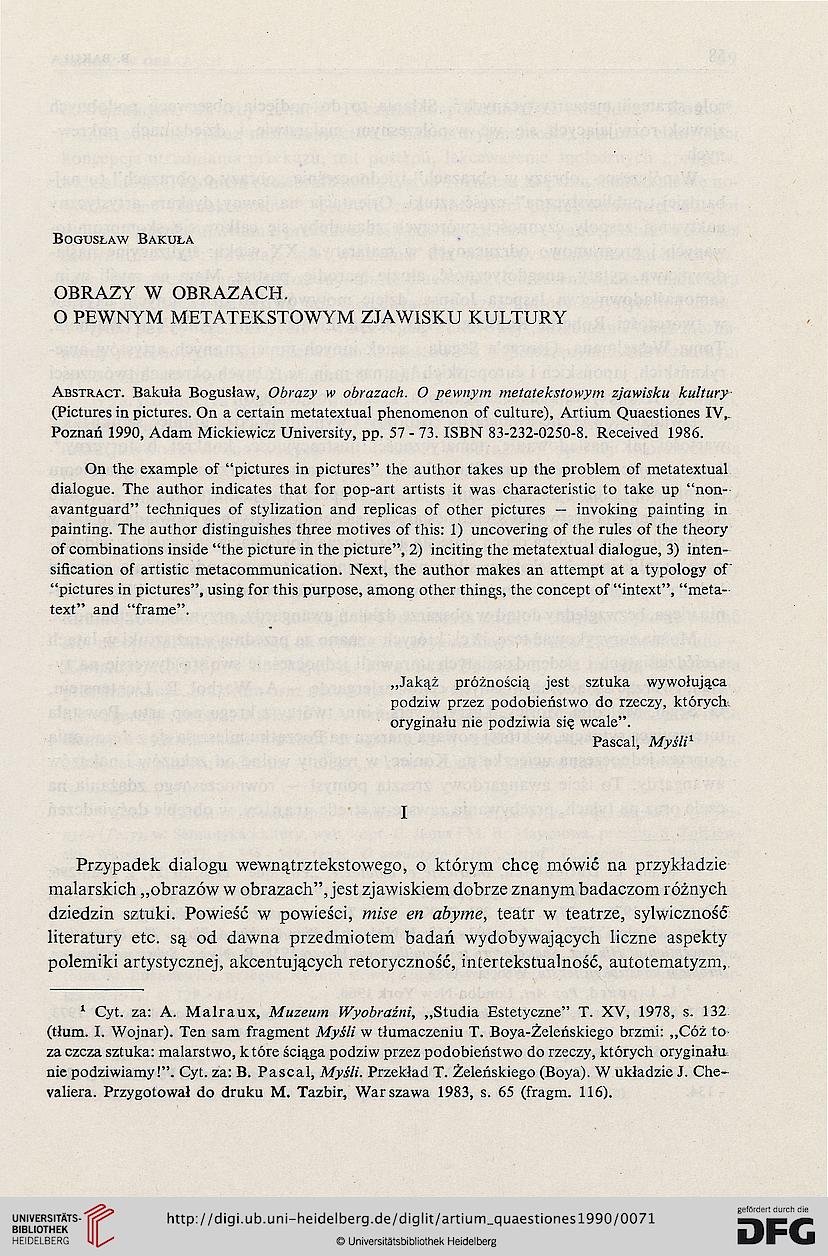 OBRAZY W OBRAZACH.

O PEWNYM METATEKSTOWYM ZJAWISKU KULTURY

Abstract. Bakuła Bogusław, Obrazy w obrazach. O pewnym metatekstowym zjawisku kultury
(Pictures in pictures. On a certain metatextual phenomenon of culture), Artium Quaestiones IV,.
Poznań 1990, Adam Mickiewicz University, pp. 57 - 73. ISBN 83-232-0250-8. Received 1986.

On the example of "pictures in pictures" the author takes up the problem of metatextual
dialogue. The author indicates that for pop-art artists it was characteristic to take up "non-
avantguard" techniąues of stylization and replicas of other pictures — invoking painting in
painting. The author distinguishes three motives of this: 1) uncovering of the rules of the theory
of combinations inside "the picture in the picture", 2) inciting the metatextual dialogue, 3) inten-
sification of artistic metacommunication. Next, the author makes an attempt at a typology of
"pictures in pictures", using for this purpose, among other things, the concept of "intext", "meta-
text" and "frame".

"Jakąż próżnością jest sztuka wywolująca
podziw przez podobieństwo do rzeczy, których.
oryginału nie podziwia się wcale".

Pascal, Myśli 1

I

Przypadek dialogu wewnątrztekstowego, o którym chcę mówić na przykładzie
malarskich "obrazów w obrazach", jest zjawiskiem dobrze znanym badaczom różnych
dziedzin sztuki. Powieść w powieści, mise en abyme, teatr w teatrze, sylwiczność
literatury etc. są od dawna przedmiotem badań wydobywających liczne aspekty
polemiki artystycznej, akcentujących retoryczność, intertekstualność, autotematyzm,

1 Cyt. za: A. Malraux, Muzeum Wyobraźni, "Studia Estetyczne" T. XV, 1978, s. 132
(tłum. I. Wojnar). Ten sam fragment Myśli w tłumaczeniu T. Boya-Żeleńskiego brzmi: "Cóż to
za czcza sztuka: malarstwo, które ściąga podziw przez podobieństwo do rzeczy, których oryginału
nie podziwiamy!". Cyt. za: B. Pascal, Myśli. Przekład T. Żeleńskiego (Boya). W układzie J. Che-
yaliera. Przygotował do druku M. Tazbir, Warszawa 1983, s. 65 (fragm. 116).