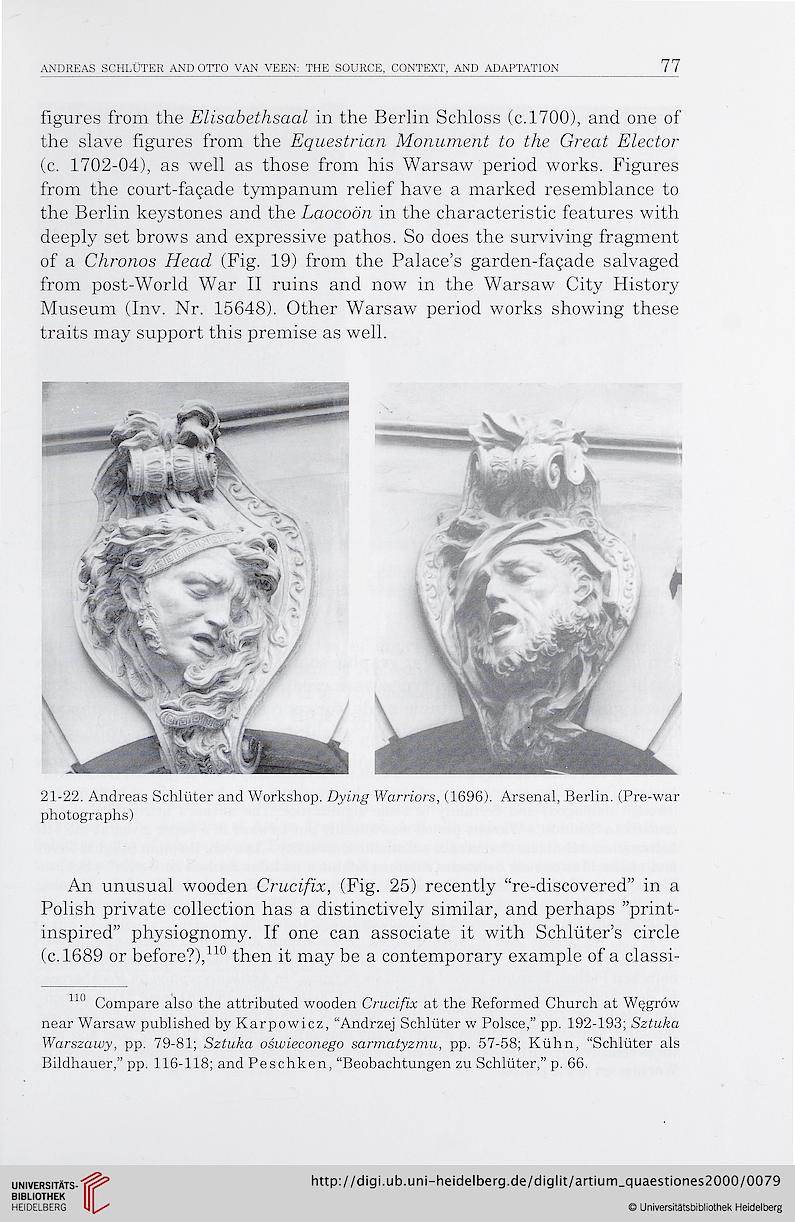 77

figures from the Elisabethsaal in the Berlin Schloss (c.1700), and one of
the slave figures from the Equestrian Monument to the Great Elector
(c. 1702-04), as well as those from his Warsaw period works. Figures
from the court-façade tympanum relief hâve a marked resemblance to
the Berlin keystones and the Laocoôn in the characteristic features with
deeply set brows and expressive pathos. So does the surviving fragment
of a Chronos Head (Fig. 19) from the Palace's garden-façade salvaged
from post-World War II ruins and now in the Warsaw City History
Muséum (Inv. Nr. 15648). Other Warsaw period works showing these
traits may support this premise as well.

21-22. Andréas Schlüter and Workshop. Dying Warriors, (1696). Arsenal, Berlin. (Pre-war
photographs)

An unusual wooden Crucifix, (Fig. 25) recently "re-discovered" in a
Polish private collection has a distinctively similar, and perhaps "print-
inspired" physiognomy. If one can associate it with Schlüter's circle
(c.1689 or before?),110 * * * then it may be a contemporary example of a classi-

110 Compare also the attributed wooden Crucifix at the Reformed Church at Wpgrôw

near Warsaw published by Karpowicz, "Andrzej Schlüter w Polsce," pp. 192-193; Sztuka

Warszawy, pp. 79-81; Sztuka oswieconego sarmatyzmu, pp. 57-58; Kühn, "Schlüter als

Bildhauer," pp. 116-118; and Peschken, "Beobachtungen zu Schlüter," p. 66.