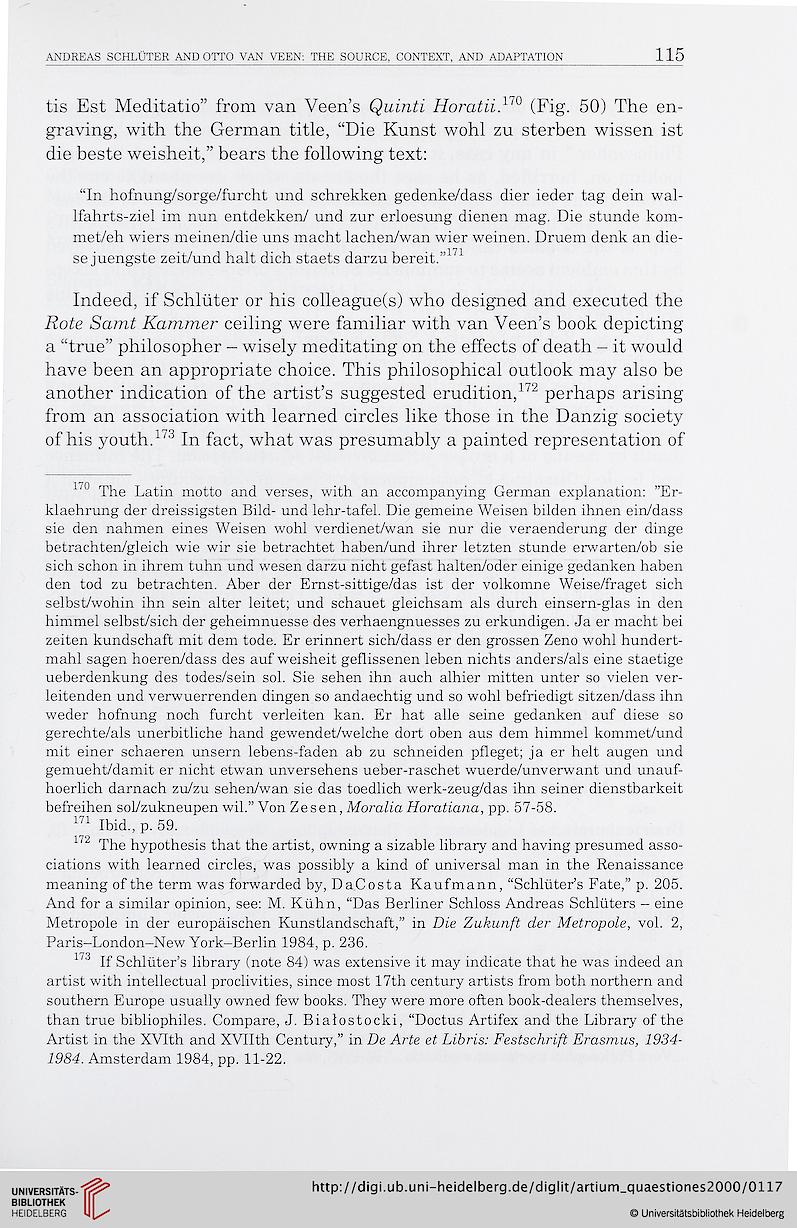 115

tis Est Meditatio" from van Veen's Quinti Hoî'atii.110 (Fig. 50) The en-
graving, with the German title, "Die Kunst wohl zu sterben wissen ist
die beste weisheit," bears the following text:

"In hofnung/sorge/furcht und schrekken gedenke/dass dier ieder tag dein wal-
lfahrts-ziel im nun entdekken/ und zur erloesung dienen mag. Die stunde kom-
met/eh wiers meinen/die uns macht lachen/wan wier weinen. Druem denk an die-
se juengste zeit/und hait dich staets darzu bereit."1'1

Indeed, if Schlüter or his colleague(s) who designed and executed the
Rote Samt Kammer ceiling were familiar with van Veen's book depicting
a "true" philosopher - wisely meditating on the effects of death - it would
hâve been an appropriate choice. This philosophical outlook may also be
another indication of the artist's suggested érudition,1'2 perhaps arising
from an association with learned circles like those in the Danzig society
of his youth.* 171 * 173 In fact, what was presumably a painted représentation of

1,0 The Latin motto and verses, with an accompanying German explanation: "Er-
klaehrung der dreissigsten Bild- und lehr-tafel. Die gemeine Weisen bilden ihnen ein/dass
sie den nahmen eines Weisen wohl verdienet/wan sie nur die veraenderung der dinge
betrachten/gleich wie wir sie betrachtet haben/und ihrer letzten stunde erwarten/ob sie
sich schon in ihrem tuhn und wesen darzu nicht gefast halten/oder einige gedanken haben
den tod zu betrachten. Aber der Ernst-sittige/das ist der volkomne Weise/fraget sich
selbst/wohin ihn sein alter leitet; und schauet gleichsam als durch einsern-glas in den
himmel selbst/sich der geheimnuesse des verhaengnuesses zu erkundigen. Ja er macht bei
zeiten kundschaft mit dem tode. Er erinnert sich/dass er den grossen Zeno wohl hundert-
mahl sagen hoeren/dass des auf weisheit geflissenen leben nichts anders/als eine staetige
ueberdenkung des todes/sein sol. Sie sehen ihn auch alhier mitten unter so vielen ver-
leitenden und verwuerrenden dingen so andaechtig und so wohl befriedigt sitzen/dass ihn
weder hofnung noch furcht verleiten kan. Er hat aile seine gedanken auf diese so
gerechte/als unerbitliche hand gewendet/welche dort oben aus dem himmel kommet/und
mit einer schaeren unsern lebens-faden ab zu schneiden pfleget; ja er helt augen und
gemueht/damit er nicht etwan unversehens ueber-raschet wuerde/unverwant und unauf-
hoerlich darnach zu/zu sehenAvan sie das toedlich werk-zeug/das ihn seiner dienstbarkeit
befreihen sol/zukneupen wil." Von Zesen, Moralia Horatiana, pp. 57-58.

171 Ibid., p. 59.

1/2 The hypothesis that the artist, owning a sizable library and having presumed asso-
ciations with learned circles, was possibly a kind of universal man in the Renaissance
meaning of the term was forwarded by, DaCosta Kaufmann, "Schlüter's Fate," p. 205.
And for a similar opinion, see: M. Kühn, "Das Berliner Schloss Andréas Schlüters - eine
Métropole in der europàischen Kunstlandschaft," in Die Zukunft der Métropole, vol. 2,
Paris-London-New York-Berlin 1984, p. 236.

173 If Schlüter's library (note 84) was extensive it may indicate that he was indeed an
artist with intellectual proclivities, since most 17th century artists from both northern and
Southern Europe usually owned few books. They were more often book-dealers themselves,
than true bibliophiles. Compare, J. Bialostocki, "Doctus Artifex and the Library of the
Artist in the XVIth and XVIIth Century," in De Arte et Libris: Festschrift Erasmus, 1934-
1984. Amsterdam 1984, pp. 11-22.