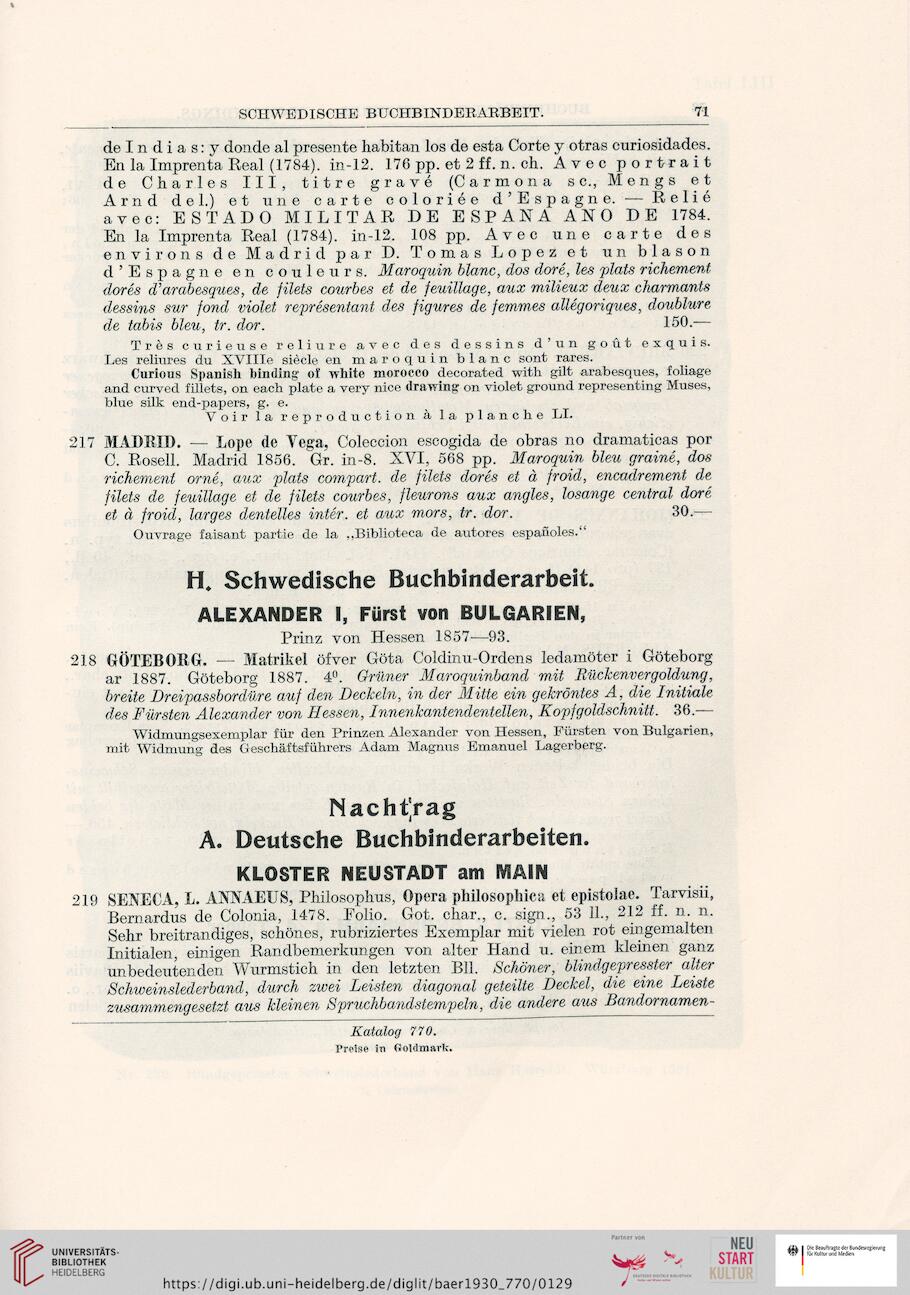 SCHWEDISCHE BUCHBINDERARBEIT.

71

delndiasry donde al presente habitan los de esta Corte y otras curiosidades.
En la Inrprenta Real (1784). in-12. 176 pp. et 2 ff. n. ch. Avec portrait
de Charles III, titre gravé (Carmona sc., Mengs et
Arnd del.) et une carte coloriée d'Espagne. — Relié
avec: ES T ADO MILITÄR DE ESPANA ANO DE 1784.
En la Imprenta Real (1784). in-12. 108 pp. Avec une carte des
environs de Madrid par D. Tomas Lopez et un blason
d'Espagne en couleurs. Maroquin blanc, dos doré, les plats richement
dorés d'arabesques, de filets courbes et de feuillage, aux milieux deux charmants
dessins sur fond violet représentant des figures de femmes allégoriques, doublure
de tabis bleu, tr. dor. 150.—
Très curieuse reliure avec des dessins d'un goût exquis.
Les reliures du XVIIIe siècle en maroquin blanc sont rares.
Curious Spanish binding of white morocco decorated with gilt arabesques, foliage
and curved fillets, on each plate a very nice drawing on violet ground representing Muses,
blue silk end-papers, g. e.
Voir la reproduction à la planche LI.
217 MADRID. — Lope de Vega, Coleccion escogida de obras no dramaticas por
C. Rosell. Madrid 1856. Gr. in-8. XVI, 568 pp. Maroquin bleu grainé, dos
richement orné, aux plats compart, de filets dorés et à froid, encadrement de
filets de feuillage et de filets courbes, fleurons aux angles, losange central doré
et à froid, larges dentelles intér. et aux mors, tr. dor. 30.—
Ouvrage faisant partie de la "Biblioteca de autores espanoles."

H, Schwedische Buchbinderarbeit.
ALEXANDER I, Fürst von BULGARIEN,
Prinz von Hessen 1857—93.
218 GÖTEBORG. — Matrikel öfver Göta Coldinu-Ordens ledamöter i Göteborg
ar 1887. Göteborg 1887. 4°. Grüner Maroquinband mit Rückenvergoldung,
breite Dreipassbordüre auf den Deckeln, in der Mitte ein gekröntes A, die Initiale
des Fürsten Alexander von Hessen, Innenkantendentellen, Kopfgoldschnitt. 36.—
Widmungsexemplar für den Prinzen Alexander von Hessen, Fürsten von Bulgarien,
mit Widmung des Geschäftsführers Adam Magnus Emanuel Lagerberg.

Nachtrag
A. Deutsche Buchbinderarbeiten.
KLOSTER NEUSTADT am MAIN
219 SENECA, L. ANNAEUS, Philosophas, Opera philosophica et epistolae. Tarvisii,
Bernardus de Colonia, 1478. Folio. Got. char., c. sign., 53 11., 212 ff. n. n.
Sehr breitrandiges, schönes, rubriziertes Exemplar mit vielen rot eingemalten
Initialen, einigen Randbemerkungen von alter Hand u. einem kleinen ganz
unbedeutenden Wurmstich in den letzten Bll. Schöner, blindgepresster alter
Schweinslederband, durch zwei Leisten diagonal geteilte Deckel, die eine Leiste
zusammengesetzt aus kleinen Spruchbandstempeln, die andere aus Bandornamen-

Katalog 110.
Preise in Goldmark.