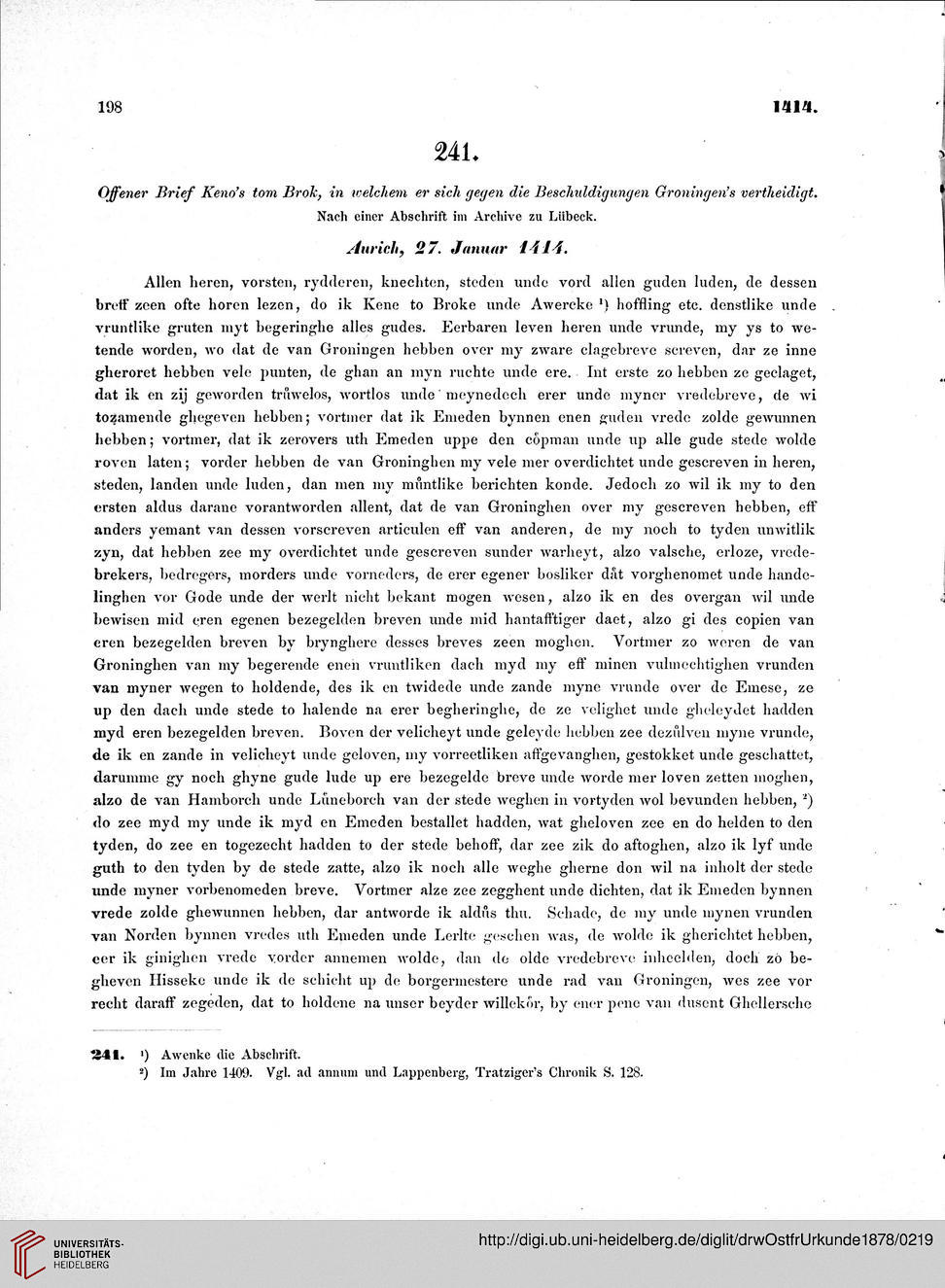 198 1314.

24L

Offener Brief Keno's tom Brok, in welchem er sich gegen die Beschuldigungen Groningen's vertheidigt.

Nach einer Abschrift im Archive zu Lübeck.

Anrieh, 27. Januar 1414.

Allen heren, vorsten, rydderen, knechten, stcdcn unde vord allen guden luden, de dessen
brotf zcen ofte hören lezon, do ik Kene to Broke unde Awercke ') hoffling etc. denstlike unde
vruntlike graten myt begeringhc alles gudes. Eerbaren leven heren unde vrunde, my ys to we-
tende worden, wo dat de van Groningen hebben over my zware clagebreve screven, dar ze inne
gheroret hebben vele punten, de ghan an myn ruchte unde ere. Int erste zo hebben ze geclaget,
dat ik en zij geworden truwelos, wortlos unde meynedech erer unde myner vredebreve, de wi
tozamende ghegeven hebben; vortnier dat ik Eineden bynnen enen guden vrede zolde gewunnen
hebben; vortmer, dat ik zerovers uth Emeden uppe den cöpman unde up alle gude stede wolde
roven laten; vorder hebben de van Groninghen my vele mer overdiehtet unde gescreven in heren,
steden, landen unde luden, dan men my müntlike berichten konde. Jedoch zo wil ik my to den
ersten aldus daraue vorantworden allent, dat de van Groninghen over my gescreven hebben, eff
anders yemant van dessen vorscreven articulen eff van anderen, de my noch to tyden unwitlik
zyn, dat hebben zee my overdichtet unde gescreven sunder warheyt, alzo valsche, erloze, vrede-
brekers, bedregers, morders unde vorneders, de erer egener bosliker dat vorghenomet unde hande-
linghen vor Gode unde der werlt nicht bekant mögen wesen, alzo ik en des overgan wil unde
bewisen mid eren egenen bezegelden breven unde mid hantafftiger daet, alzo gi des copien van
eren bezegelden breven by brynghere desses breves zeen moghen. Vortmer zo weren de van
Groninghen van my begerende enen vruntliken dach myd my eff minen vulmochtighen vrunden
van myner wegen to holdende, des ik en twidede unde zande myne vrunde over de Emese, ze
up den dach unde stede to haiende na erer begheringlie, de ze velighet unde gheleydet hadden
myd eren bezegelden breven. Boven der velicheyt unde geleyde hebben zee dezidven niyne vrunde,
de ik en zande in velicheyt unde geloven, my vorreetliken affgevanghen, gestokket unde geschattet,
darunime gy noch ghyne gude lüde up ere bezegelde breve unde worde mer loven zetten moghen,
alzo de van Hamborch unde Lüneborch van der stede weghen in vortyden wol bevunden hebben, 2)
do zee myd my unde ik myd en Emeden bestallet hadden, wat gheloven zee en do helden to den
tyden, do zee en togezecht hadden to der stede behoff, dar zee zik do aftoghen, alzo ik lyf unde
guth to den tyden by de stede zatte, alzo ik noch alle weghe gherne don wil na inholt der stede
unde myner vorbenomeden breve. Vortmer alze zee zegghent unde dichten, dat ik Emeden bynnen
vrede zolde ghewunnen hebben, dar antworde ik aldus thu. Schade, de my unde mynen vrunden
van Norden bynnen vredes uth Emeden unde Lerlte gesehen was, de wolde ik gherichtet hebben,
eer ik ginighen vrede vorder annemen wolde, dan de olde vredebreve inhcelden, doch zö be-
gheven Hisseke unde ik de schiebt up de borgermestere unde rad van Groningen, wes zee vor
recht daraff zegeden, dat to holdene na unser beyder willekor, by euer pene van dusent Ghellersche

tS4l. *) Awenke die Abschrift.

2) Im Jahre 1409. Vgl. ad annum und Lappenberg, Tratziger's Chronik S. 128.