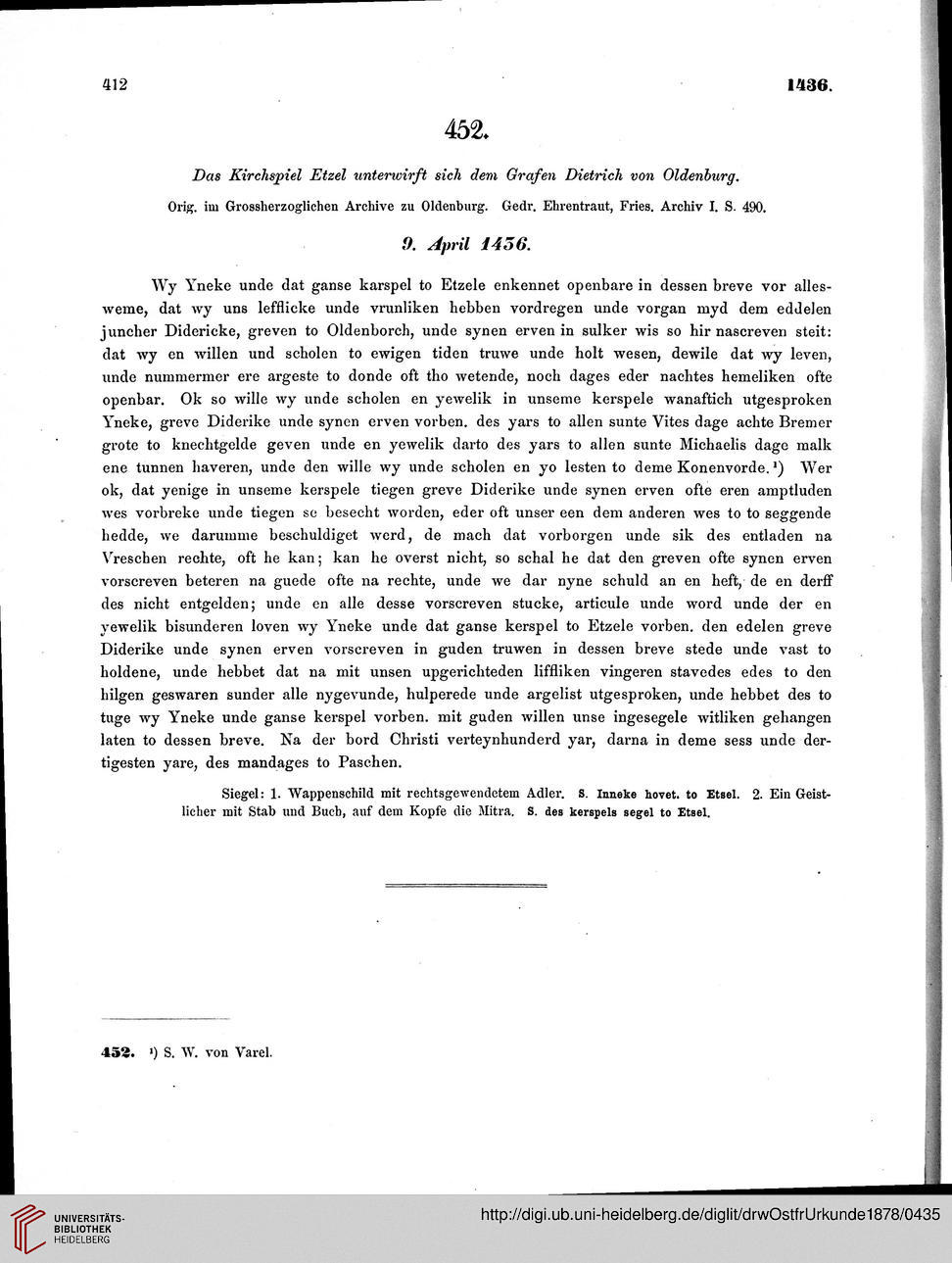 412 1436.

452*

Das Kirchspiel Etzel unterwirft sich dem Grafen Dietrich von Oldenburg.
Orig. im Grossherzoglichen Archive zu Oldenburg. Gedr. Ehrentraut, Fries. Archiv I. S. 490.

9. April 1456.

Wy Yneke unde dat ganse karspel to Etzele enkennet openbare in dessen breve vor alles-
weme, dat wy uns lefflicke unde vrunliken hebben vordregen unde vorgan niyd dem eddelen
juneher Didericke, greven to Oldenborch, unde synen erven in sulker wis so hir nascreven steit:
dat wy en willen und scholen to ewigen tiden truwe unde holt wesen, dewile dat wy leven,
unde nummermer ere argeste to donde oft tho wetende, noch dages eder nachtes hemeliken ofte
openbar. Ok so wille wy unde scholen en yewelik in unseme kerspele wanaftich utgesproken
Yneke, greve Diderike unde synen erven vorben. des yars to allen sunte Vites dage achte Bremer
grote to knechtgelde geven unde en yewelik darto des yars to allen sunte Michaelis dage malk
ene tunnen haveren, unde den wille wy unde scholen en yo lesten to deme Konenvorde.') Wer
ok, dat yenige in unseme kerspele tiegen greve Diderike unde synen erven ofte eren amptluden
wes vorbreke unde tiegen sc besecht worden, eder oft unser een dem anderen wes to to seggende
hedde, we darumme beschuldiget werd, de mach dat vorborgen unde sik des entladen na
Vreschen rechte, oft he kan; kan he overst nicht, so schal he dat den greven ofte synen erven
vorscreven beteren na guede ofte na rechte, unde we dar nyne schuld an en heft, de en derff
des nicht entgelden; unde en alle desse vorscreven stucke, articule unde word unde der en
yewelik bisunderen loven wy Yneke unde dat ganse kerspel to Etzele vorben. den edelen greve
Diderike unde synen erven vorscreven in guden truwen in dessen breve stede unde vast to
holdene, unde hebbet dat na mit unsen upgerichteden liffliken vingeren stavedes edes to den
hilgen geswaren sunder alle nygevunde, hulperede unde argelist utgesproken, unde hebbet des to
tuge wy Yneke unde ganse kerspel vorben. mit guden willen unse ingesegele witliken gehangen
laten to dessen breve. Na der bord Christi verteynhunderd yar, darna in deme sess unde der-
tigesten yare, des mandages to Paschen.

Siegel: 1. Wappenschild mit rechtsgewendetem Adler. S. Inneke hovet. to Etsel. 2. Ein Geist-
licher mit Stab und Buch, auf dem Kopfe die Mitra. S. des kerspels segel to Etsel.

452. ') S. W. von Varel.