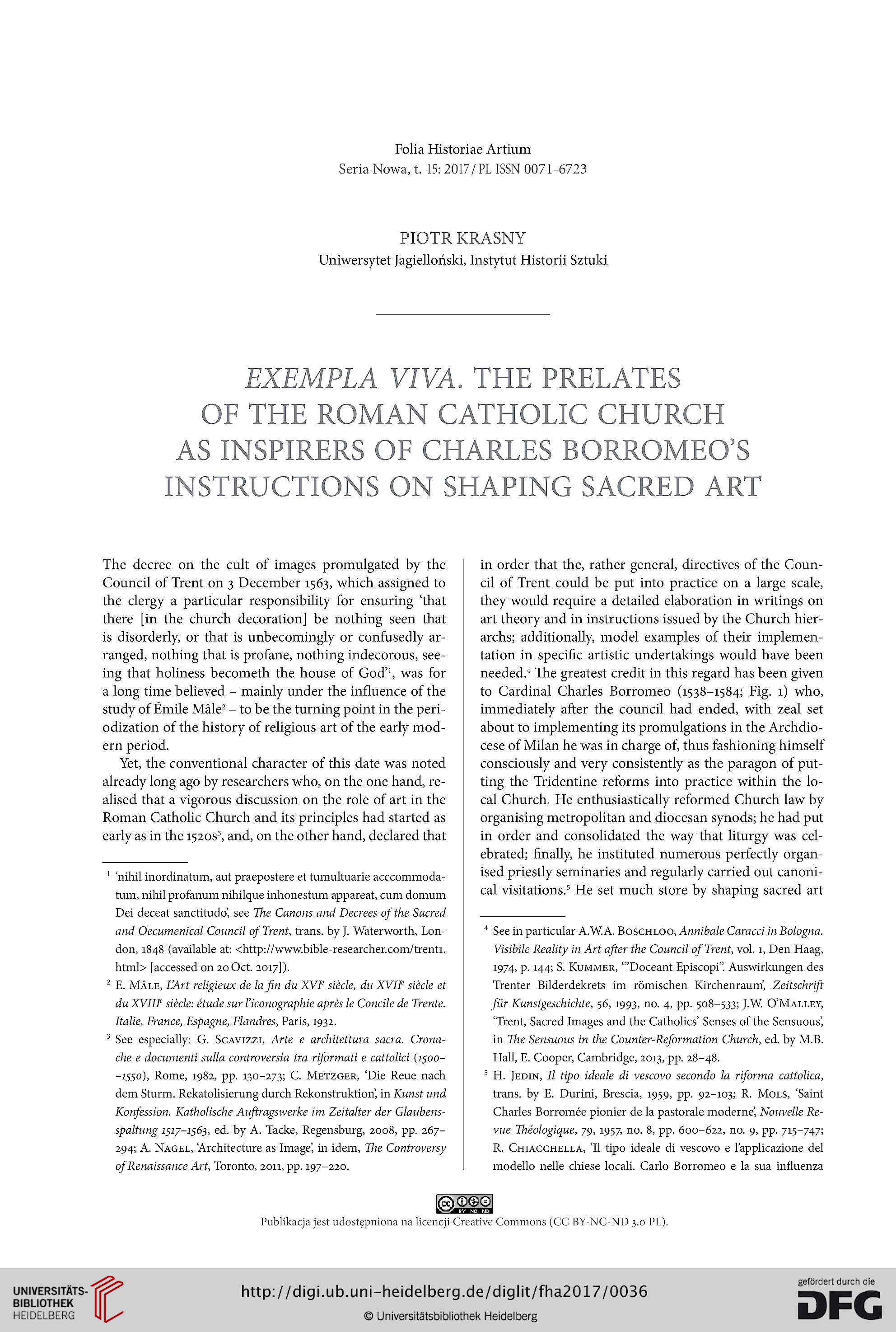 Seria Nowa, t. 15: 2017/PL ISSN 0071-6723

PIOTR KRASNY
Uniwersytet Jagielloński, Instytut Historii Sztuki

EXEMPLA VIVA. THE PRELATES
OF THE ROMAN CATHOLIC CHURCH
AS INSPIRERS OF CHARLES BORROMEO'S
INSTRUCTIONS ON SHAPING SACRED ART

The decree on the cult of images promulgated by the
Council of Trent on 3 December 1563, which assigned to
the clergy a particular responsibility for ensuring 'that
there [in the church decoration] be nothing seen that
is disorderly, or that is unbecomingly or confusedly ar-
ranged, nothing that is profane, nothing indecorous, see-
ing that holiness becometh the house of God'1, was for
a long time believed - mainly under the influence of the
study of Émile Mâle2 - to be the turning point in the peri-
odization of the history of religious art of the early mod-
ern period.
Yet, the conventional character of this date was noted
already long ago by researchers who, on the one hand, re-
alised that a vigorous discussion on the role of art in the
Roman Catholic Church and its principles had started as
early as in the 1520s3, and, on the other hand, declared that

1 'nihil inordinatum, aut praepostere et tumultuarie acccommoda-
tum, nihil profanum nihilque inhonestum appareat, cum domum
Dei deceat sanctitudo', see The Canons and Decrees of the Sacred
and Oecumenical Council of Trent, trans, by J. Waterworth, Lon-
don, 1848 (available at: <http://www.bible-researcher.com/trenti.
html> [accessed on 20 Oct. 2017]).
2 E. Mâle, L'Art religieux de la fin du XVIe siècle, du XVIIe siècle et
du XVIIT siècle: étude sur l'iconographie après le Concile de Trente.
Italie, France, Espagne, Flandres, Paris, 1932.
3 See especially: G. Soavizzi, Arte e architettura sacra. Crona-
che e documenti sulla controversia tra riformati e cattolici (1500-
-1550), Rome, 1982, pp. 130-273; C. Metzger, 'Die Reue nach
dem Sturm. Rekatolisierung durch Rekonstruktion, in Kunst und
Konfession. Katholische Auftragswerke im Zeitalter der Glaubens-
spaltung 1517-1563, ed. by A. Tacke, Regensburg, 2008, pp. 267-
294; A. Nagel, Architecture as Image', in idem, The Controversy
of Renaissance Art, Toronto, 2011, pp. 197-220.

in order that the, rather general, directives of the Coun-
cil of Trent could be put into practice on a large scale,
they would require a detailed elaboration in writings on
art theory and in instructions issued by the Church hier-
archs; additionally, model examples of their implemen-
tation in specific artistic undertakings would have been
needed.4 The greatest credit in this regard has been given
to Cardinal Charles Borromeo (1538-1584; Fig. 1) who,
immediately after the council had ended, with zeal set
about to implementing its promulgations in the Archdio-
cese of Milan he was in charge of, thus fashioning himself
consciously and very consistently as the paragon of put-
ting the Tridentine reforms into practice within the lo-
cal Church. He enthusiastically reformed Church law by
organising metropolitan and diocesan synods; he had put
in order and consolidated the way that liturgy was cel-
ebrated; finally, he instituted numerous perfectly organ-
ised priestly seminaries and regularly carried out canoni-
cal visitations.5 He set much store by shaping sacred art

4 See in particular A.W.A. Boschloo, Annibale Caracci in Bologna.
Visibile Reality in Art after the Council of Trent, voi. 1, Den Haag,
1974, P- 44; S. Kummer, '"Doceant Episcopi". Auswirkungen des
Trenter Bilderdekrets im römischen Kirchenraum', Zeitschrift
für Kunstgeschichte, 56, 1993, no. 4, pp. 508-533; J.W. O'Malley,
'Trent, Sacred Images and the Catholics' Senses of the Sensuous',
in The Sensuous in the Counter-Reformation Church, ed. by M.B.
Hall, E. Cooper, Cambridge, 2013, pp. 28-48.
5 H. Jedin, Il tipo ideale di vescovo secondo la riforma cattolica,
trans, by E. Durini, Brescia, 1959, pp. 92-103; R. Mols, 'Saint
Charles Borromée pionier de la pastorale moderne', Nouvelle Re-
vue Théologique, 79, 1957, no. 8, pp. 600-622, no. 9, pp. 715-747;
R. Chiacchella, Tl tipo ideale di vescovo e l'applicazione del
modello nelle chiese locali. Carlo Borromeo e la sua influenza


Publikacja jest udostępniona na licencji Creative Commons (CC BY-NC-ND 3.0 PL).