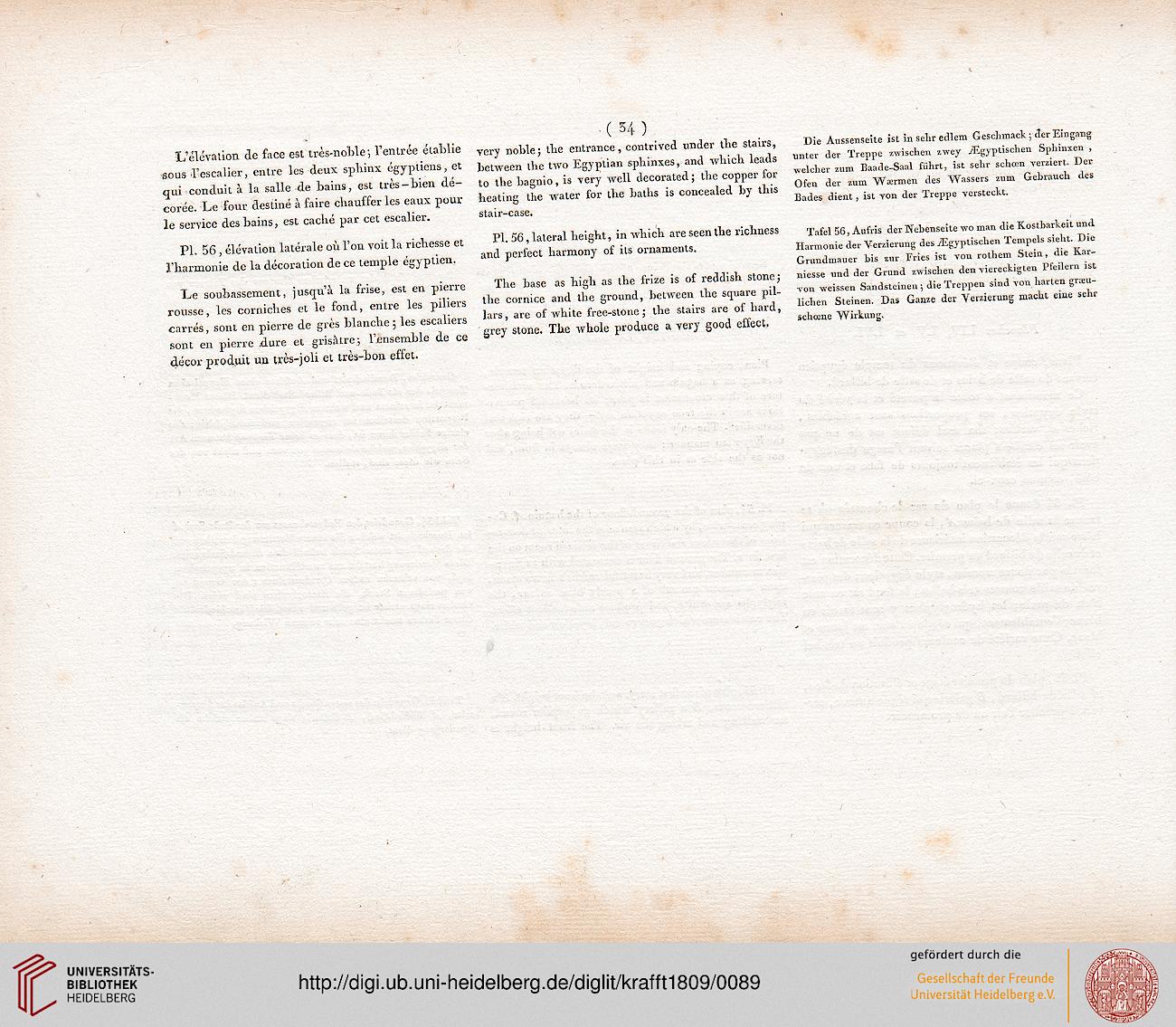 sous l'escalier, entre les deux sphinx égyptiens, et
qui conduit à la salle de bains, est très-bien dé-
corée. Le four destiné à faire chauffer les eaux poul-
ie service des bains, est caché par cet escalier.

Pl. 56, élévation latérale où l'on voit la richesse et
l'harmonie de la décoration de ce temple égyptien.

Le soubassement, jusqu'à la frise, est en pierre
rousse, les corniches et le fond, entre les piliers
carrés, sont en pierre de grès blanche ; les escaliers
sont en pierre dure et grisâtre-, l'ensemble de ce
décor produit un très-joli et très-bon effet.

(54)

very noble; the entrance, contrived under the stairs,
between the two Egyptian sphinxes, and which leads
to the bagnio, is very well decorated ; the copper for
heating the water for the baths is concealed by this
stair-case.

PI. 56, lateral height, in which are seen the richness
and perfect harmony of its ornaments.

The base as high as the frize is of reddish stone;
the cornice and the ground, between the square pil-
lars, are of white free-stone; the stairs are of hard,
grey stone. The whole produce a very good effect.

Die Aussenseite ist in sehr edlem Geschmack ; der Eingang
unter der Treppe zwischen zwey iEgyptischen Sphinxen ,
welcher zum Baade-Saal führt, ist sehr schcen verziert. Der
Ofen der zum Wsermen des Wassers zum Gebrauch des
Bades dient, ist von der Treppe versteckt.

Tafel 56, Aufris der Nebenseite wo man die Kostbarkeit und
Harmonie der Verzierung des iEgyptischen Tempels sieht. Die
Grundmauer bis zur Fries ist von rothem Stein, die Kar-
niesse und der Grund zwischen den viereckigten Pfeilern ist
von weissen Sandsteinen 5 die Treppen sind von harten grau-
lichen Steinen. Das Ganze der Verzierung macht eine sehr
schoene "Wirkung.