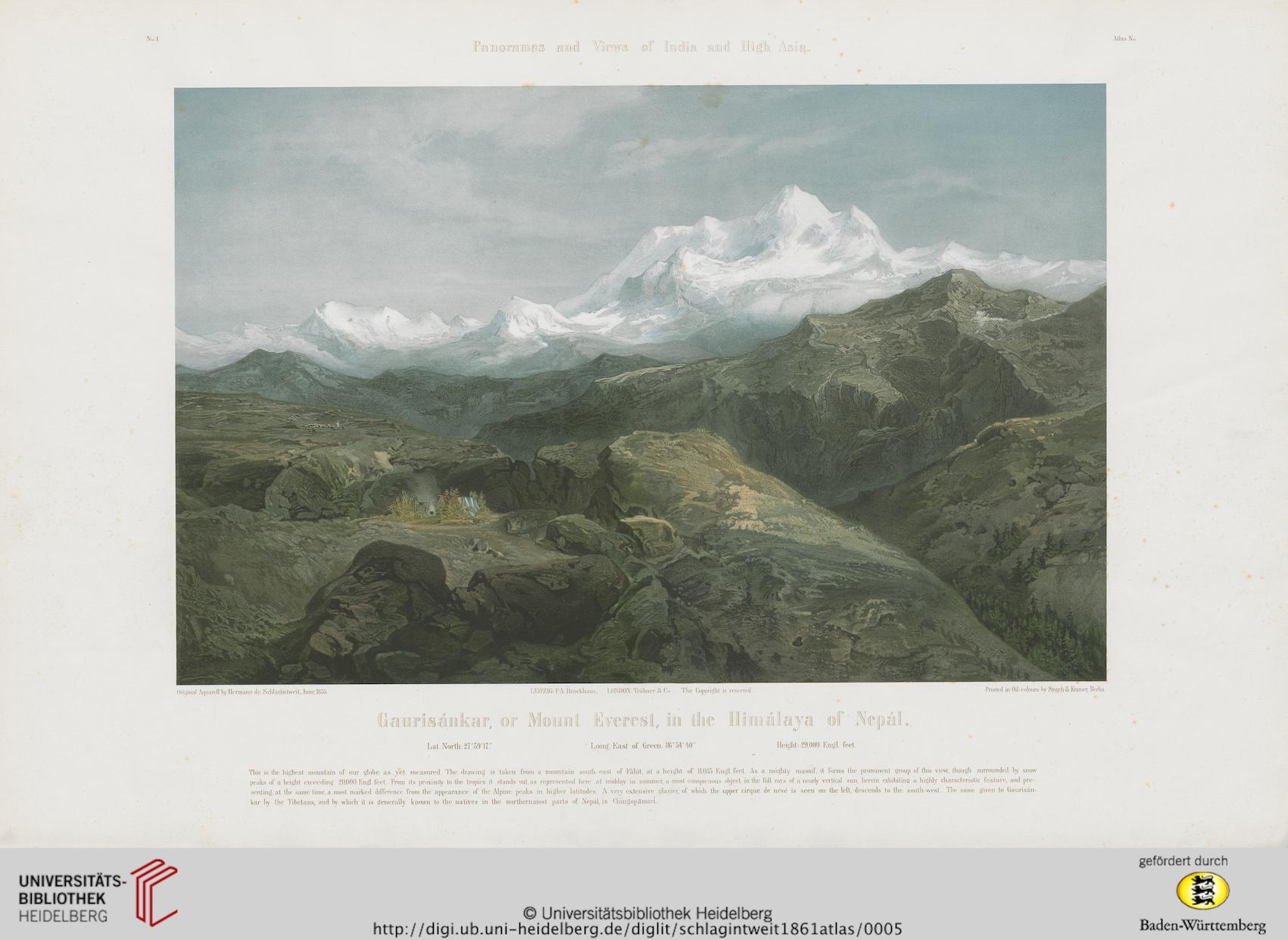 Allas N<>

No

IID

ii (

aiororansis siKij

©ji linudiia 8MM

ntf

Origina! Aijuarcll l»y 1 lcrmami de vSehlagmlweil,.111110,1055.

liKII'/KJ: KA. HroekhaiiK, IjONDON: Triibncf & Co. The Copyright is rcscrvcd.

I'rintcd in Oil-colours hy iSl(irch& Kramcr, Hcrlin.

G

O 9

O fXM CJ j :

M M fl 1

c»r mu»

liat. Norlli: 27°59'17."

Df iMO

iTeresL m tlic li

Ijong. Hasl of (irmi: H6°54'40"

u

O'l

ca

Tn

rv

*

icl

lleiglil: 29,000 Kngl. feel

This is the hig'hesl. mounlain of our globe as ycl. measured. The drawing is Laken frorri a rnountain sonlh-east of halut, al a height of 11,035 Kngl. feel. As a mighly maSvSil', il forms thc prominent group of this viow, thoug'h surrounded by snow

pcaks of a height exceeding £0,000 Kngl. feet. Frorn ils jiroxiinity to the tropics it starids out,as represenled here at midday in summer, a most conspicuous ohject in the full rays of a uearly vcrtical suu, herein exhibiting a highly charaderistic fealure, and pre-

scnling,al llic samctimc, a mosl marked diffcrence from thc appearance of l.hc Alpinc peaks iu higher latiludes. A very exterisive glacier, ol' which the uppcr cirque de ncve is secn on thc left, descends to the south-wesl. The namc given to (iaurisan-

kar by Ihe Tibelans, aud bv which il is generally known lo the natives in the northerninost parts of Mepafis I'hingopamari.