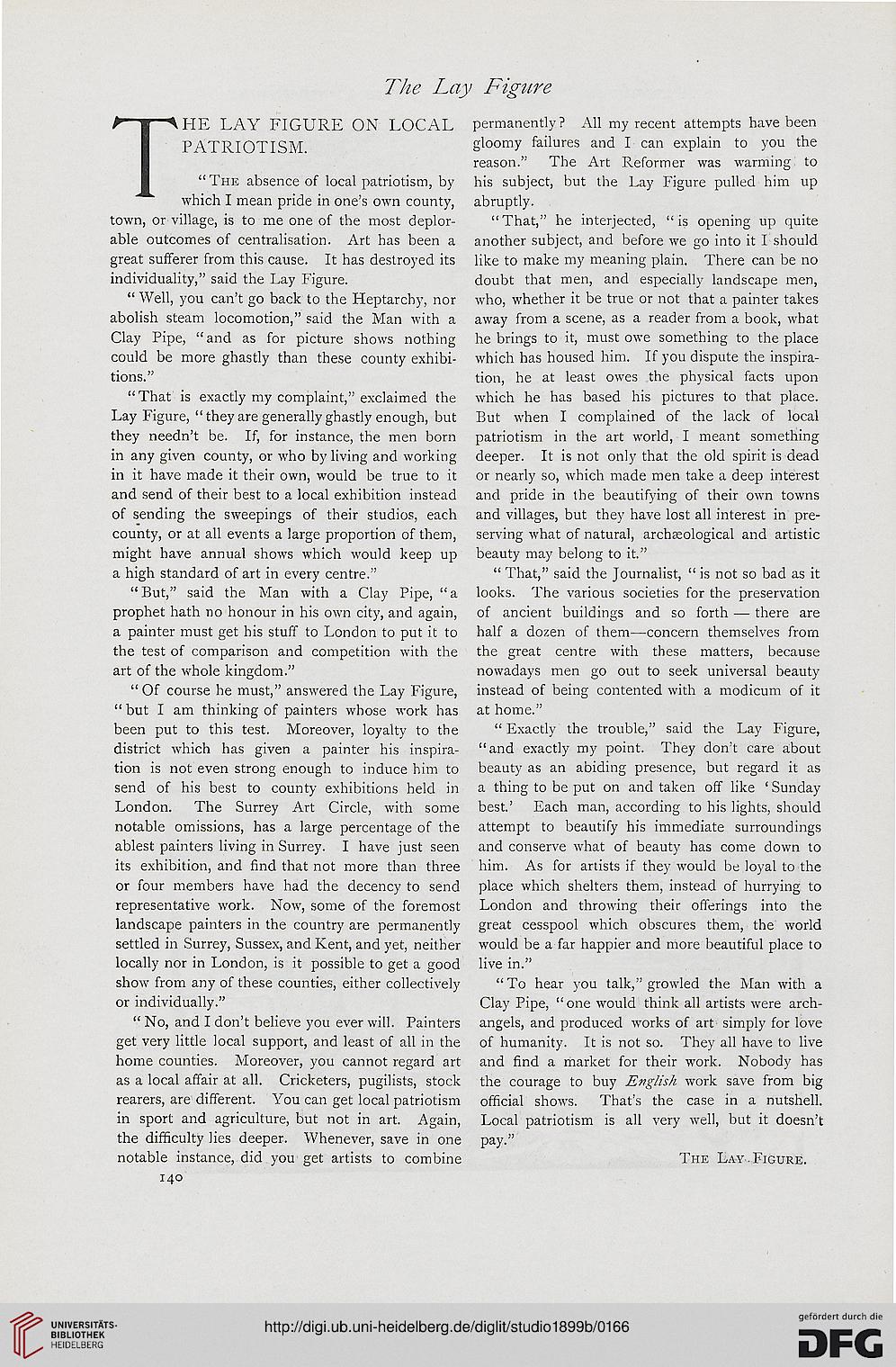 The lay figure on local

PATRIOTISM.

"The absence of local patriotism, by
which I mean pride in one's own county,
town, or village, is to me one of the most deplor-
able outcomes of centralisation. Art has been a
great sufferer from this cause. It has destroyed its
individuality," said the Lay Figure.

" Well, you can't go back to the Heptarchy, nor
abolish steam locomotion," said the Man with a
Clay Pipe, " and as for picture shows nothing
could be more ghastly than these county exhibi-
tions."

"That is exactly my complaint," exclaimed the
Lay Figure, " they are generally ghastly enough, but
they needn't be. If, for instance, the men born
in any given county, or who by living and working
in it have made it their own, would be true to it
and send of their best to a local exhibition instead
of sending the sweepings of their studios, each
county, or at all events a large proportion of them,
might have annual shows which would keep up
a high standard of art in every centre."

"But," said the Man with a Clay Pipe, "a
prophet hath no honour in his own city, and again,
a painter must get his stuff to London to put it to
the test of comparison and competition with the
art of the whole kingdom."

"Of course he must," answered the Lay Figure,
" but I am thinking of painters whose work has
been put to this test. Moreover, loyalty to the
district which has given a painter his inspira-
tion is not even strong enough to induce him to
send of his best to county exhibitions held in
London. The Surrey Art Circle, with some
notable omissions, has a large percentage of the
ablest painters living in Surrey. I have just seen
its exhibition, and find that not more than three
or four members have had the decency to send
representative work. Now, some of the foremost
landscape painters in the country are permanently
settled in Surrey, Sussex, and Kent, and yet, neither
locally nor in London, is it possible to get a good
show from any of these counties, either collectively
or individually."

" No, and I don't believe you ever will. Painters
get very little local support, and least of all in the
home counties. Moreover, you cannot regard art
as a local affair at all. Cricketers, pugilists, stock
rearers, are different. You can get local patriotism
in sport and agriculture, but not in art. Again,
the difficulty lies deeper. Whenever, save in one
notable instance, did you get artists to combine
140

permanently ? All my recent attempts have been
gloomy failures and I can explain to you the
reason." The Art Reformer was warming to
his subject, but the Lay Figure pulled him up
abruptly.

"That," he interjected, "is opening up quite
another subject, and before we go into it I should
like to make my meaning plain. There can be no
doubt that men, and especially landscape men,
who, whether it be true or not that a painter takes
away from a scene, as a reader from a book, what
he brings to it, must owe something to the place
which has housed him. If you dispute the inspira-
tion, he at least owes the physical facts upon
which he has based his pictures to that place.
But when I complained of the lack of local
patriotism in the art world, I meant something
deeper. It is not only that the old spirit is dead
or nearly so, which made men take a deep interest
and pride in the beautifying of their own towns
and villages, but they have lost all interest in pre-
serving what of natural, archaeological and artistic
beauty may belong to it."

" That," said the Journalist, " is not so bad as it
looks. The various societies for the preservation
of ancient buildings and so forth — there are
half a dozen of them—concern themselves from
the great centre with these matters, because
nowadays men go out to seek universal beauty
instead of being contented with a modicum of it
at home."

" Exactly the trouble," said the Lay Figure,
"and exactly my point. They don't care about
beauty as an abiding presence, but regard it as
a thing to be put on and taken off like ' Sunday
best.' Each man, according to his lights, should
attempt to beautify his immediate surroundings
and conserve what of beauty has come down to
him. As for artists if they would be loyal to the
place which shelters them, instead of hurrying to
London and throwing their offerings into the
great cesspool which obscures them, the world
would be a far happier and more beautiful place to
live in."

"To hear you talk," growled the Man with a
Clay Pipe, "one would think all artists were arch-
angels, and produced works of art simply for love
of humanity. It is not so. They all have to live
and find a market for their work. Nobody has
the courage to buy English work save from big
official shows. That's the case in a nutshell.
Local patriotism is all very well, but it doesn't

The Lay Figure.