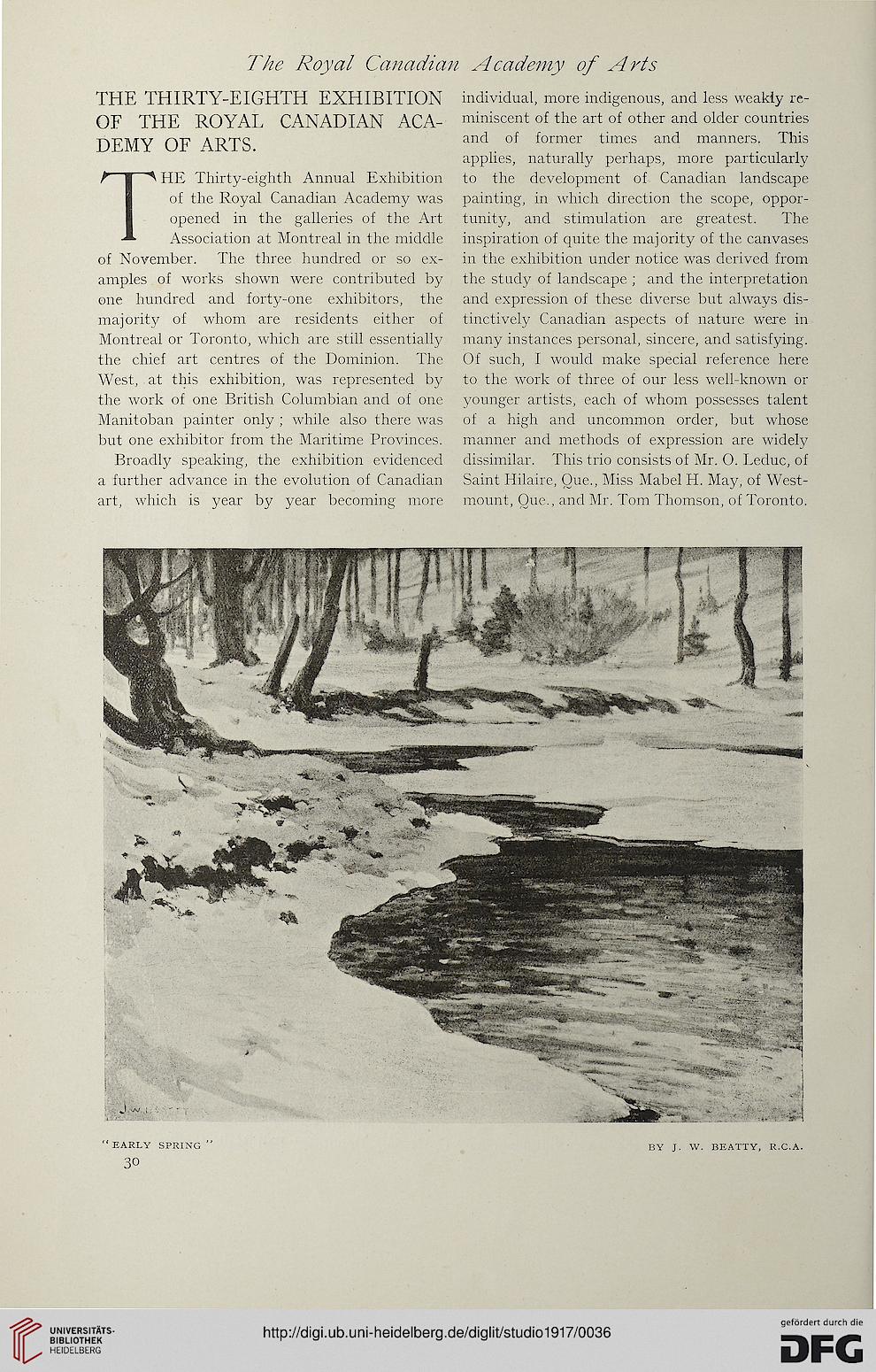 THE THIRTY-EIGHTH EXHIBITION
OF THE ROYAL CANADIAN ACA-
DEMY OF ARTS.

THE Thirty-eighth Annual Exhibition
of the Royal Canadian Academy was
opened in the galleries of the Art
Association at Montreal in the middle
of November. The three hundred or so ex-
amples of works shown were contributed by
one hundred and forty-one exhibitors, the
majority of whom are residents either of
Montreal or Toronto, which are still essentially
the chief art centres of the Dominion. The
West, at this exhibition, was represented by
the work of one British Columbian and of one
Manitoban painter only ; while also there was
but one exhibitor from the Maritime Provinces.

Broadly speaking, the exhibition evidenced
a further advance in the evolution of Canadian
art, which is year by year becoming more

individual, more indigenous, and less weakly re-
miniscent of the art of other and older countries
and of former times and manners. This
applies, naturally perhaps, more particularly
to the development of Canadian landscape
painting, in which direction the scope, oppor-
tunity, and stimulation are greatest. The
inspiration of quite the majority of the canvases
in the exhibition under notice was derived from
the study of landscape ; and the interpretation
and expression of these diverse but always dis-
tinctively Canadian aspects of nature were in
many instances personal, sincere, and satisfying.
Of such, I would make special reference here
to the work of three of our less well-known or
younger artists, each of whom possesses talent
of a high and uncommon order, but whose
manner and methods of expression are widely
dissimilar. This trio consists of Mr. O. Leduc, of
Saint Hilaire, Oue., Miss Mabel H. May, of West-
mount, Oue., and Mr. Tom Thomson, of Toronto.

BY J. W. BEATTY, R.C.A.