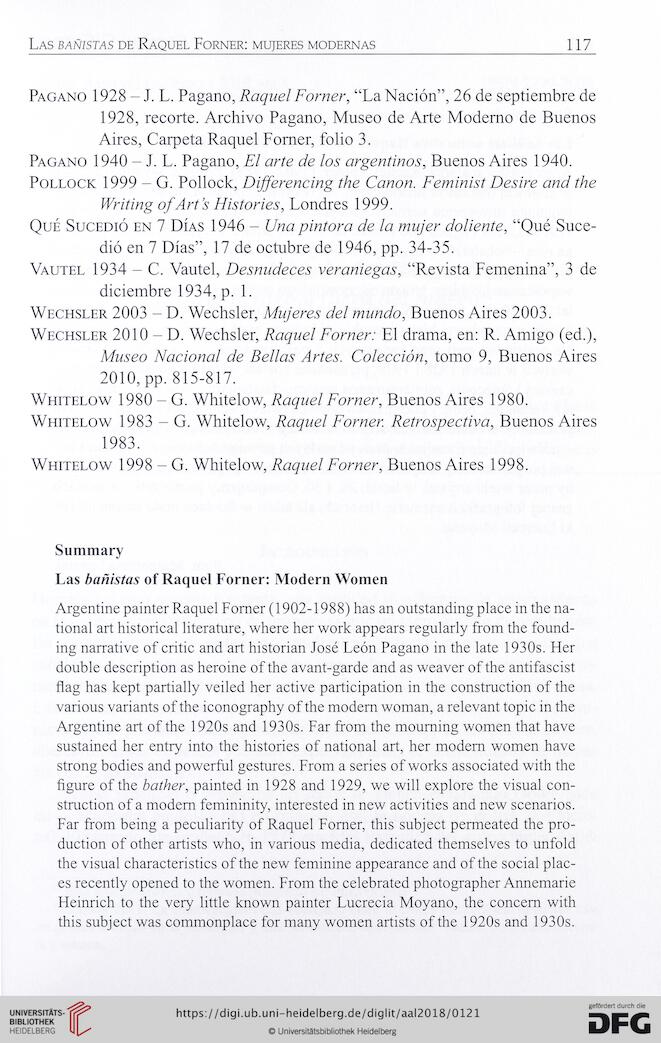 117

Pagano 1928 - J. L. Pagano, Raquel Forner, "La Nación", 26 de septiembre de
1928, recorte. Archivo Pagano, Museo de Arte Moderno de Buenos
Aires, Carpeta Raquel Forner, folio 3.
Pagano 1940 - J. L. Pagano, El arte de los argentinos, Buenos Aires 1940.
Pollock 1999 - G. Pollock, Differencing the Canon. Feminist Desire and the
Writing of Art's Histories, Londres 1999.
Qué Sucedió en 7 Días 1946 - Una pintora de la mujer doliente, "Qué Suce-
dió en 7 Días", 17 de octubre de 1946, pp. 34-35.
Vautel 1934 - C. Vautel, Desnudeces veraniegas, "Revista Femenina", 3 de
diciembre 1934, p. 1.
Wechsler 2003 - D. Wechsler, Mujeres del mundo, Buenos Aires 2003.
Wechsler 2010 - D. Wechsler, Raquel Forner: El drama, en: R. Amigo (ed.),
Museo Nacional de Bellas Artes. Colección, tomo 9, Buenos Aires
2010, pp. 815-817.
Whitelow 1980 - G. Whitelow, Raquel Forner, Buenos Aires 1980.
Whitelow 1983 - G. Whitelow, Raquel Forner. Retrospectiva, Buenos Aires
1983.
Whitelow 1998 - G. Whitelow, Raquel Forner, Buenos Aires 1998.
Summary
Las bañistas of Raquel Forner: Modern Women
Argentine painter Raquel Fomer (1902-1988) has an outstanding place in the na-
tional art historical literature, where her work appears regularly from the found-
ing narrative of critic and art historian José León Pagano in the late 1930s. Her
double description as heroine of the avant-garde and as weaver of the antifascist
flag has kept partially veiled her active participation in the construction of the
various variants of the iconography of the modem woman, a relevant topic in the
Argentine art of the 1920s and 1930s. Far from the mourning women that have
sustained her entry into the histories of national art, her modem women have
strong bodies and powerful gestures. From a series of works associated with the
figure of the bather, painted in 1928 and 1929, we will explore the visual con-
struction of a modem femininity, interested in new activities and new scenarios.
Far from being a peculiarity of Raquel Fomer, this subject permeated the pro-
duction of other artists who, in various media, dedicated themselves to unfold
the visual characteristics of the new feminine appearance and of the social plac-
es recently opened to the women. From the celebrated photographer Annemarie
Heinrich to the very little known painter Lucrecia Moyano, the concern with
this subject was commonplace for many women artists of the 1920s and 1930s.