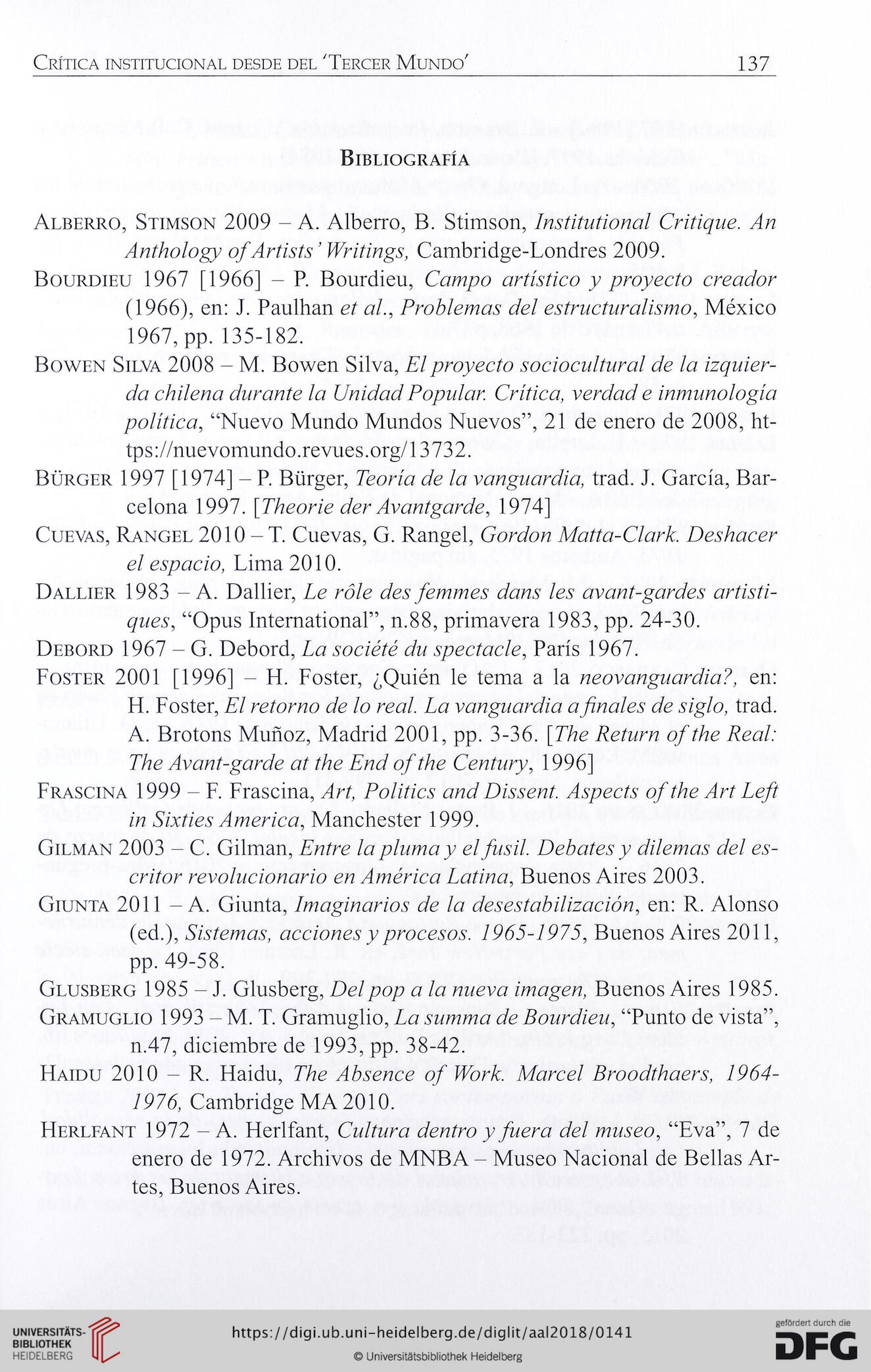 Crítica institucional desde del 'Tercer Mundo'

137

Bibliografía
Alberro, Stimson 2009 - A. Alberro, B. Stimson, Institutional Critique. An
Anthology of Artists' Writings, Cambridge-Londres 2009.
Bourdieu 1967 [1966] - P. Bourdieu, Campo artístico y proyecto creador
(1966), en: J. Paulhan et al., Problemas del estructuralismo, México
1967, pp. 135-182.
Bowen Silva 2008 - M. Bowen Silva, El proyecto sociocultural de la izquier-
da chilena durante la Unidad Popular. Crítica, verdad e inmunología
política, "Nuevo Mundo Mundos Nuevos", 21 de enero de 2008, ht-
tps://nuevomundo.revues.org/13732.
Bürger 1997 [1974] - P. Bürger, Teoría de la vanguardia, trad. J. Garcia, Bar-
celona 1997. [Theorie der Avantgarde, 1974]
Cuevas, Rangel 2010 - T. Cuevas, G. Rangel, Gordon Matta-Clark. Deshacer
el espacio, Lima 2010.
Dallier 1983 - A. Dallier, Le role des femmes dans les avant-gardes artisti-
ques, "Opus International", n.88, primavera 1983, pp. 24-30.
Debord 1967 - G. Debord, La société du spectacle, Paris 1967.
Foster 2001 [1996] - H. Foster, ¿Quién le tema a la neovanguardia?, en:
H. Foster, El retorno de lo real. La vanguardia a finales de siglo, trad.
A. Brotons Muñoz, Madrid 2001, pp. 3-36. [The Return of the Real:
The Avant-garde at the End of the Century, 1996]
Frascina 1999 - F. Frascina, Art, Politics and Dissent. Aspects of the Art Left
in Sixties America, Manchester 1999.
Gilman 2003 - C. Gilman, Entre la pluma y el fusil. Debates y dilemas del es-
critor revolucionario en América Latina, Buenos Aires 2003.
Giunta 2011 - A. Giunta, Imaginarios de la desestabilización, en: R. Alonso
(ed.), Sistemas, acciones y procesos. 1965-1975, Buenos Aires 2011,
pp. 49-58.
Glusberg 1985 - J. Glusberg, Del pop a la nueva imagen, Buenos Aires 1985.
Gramuglio 1993 - M. T. Gramuglio, La summa de Bourdieu, "Punto de vista",
n.47, diciembre de 1993, pp. 38-42.
Haidu 2010 - R. Haidu, The Absence of Work. Marcel Broodthaers, 1964-
1976, Cambridge MA 2010.
Herlfant 1972 - A. Herlfant, Cultura dentro y fuera del museo, "Eva", 7 de
enero de 1972. Archivos de MNBA - Museo Nacional de Bellas Ar-
tes, Buenos Aires.