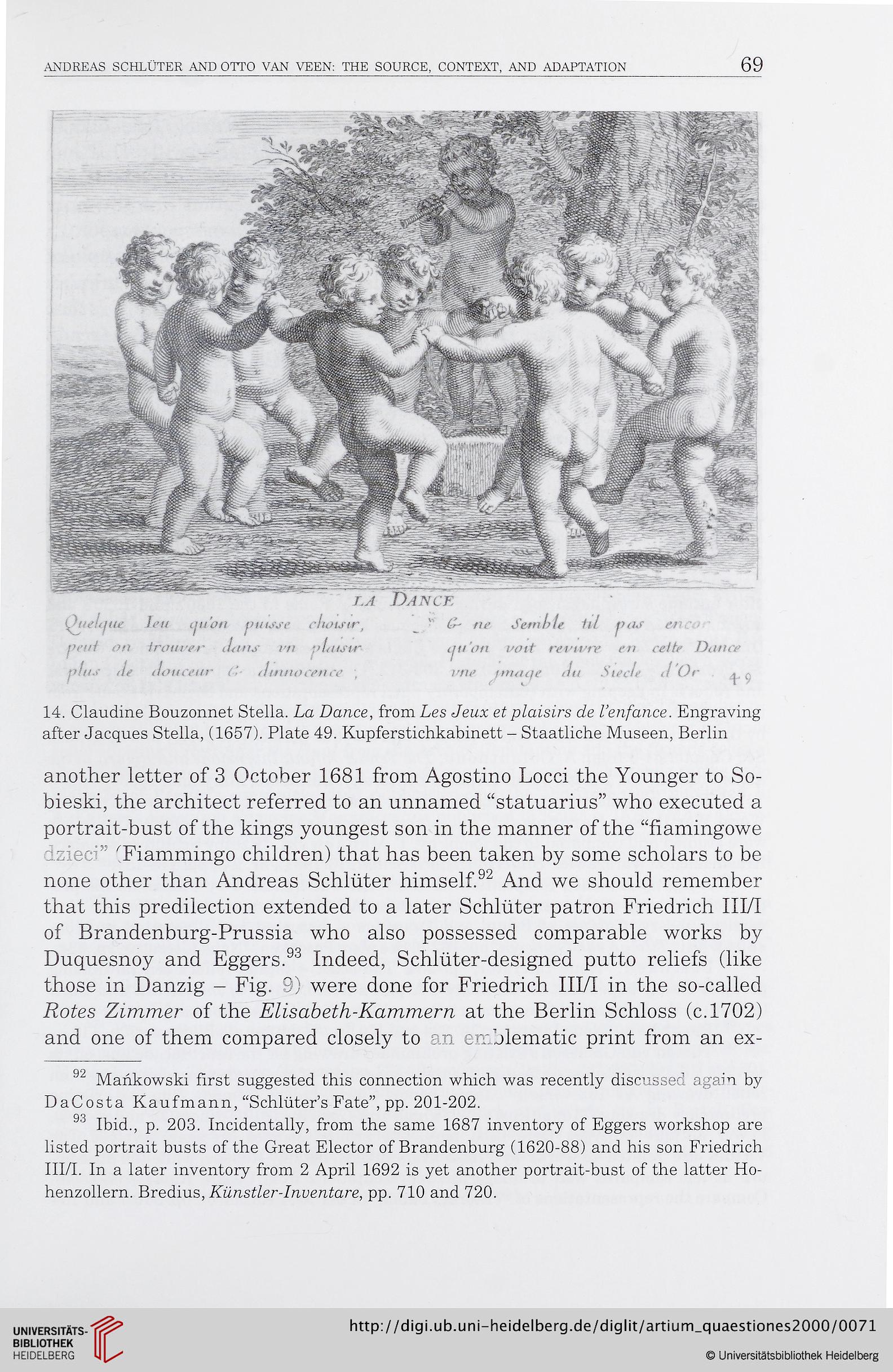 69

QueLpie leu cjti'on puisse choisir, G ne Semble hl vas en.cv

peut on trouver dans vn plaisir au'on voit revivre en celte Dance

pins de danceur dinnocence ; vue tnunje du Siecle d 'Or * g

14. Claudine Bouzonnet Stella. La Dance, from Les Jeux et plaisirs de l'enfance. Engraving

after Jacques Stella, (1657). Plate 49. Kupferstichkabinett - Staatliche Museen, Berlin

another letter of 3 October 1681 from Agostino Locci the Younger to So-
bieski, the architect referred to an unnamed "statuarius" who executed a
portrait-bust of the kings youngest son in the manner of the "fiamingowe
dzieci" 'Fiammingo children) that has been taken by some scholars to be
none other than Andréas Schlüter himself.92 And we should remember
that this prédilection extended to a later Schlüter patron Friedrich III/I
of Brandenburg-Prussia who also possessed comparable works by
Duquesnoy and Eggers.93 * * * Indeed, Schlüter-designed putto reliefs (like
those in Danzig - Fig. 9) were done for Friedrich III/I in the so-called
Rotes Zimmer of the Elisabeth-Kammern at the Berlin Schloss (c.1702)
and one of them compared closely to an emblematic print from an ex-

9" Mankowski flrst suggested this connection which was recently discussed again by
DaCosta Kaufmann, "Schlüter's Fate", pp. 201-202.

93 Ibid., p. 203. Incidentally, from the same 1687 inventory of Eggers workshop are

listed portrait busts of the Great Elector of Brandenburg (1620-88) and his son Fi'iedrich

III/I. In a later inventory from 2 April 1692 is yet another portrait-bust of the latter Ho-

henzollern. Bredius, Künstler-Inventare, pp. 710 and 720.