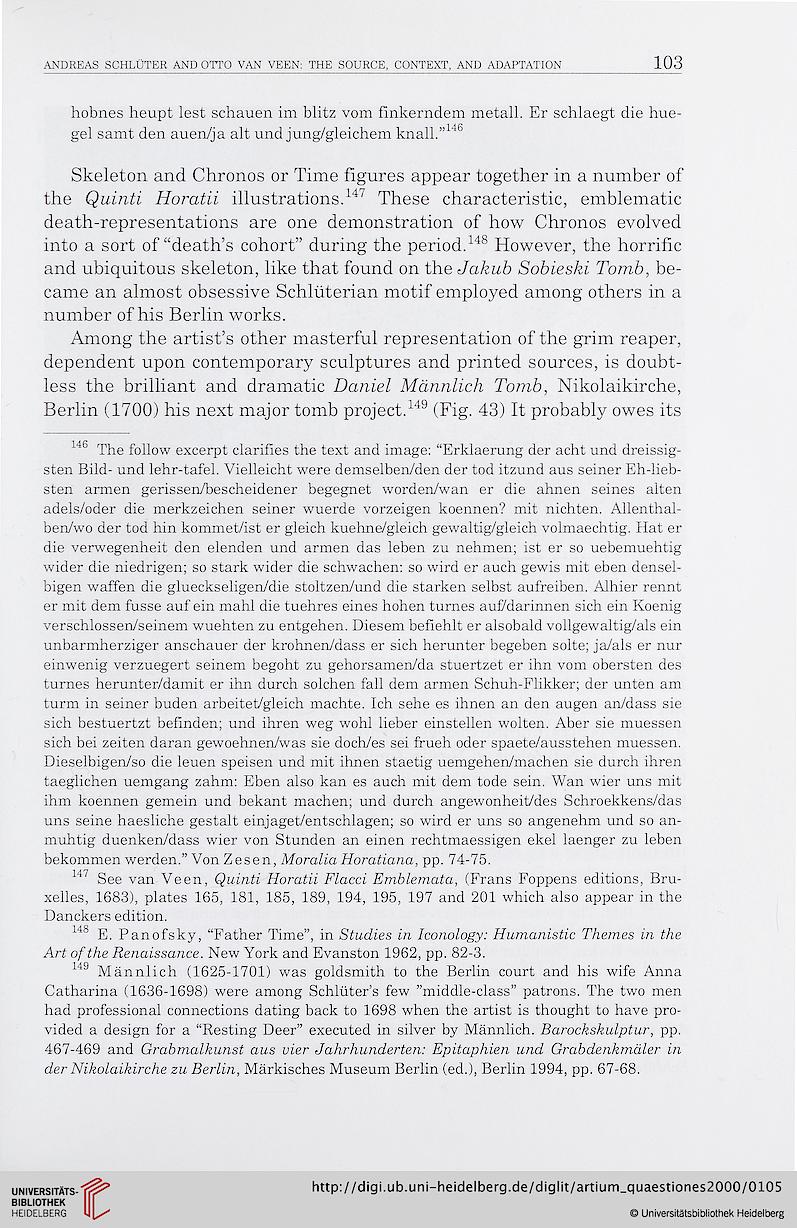 103

hobnes heupt lest schauen im blitz vom fmkerndem metall. Er schlaegt die hue-

gel saint den auen/ja ait und jung/gleichem knall."14

Skeleton and Chronos or Time figures appear together in a number of
the Quinti Horatii illustrations.14' These characteristic, emblematic
death-representations are one démonstration of how Chronos evolved
into a sort of "death's cohort" during the period.14S However, the horrifie
and ubiquitous skeleton, like that found on the Jakub Sobieski Tomb, be-
came an almost obsessive Schlüterian motif employed among others in a
number of his Berlin works.

Among the artisf s other masterful représentation of the grim reaper,
dépendent upon contemporary sculptures and printed sources, is doubt-
less the brilliant and dramatic Daniel Mdnnlich Tomb, Nikolaikirche,
Berlin (1700) his next major tomb project.146 147 148 149 (Fig. 43) It probably owes its

146 The follow excerpt clarifies the text and image: "Erklaerung der acht und dreissig-
sten Bild- und lehr-tafel. Vielleicht were demselben/den der tod itzund aus seiner Eh-lieb-
sten armen gerissen/bescheidener begegnet worden/wan er die ahnen seines alten
adels/oder die merkzeichen seiner wuerde vorzeigen koennen? mit nichten. Allenthal-
ben/wo der tod hin kommet/ist er gleich kuehne/gleich gewaltig/gleich volmaechtig. Hat er
die verwegenheit den elenden und armen das leben zu nehmen; ist er so uebemuehtig
wider die niedrigen; so stark wider die schwachen: so wird er auch gewis mit eben densel-
bigen waffen die glueckseligen/die stoltzen/und die starken selbst aufreiben. Alhier rennt
er mit dem fusse auf ein mahl die tuehres eines hohen turnes auf/darinnen sich ein Koenig
verschlossen/seinem wuehten zu entgehen. Diesem befïehlt er alsobald vollgewaltig/als ein
unbarmherziger anschauer der krohnen/dass er sich herunter begeben solte; ja/als er nur
einwenig verzuegert seinem begoht zu gehorsamen/da stuertzet er ihn vom obersten des
turnes herunter/damit er ihn durch solchen fall dem armen Schuh-Flikker; der unten am
turm in seiner buden arbeitet/gleich machte. Ich sehe es ihnen an den augen an/dass sie
sich bestuertzt befïnden; und ihren weg wohl lieber einstellen wolten. Aber sie muessen
sich bei zeiten daran gewoehnen/was sie doch/es sei frueh oder spaete/ausstehen muessen.
Dieselbigen/so die leuen speisen und mit ihnen staetig uemgehen/machen sie durch ihren
taeglichen uemgang zahm: Eben also kan es auch mit dem tode sein. Wan wier uns mit
ihm koennen gemein und bekant machen; und durch angewonheit/des Schroekkens/das
uns seine haesliche gestalt einjaget/entschlagen; so wird er uns so angenehm und so an-
muhtig duenken/dass wier von Stunden an einen rechtmaessigen ekel laenger zu leben
bekommen werden." Von Zesen, Moralia Horatiana, pp. 74-75.

147 See van Ve en, Quinti Horatii Flacci Emblemata, (Frans Foppens éditions, Bru-
xelles, 1683), plates 165, 181, 185, 189, 194, 195, 197 and 201 which also appear in the
Danckers édition.

148 E. Panofsky, "Father Time", in Studies in Iconology: Humanistic Thèmes in the
Art ofthe Renaissance. New York and Evanston 1962, pp. 82-3.

149 Mânnlich (1625-1701) was goldsmith to the Berlin court and his wife Anna
Catharina (1636-1698) were among Schlüter's few "middle-class" patrons. The two men
had professional connections dating back to 1698 when the artist is thought to hâve pro-
vided a design for a "Resting Deer" executed in silver by Mânnlich. Barockskulptur, pp.
467-469 and Grabmalkunst aus nier Jahrhunderten: Epitaphien und Grabdenkmaler in
der Nikolaikirche zu Berlin, Màrkisches Muséum Berlin (ed.), Berlin 1994, pp. 67-68.