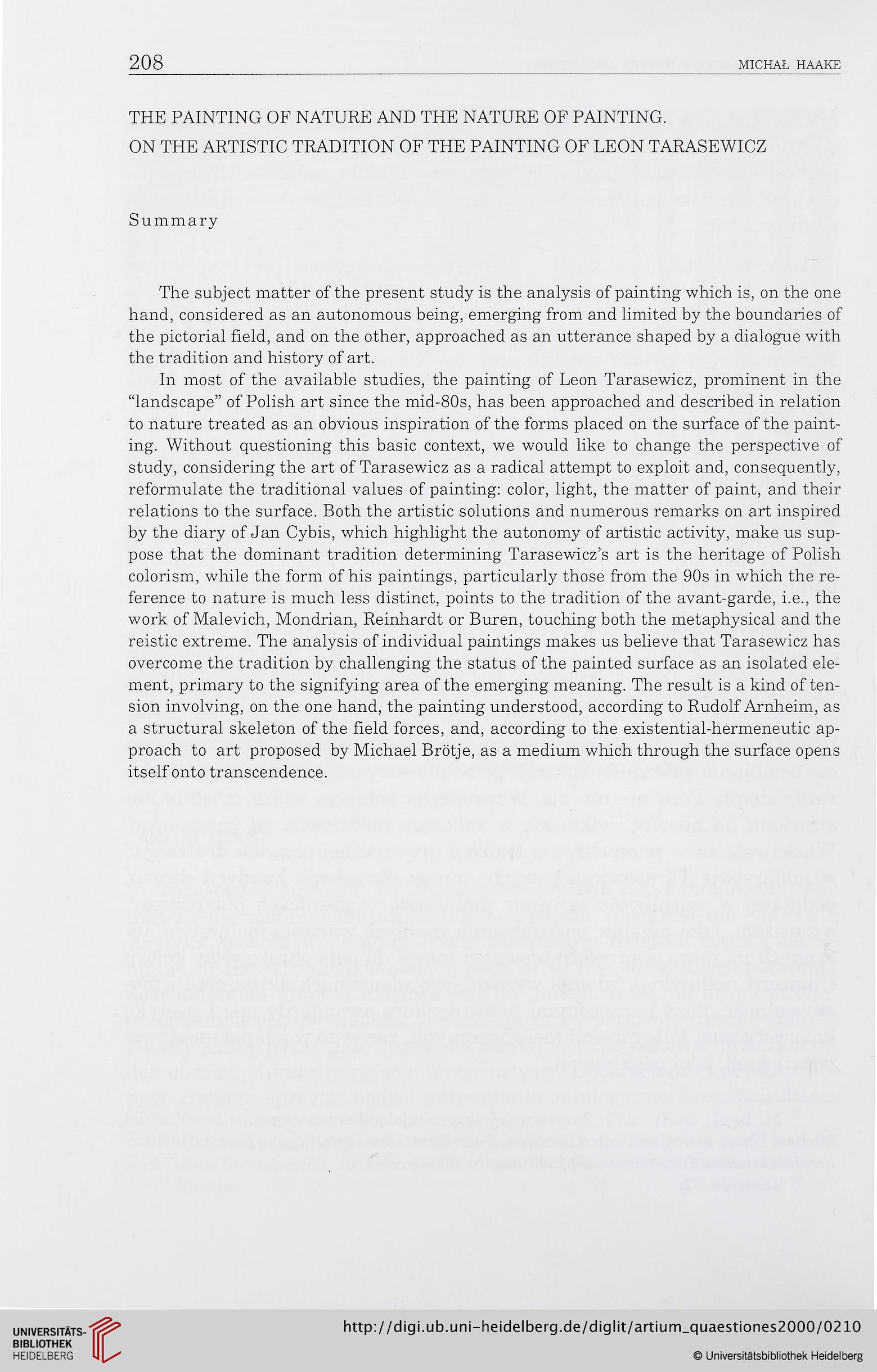 MICHAL HAAKE

THE PAINTING OF NATURE AND THE NATURE OF PAINTING.

ON THE ARTISTIC TRADITION OF THE PAINTING OF LEON TARASEWICZ

Summary

The subject matter of the présent study is the analysis of painting which is, on the one
hand, considered as an autonomous being, emerging from and limited by the boundaries of
the pictorial fïeld, and on the other, approached as an utterance shaped by a dialogue with
the tradition and history of art.

In most of the available studies, the painting of Leon Tarasewicz, prominent in the
"landscape" of Polish art since the mid-80s, has been approached and described in relation
to nature treated as an obvious inspiration of the forms placed on the surface of the paint-
ing. Without questioning this basic context, we would like to change the perspective of
study, considering the art of Tarasewicz as a radical attempt to exploit and, consequently,
reformulate the traditional values of painting: color, light, the matter of paint, and their
relations to the surface. Both the artistic solutions and numerous remarks on art inspired
by the diary of Jan Cybis, which highlight the autonomy of artistic activity, make us sup-
pose that the dominant tradition determining Tarasewicz's art is the héritage of Polish
colorism, while the form of his paintings, particularly those from the 90s in which the re-
ference to nature is much less distinct, points to the tradition of the avant-garde, i.e., the
work of Malevich, Mondrian, Reinhardt or Buren, touching both the metaphysical and the
reistic extreme. The analysis of individual paintings makes us believe that Tarasewicz has
overcome the tradition by challenging the status of the painted surface as an isolated élé-
ment, primary to the signifying area of the emerging meaning. The resuit is a kind of ten-
sion involving, on the one hand, the painting understood, according to Rudolf Arnheim, as
a structural skeleton of the fïeld forces, and, according to the existential-hermeneutic ap-
proach to art proposed by Michael Brotje, as a medium which through the surface opens
itself onto transcendence.