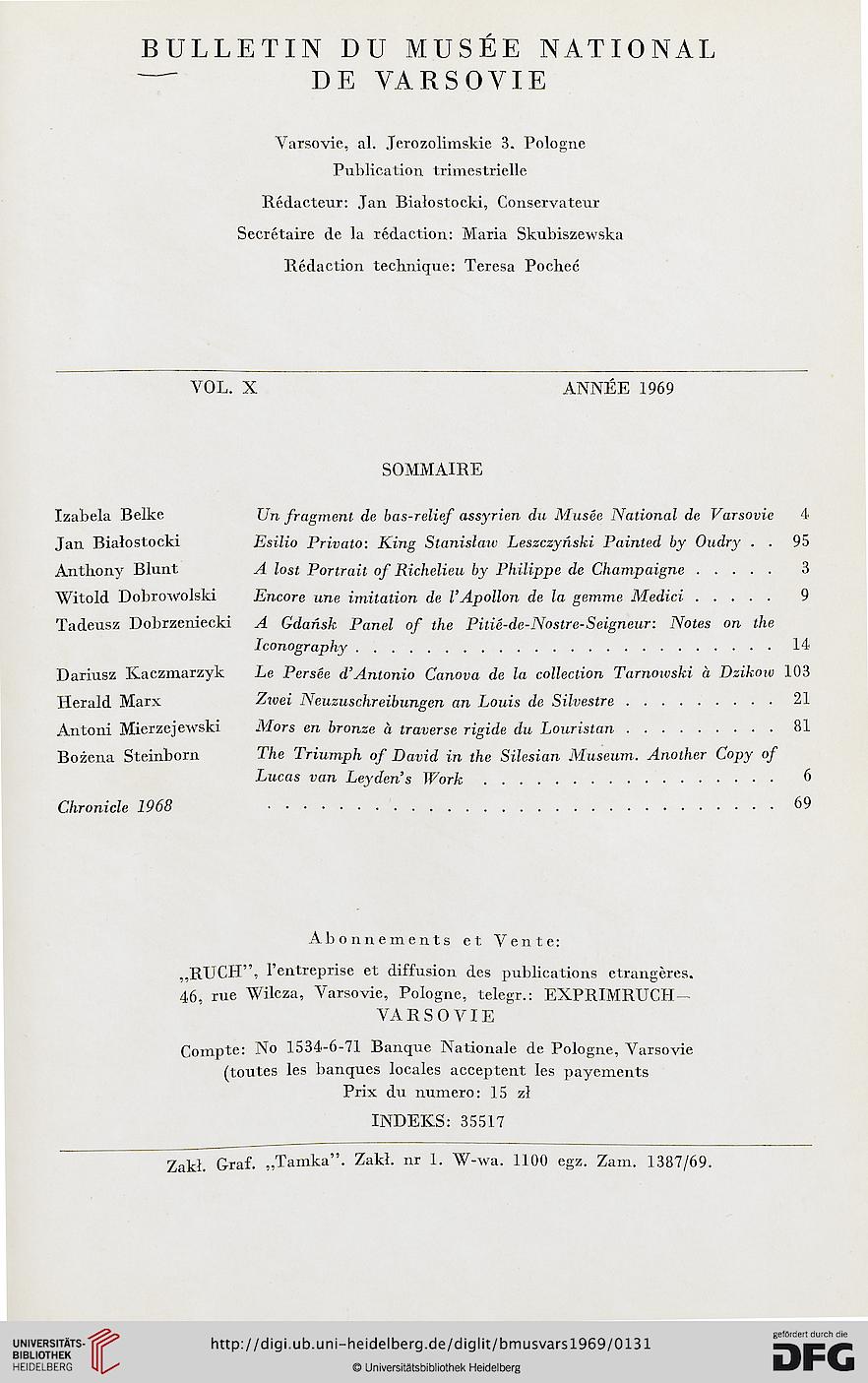 DE VARSOVIE

Varsovie, al. Jerozolimskie 3. Pologne
Pubłication trimestriellc
Redacteur: Jan Białostocki, Conservateur
Secretaire de la redaction: Maria Skubiszewska
Redaction techniąue: Teresa Pocheć

SOMMAIRE

Izabela Belkę Un fragment de bas-relief assyrien du Musee National de Varsovic 4

Jan Białostocki Esilio Priuato: King Stanisław Leszczyński Painted by Oudry . . 95

Anthony Blunt A lost Portrait of Richelieu by Phiłippe de Champaigne..... 3

Witold Dobrowolski Encore une imitation de l'Apollon de la gemmę Medici..... 9

Tadeusz Dobrzeniecki A Gdańsk Panel of the Pitie-de-Nostre-Seigneur: Notes on the

Iconography........................ 14

Dariusz Kaczmarzyk Le Persee d'Antonio Canova de la collection Tarnowski a Dzików 103

Herald Marx Zwei Neuzuschreibungen an Louis de Sihestre......... 21

Antoni Mierzejewski Mors en bronze a traversc rigide du Lourislan......... 81

Bożena Steinborn The Triumph of David in the Silesian Museum. Another Copy of

Lucas van Leyderis Work................. 6

Chronicie 1968 ............................. 69

Abonnements et Vente:

"RUCH", 1'entreprise et diffusion des publications etrangeres.
46, rue Wilcza, Varsovie, Pologne, telegr.: EXPRIMRUCH-
VARSOVIE

Compte: No 1534-6-71 Banąue Nationale de Pologne, Varsovie
(toutes les banques locales acceptent Ies payements
Prix du numero: 15 zł

INDEKS: 35517

Zakł. Graf. "Tamka". Zakł. nr 1. W-wa. 1100 egz. Zam. 1387/69.