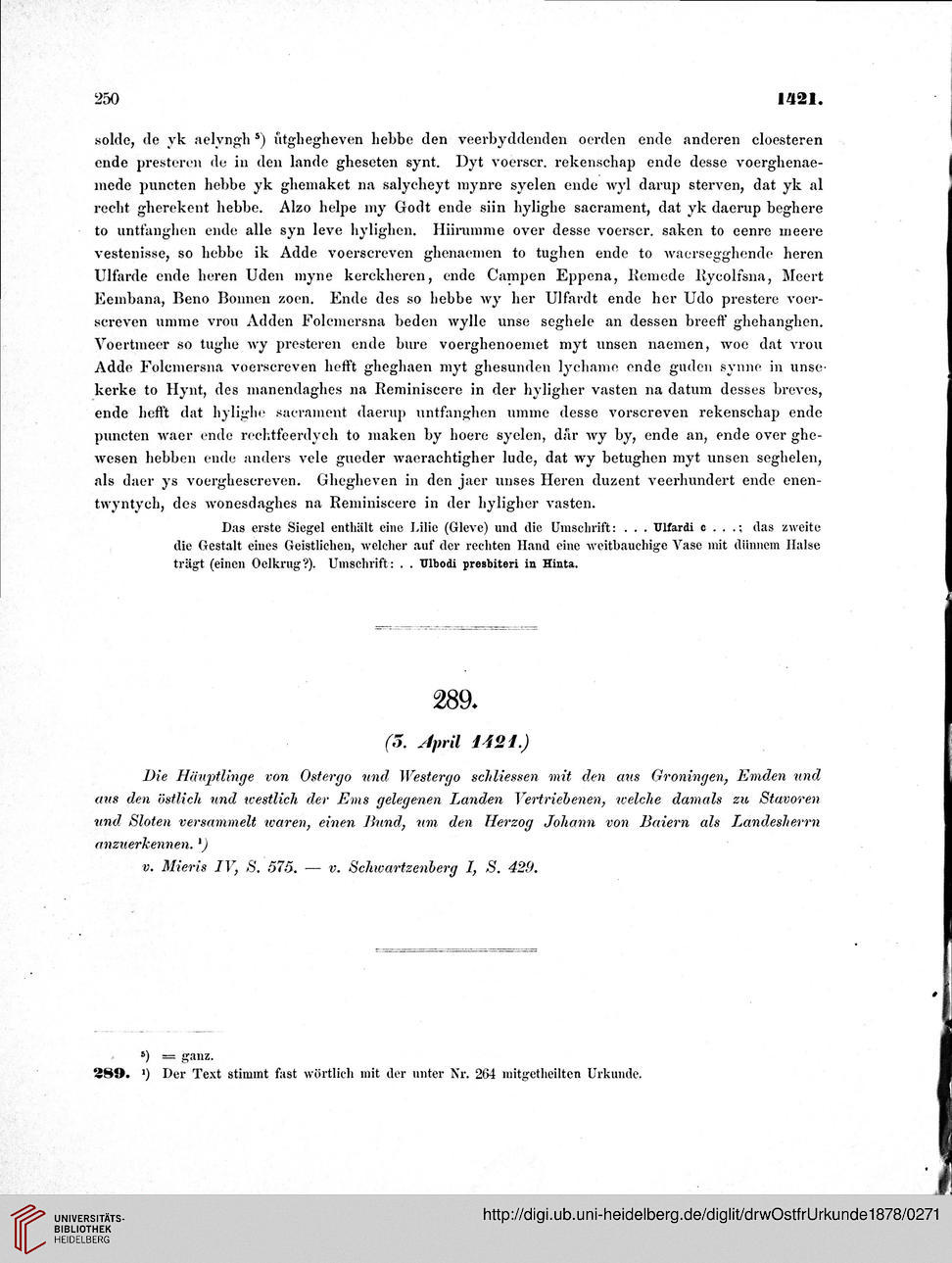 250 1421.

solde, de yk aelyngh 5) utghegheven hebbe den veerbyddenden oerden ende anderen eloesteren
ende presteren de in den lande gheseten synt. Dyt voerscr. reken.schap ende desse voerghenae-
niede puncten hebbe yk glieniaket na salycheyt mynre syelen ende wyl darup sterven, dat yk al
reelit gberekent bebbe. Alzo belpe my Godt ende siin bylighe sacrament, dat yk daerup beghere
to untfanghen ende alle syn leve Iiyligben. Hiiiiunnie over desse voerscr. saken to eenre meere
vestenisse, so bebbe ik Adde voersereven gbenaemen to tughen ende to waersegghende heren
Ulfarde ende heren Tiden niyne kerckheren, ende Campen Eppena, Remede Rycolfsna, Meert
Eeinbana, Beno Bonnen zoen. Ende des so hebbe wy her Ulfardt ende her Udo prestere voer-
sereven unune vrou Adden Folemcrsna beden wylle unse seghele an dessen breeff ghehanghen.
Yoertineer so tngbe wy presteren ende bnre voerghenoemet myt unsen naemen, woe dat vrou
Adde Folcmersna voersereven hefft gheghaen myt ghesunden lychame ende guden synne in unse-
kerke to Hynt, des manendaghes na Reminiscere in der hyligher vasten na datum desses breves,
ende hefft dat hylighe sacrament daerup untfanghen mnmc desse vorscreven rekenschap ende
puncten waer ende rechtfeerdych to niaken by hoere syelen, dar wy by, ende an, ende over ghe-
wesen hebben ende anders vele gueder waerachtigher lüde, dat wy betughen myt unsen segbelen,
als daer ys voerghescreven. Ghegheven in den jaer unses Heren duzent veerhundert ende enen-
twyntyeh, des wonesdaghes na Reminiscere in der hyligher vasten.

Das erste Siegel enthält eine Lilie (Gleve) und die Umschrift: . . . Ulfardi c . . .; das zweite
die Gestalt eines Geistlichen, welcher auf der rechten Hand eine weitbauchige Vase mit dünnem Halse
trägt (einen Oelkrug?). Umschrift: . . TJlbodi presbiteri in Hinta.

289.

(3. April 1421.)

Die Häuptlinge von Ostergo und Westergo scltliessen mit den aus Groningen, Emden und
aus den östlich und westlich der Ems gelegenen Landen Vertriebenen, welche damals zu Stavoren
und Sloten versammelt waren, einen Bund, um den Herzog Johann von Baiern als Landesherrn
anzuerkennen. ')

v. Mieris IV, 8. 575. — v. Schwartzenberg I, S. 429.

28D. •) Der Text stimmt fast wörtlich mit der unter Nr. 264 mitgetheilten Urkunde.