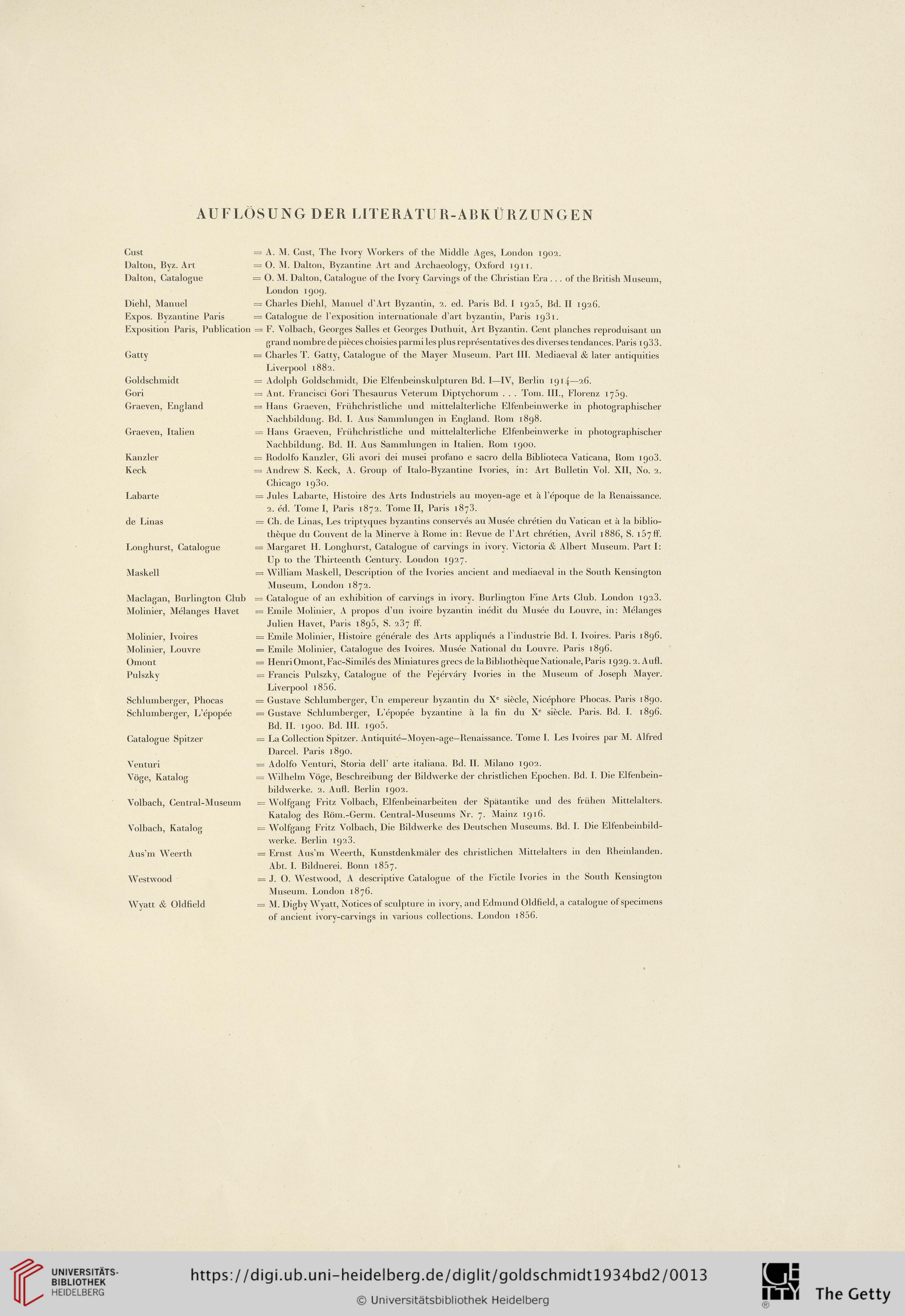 Cust
Dalton, Byz. Art
Dalton, Catalogue
= A. M. Cust, The Ivory Workers of the Middle Ages, London 1902.
= 0. M. Dalton, Byzantine Art and Archaeology, Oxford 1911.
= 0. M. Dalton, Catalogue of the Ivory Carvings of the Christian Era . . . of the British Museum,
London 1909.
Diehl, Manuel
Expos. Byzantine Paris
= Charles Diehl, Manuel d'Art Byzantin, 2. ed. Paris Bd. I 1925, Bd. II 1926.
= Catalogue de l'exposition internationale d'art byzantin, Paris 1931.

Exposition Paris, Publication = F. Volbach, Georges Salles et Georges Duthuit, Art Byzantin. Gent planches reproduisant un

Gatty
grand nombre de pieces choisies parmi les plus repräsentatives des diverses tendances. Paris 1983.
= Charles T. Gatty, Catalogue of the Mayer Museum. Part III. Mediaeval & later antiquities
Goldschmidt
Gori
Graeven, England
Liverpool 1882.
— Adolph Goldschmidt, Die Elfenbeinskulpturen Bd. I—IV, Berlin 1914—26.
= Ant. Francisci Gori Thesaurus Veterum Diptychorum . . . Tom. III., Florenz 1759.
= Hans Graeven, Frühchristliche und mittelalterliche Elfenbeinwerke in photographischer
Graeven, Italien
Nachbildung. Bd. I. Aus Sammlungen in England. Rom 1898.
= Hans Graeven, Frühchristliche und mittelalterliche Elfenbein werke in photographischer
Kanzler
Keck
Nachbildung. Bd. II. Aus Sammlungen in Italien. Rom 1900.
= Rodolfo Kanzler, Gli avori dei musei profano e sacro della Biblioteca Vaticana, Rom 1908.
= Andrew S. Keck, A. Group of Italo-Byzantine Ivories, in: Art Bulletin Vol. XII, No. 2.
L abarte
Chicago 1980.
= Jules Labarte, Histoire des Arts Industriels au moyen-age et ä l'epoque de la Renaissance.
2. ed. Tomei, Paris 1872. Tome II, Paris 1878.
de Linas
= Cb. de Linas, Les triptvques byzantins conserves au Musee chretien du Vatican et ä la biblio-
theque du Convent de la Minerve ä Rome in: Revue de l'Art chretien, Avril 1886, S. 187ff.
Longhurst, Catalogue
= Margaret H. Longhurst, Catalogue of carvings in ivory. Victoria & Albert Museum. Part I:
Up to the Thirteenth Century. London 1927.
Maskell
— William Maskell, Description of the Ivories ancient and mediaeval in the South Kensington
Museum, London 1872.
Maclagan, Burlington Club
Molinier, Melanges Havet
= Catalogue of an exhibition of carvings in ivory. Burlington Fine Arts Club. London 1928.
= Emile Molinier, A propos d'un ivoire byzantin inedit du Musee du Louvre, in: Melanges
Julien Havet, Paris 1896, S. 287 ff.
Molinier, Ivoires
Molinier, Louvre
ümont
Pulszky
— Emile Molinier, Histoire generale des Arts appliques a l'industrie Bd. I. Ivoires. Paris 1896.
= Emile Molinier, Catalogue des Ivoires. Musee National du Louvre. Paris 1896.
= HenriOmont, Fac-Similes des Miniatures grecs de la Bibhotheque Nationale, Paris 1929. 2. Aufl.
= Francis Pulszky, Catalogue of the Fejervary Ivories in the Museum of Joseph Mayer.
Schlumberger, Phocas
Schlumberger, L'epopee
Liverpool i856.
= Gustave Schlumberger, Un empereur byzantin du Xe siede, Nicephore Phocas. Paris 1890.
= Gustave Schlumberger, L'epopee byzantine ä la fin du Xe siede. Paris. Bd. I. 1896.
Bd. II. 1900. Bd. III. 1908.
Catalogue Spitzer
— La Collection Spitzer. Antiquite—Moyen-age—Renaissance. Tome I. Les Ivoires par M. Alfred
Darcel. Paris 1890.
Venturi
Vöge, Katalog
= Adolfo Venturi, Storia dell' arte italiana. Bd. II. Milano 1902.
= Wilhelm Vöge, Beschreibung der Bildwerke der christlichen Epochen. Bd. I. Die Elfenbein-
bildwerke. 2. Aufl. Berlin 1902.
Volbach, Central-Museum
= Wolfgang Fritz Volbach, Elfenbeinarbeiten der Spätantike und des frühen Mittelalters.
Volbach, Katalog
Katalog des Röm.-Germ. Central-Museums Nr. 7. Mainz 1916.
= Wolfgang Fritz Volbach, Die Bildwerke des Deutschen Museums. Bd. I. Die Elfenbeinbild-
werke. Berlin 1928.
Aus'm Weerth
= Ernst Aus'm Weerth, Kunstdenkmäler des christlichen Mittelalters in den Rheinlanden.
Westwood
Abt. I. Bildnerei. Bonn 1887.
= J. 0. Westwood, A descriptive Catalogue of the Fictile Ivories in the South Kensington
Wyatt & Oldfield
Museum. London 1876.
— M. Digby Wyatt, Notices of sculpture in ivory, and Edmund Oldfield, a catalogue of specimens
of ancient ivory-carvings in various collections. London 1886.