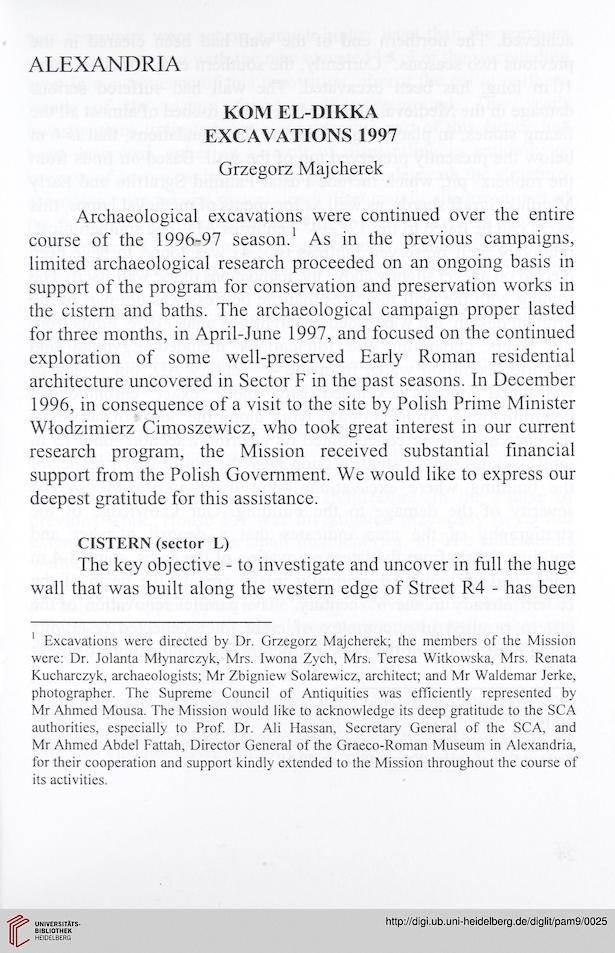 KOM EL-DIKKA
EXCAVATIONS 1997
Grzegorz Majcherek

Archaeological excavations were continued over the entire
course of the 1996-97 season.1 As in the previous campaigns,
limited archaeological research proceeded on an ongoing basis in
support of the program for conservation and preservation works in
the cistern and baths. The archaeological campaign proper lasted
for three months, in April-June 1997, and focused on the continued
exploration of some well-preserved Early Roman residential
architecture uncovered in Sector F in the past seasons. In December
1996, in consequence of a visit to the site by Polish Prime Minister
Wlodzimierz Cimoszewicz, who took great interest in our current
research program, the Mission received substantial financial
support from the Polish Government. We would like to express our
deepest gratitude for this assistance.
CISTERN (sector L)
The key objective - to investigate and uncover in full the huge
wall that was built along the western edge of Street R4 - has been

1 Excavations were directed by Dr. Grzegorz Majcherek; the members of the Mission
were: Dr. Jolanta Mfynarczyk, Mrs. Iwona Zych, Mrs. Teresa Witkowska, Mrs. Renata
Kucharczyk, archaeologists; Mr Zbigniew Solarewicz, architect; and Mr Waldemar Jerke,
photographer. The Supreme Council of Antiquities was efficiently represented by
Mr Ahmed Mousa. The Mission would like to acknowledge its deep gratitude to the SCA
authorities, especially to Prof. Dr. Ali Hassan, Secretary General of the SCA, and
Mr Ahmed Abdel Fattah, Director General of the Graeco-Roman Museum in Alexandria,
for their cooperation and support kindly extended to the Mission throughout the course of
its activities.