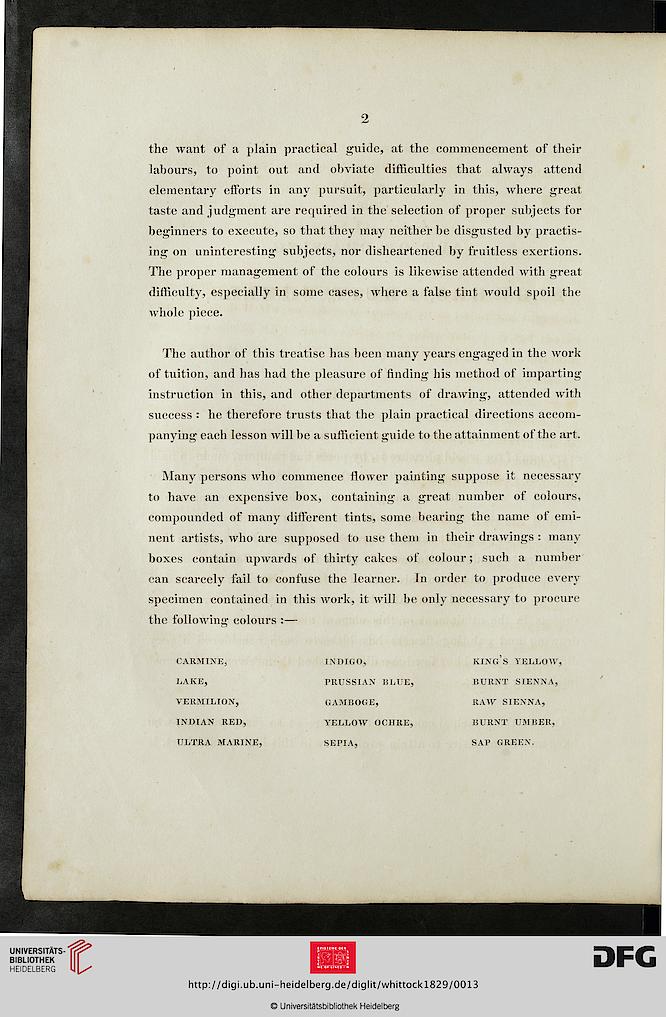 2
the want of a plain practical guide, at the commencement of their
labours, to point out and obviate difficulties that always attend
elementary efforts in any pursuit, particularly in this, where great
taste and judgment are required in the selection of proper subjects for
beginners to execute, so that they may neither be disgusted by practis-
ing on uninteresting subjects, nor disheartened by fruitless exertions.
The proper management of the colours is likewise attended with great
difficulty, especially in some cases, where a false tint would spoil the
whole piece.

The author of this treatise has been many years engaged in the work
of tuition, and has had the pleasure of finding his method of imparting
instruction in this, and other departments of drawing, attended with
success : he therefore trusts that the plain practical directions accom-
panying each lesson will be a sufficient guide to the attainment of the art.
Many persons who commence flower painting suppose it necessary
to have an expensive box, containing a great number of colours,
compounded of many different tints, some bearing the name of emi-
nent artists, who are supposed to use them in their drawings : many
boxes contain upwards of thirty cakes of colour; such a number
can scarcely fail to confuse the learner. In order to produce every
specimen contained in this work, it will be only necessary to procure
the following colours

CARMINE,
LAKE,
VERMILION,
INDIAN RED,
ULTRA MARINE,

INDIGO,
PRUSSIAN BLUE,
GAMBOGE,
YELLOW OCHRE,
SEPIA,

KING S YELLOW,
BURNT SIENNA,
RAW SIENNA,
BURNT UMBER,
SAP GREEN.