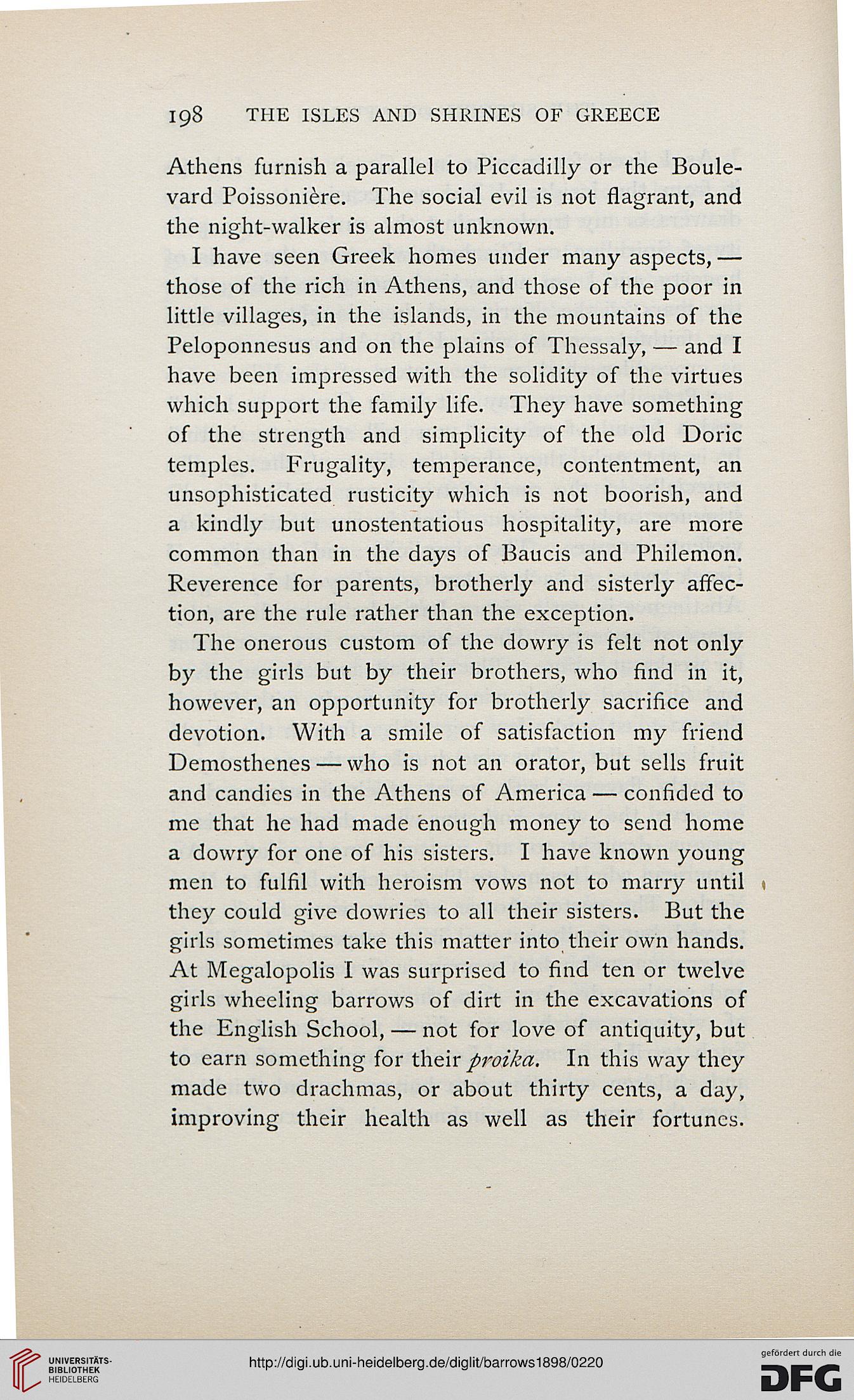 Athens furnish a parallel to Piccadilly or the Boule-
vard Poissoniere. The social evil is not flagrant, and
the night-walker is almost unknown.

I have seen Greek homes under many aspects, —
those of the rich in Athens, and those of the poor in
little villages, in the islands, in the mountains of the
Peloponnesus and on the plains of Thcssaly, — and I
have been impressed with the solidity of the virtues
which support the family life. They have something
of the strength and simplicity of the old Doric
temples. Frugality, temperance, contentment, an
unsophisticated rusticity which is not boorish, and
a kindly but unostentatious hospitality, are more
common than in the days of Baucis and Philemon.
Reverence for parents, brotherly and sisterly affec-
tion, are the rule rather than the exception.

The onerous custom of the dowry is felt not only
by the girls but by their brothers, who find in it,
however, an opportunity for brotherly sacrifice and
devotion. With a smile of satisfaction my friend
Demosthenes — who is not an orator, but sells fruit
and candies in the Athens of America — confided to
me that he had made enough money to send home
a dowry for one of his sisters. I have known young
men to fulfil with heroism vows not to marry until 1
they could give dowries to all their sisters. But the
girls sometimes take this matter into their own hands.
At Megalopolis I was surprised to find ten or twelve
girls wheeling barrows of dirt in the excavations of
the English School, — not for love of antiquity, but
to earn something for their proika. In this way they
made two drachmas, or about thirty cents, a day,
improving their health as well as their fortunes.