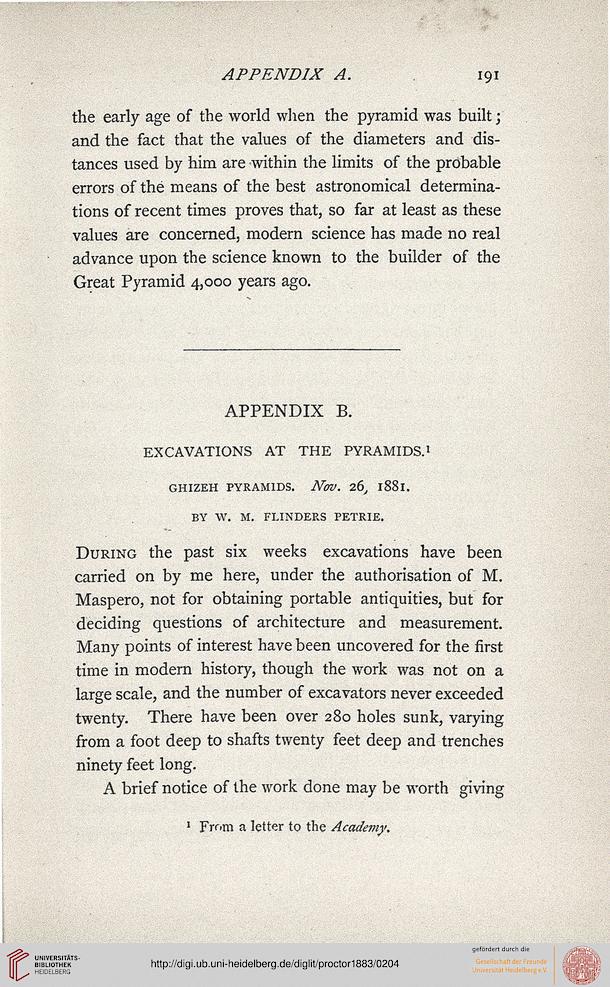 the early age of the world when the pyramid was built ;
and the fact that the values of the diameters and dis-
tances used by him are within the limits of the probable
errors of thé means of the best astronomical determina-
tions of recent times proves that, so far at least as these
values are concerned, modern science has made no real
advance upon the science known to the builder of the
Great Pyramid 4,000 years ago.

APPENDIX B.

EXCAVATIONS AT THE PYRAMIDS.1

GHIZEH PYRAMIDS. Nov. 26, 1881.

BY W. M. FLINDERS PETRIE.

During the past six weeks excavations have been
carried on by me here, under the authorisation of M.
Maspero, not for obtaining portable antiquities, but for
deciding questions of architecture and measurement.
Many points of interest have been uncovered for the first
time in modern history, though the work was not on a
large scale, and the number of excavators never exceeded
twenty. There have been over 280 holes sunk, varying
from a foot deep to shafts twenty feet deep and trenches
ninety feet long.

A brief notice of the work done may be worth giving

1 From a letter to the Academy.