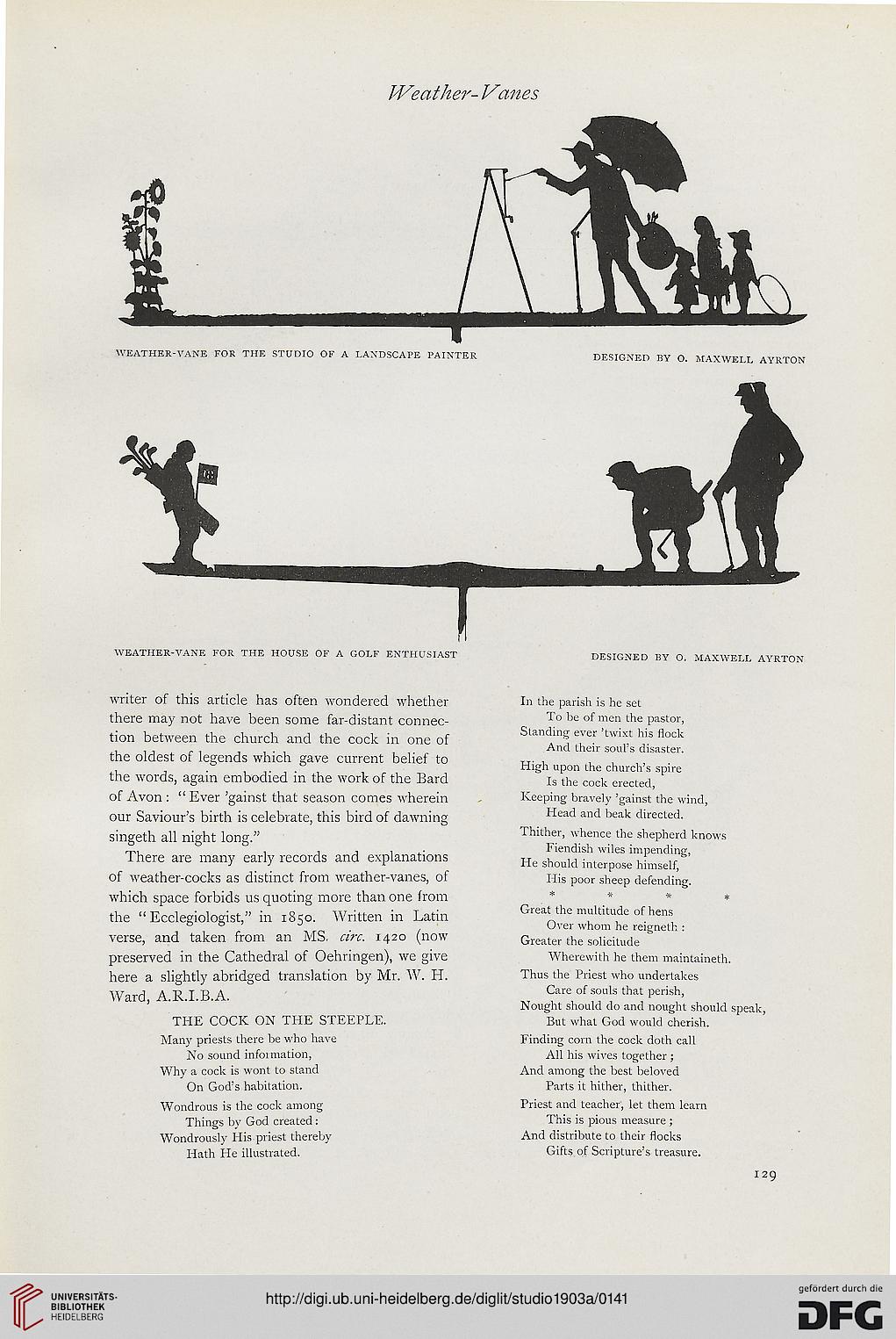 WEATHER-VANE FOR THE HOUSE OF A GOLF ENTHUSIAST DESIGNED BY O. MAXWELL AYRTON

writer of this article has often wondered whether In the parish is he set

there may not have been some far-distant connec- To lie of men the pastor,

tion between the church and the cock in one of Sland4in,» T" fl°ck
. And their soul s disaster,

the oldest ol legends which rave current belief to , ,

...... tugh upon the church s spire

the words, again embodied in the work of the Bard is the cock erected

of Avon : " Ever 'gainst that season comes wherein , Keeping bravely 'gainst the wind,
our Saviour's birth is celebrate, this bird of dawning Head and beak Reeled,

singeth all night long." Thither, whence the shepherd knows
™ , , , , Fiendish wiles impending,

There are many early records and explanations He should interpose himself>

of weather-cocks as distinct from weather-vanes, of His poor sheep defending,

which space forbids us quoting more than one from * * * *

the "Ecclegiologist," in 1850. Written in Latin Great the multitude of hens

0 0 ' J . Over whom he reigneth:

verse, and taken from an MS, tire. 1420 (now Greater the solicitude
preserved in the Cathedral of Oehringen), we give Wherewith he them maintaineth.

here a slightly abridged translation by Mr. W. H. Thus the Priest who undertakes
nr a » d m a Care of souls that perish,

Ward, A.R.I.JtJ.A. AT ,,,,,, ,v ,'

Nought should do and nought should speak,
THE COCK ON THE STEEPLE. But what God would cherish.

Many priests there be who have Finding corn the cock doth call

No sound information, All his wives together ;

Why a cock is wont to stand And among the best beloved

On God's habitation. Parts it hither, thither.

Wondrous is the cock among Priest and teacher, let them learn

Things by God created : This is pious measure ;

Wondrously His priest thereby And distribute to their flocks

Hath He illustrated. Gifts of Scripture's treasure.