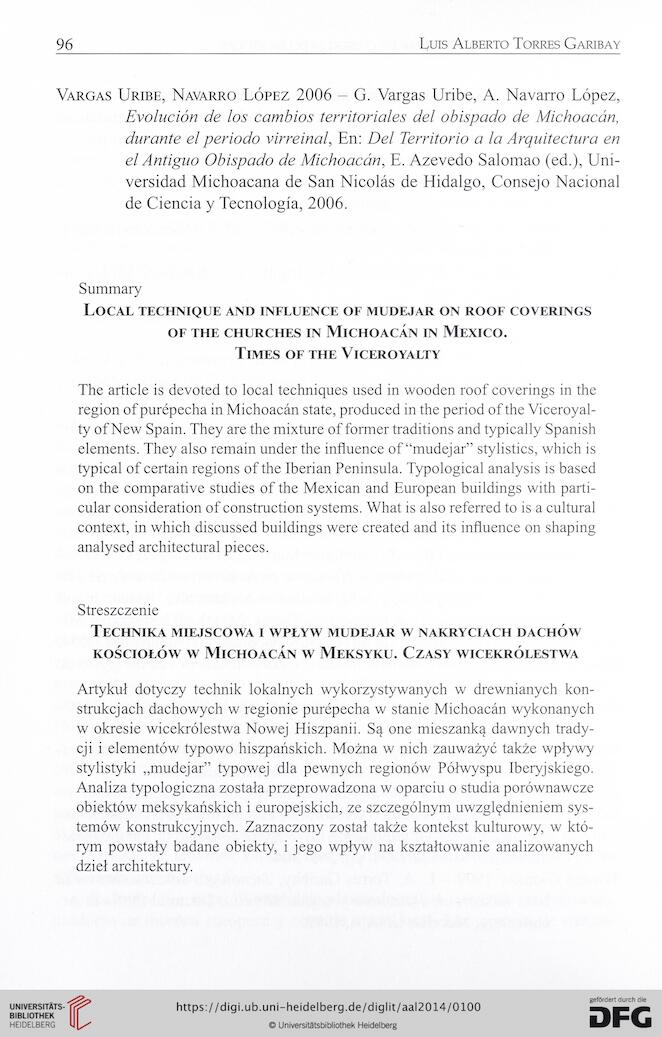 Luis Alberto Torres Garibay

Vargas Uribe, Navarro López 2006 - G. Vargas Uribe, A. Navarro López,
Evolución de los cambios territoriales del obispado de Michoacan,
durante el periodo virreinal, En: Del Territorio a la Arquitectura en
el Antiguo Obispado de Michoacan, E. Azevedo Salomao (ed.), Uni-
versidad Michoacana de San Nicolás de Hidalgo, Consejo Nacional
de Ciencia y Tecnología, 2006.

Summary
Local technique and influence of mudejar on roof coverings
OF THE CHURCHES IN MlCHOACAN IN MEXICO.
Times of the Viceroyalty
The article is devoted to local techniques used in wooden roof coverings in the
region of purépecha in Michoacan state, produced in the period of the Viceroyal-
ty of New Spain. They are the mixture of former traditions and typically Spanish
elements. They also remain under the influence of "mudejar" stylistics, which is
typical of certain regions of the Iberian Peninsula. Typological analysis is based
on the comparative studies of the Mexican and European buildings with parti-
cular consideration of construction systems. What is also referred to is a cultural
context, in which discussed buildings were created and its influence on shaping
analysed architectural pieces.
Streszczenie
Technika miejscowa i wpływ mudejar w nakryciach dachów
KOŚCIOŁÓW W MlCHOACAN W MEKSYKU. CZASY WICEKROLESTWA
Artykuł dotyczy technik lokalnych wykorzystywanych w drewnianych kon-
strukcjach dachowych w regionie purépecha w stanie Michoacan wykonanych
w okresie wicekrólestwa Nowej Hiszpanii. Są one mieszanką dawnych trady-
cji i elementów typowo hiszpańskich. Można w nich zauważyć także wpływy
stylistyki "mudejar" typowej dla pewnych regionów Półwyspu Iberyjskiego.
Analiza typologiczna została przeprowadzona w oparciu o studia porównawcze
obiektów meksykańskich i europejskich, ze szczególnym uwzględnieniem sys-
temów konstrukcyjnych. Zaznaczony został także kontekst kulturowy, w któ-
rym powstały badane obiekty, i jego wpływ na kształtowanie analizowanych
dzieł architektury.