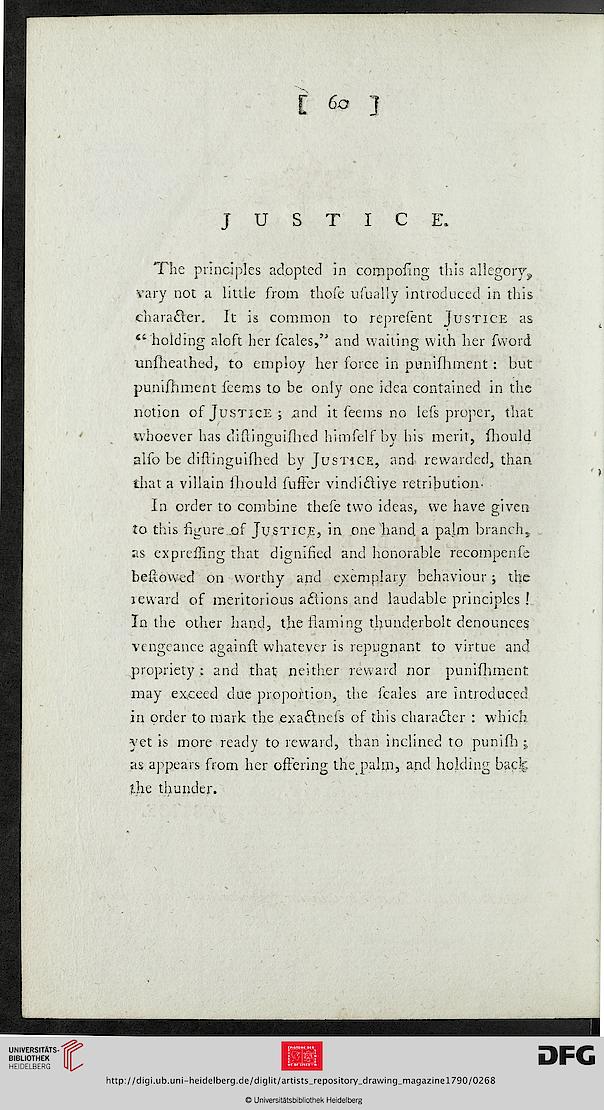 JUSTICE.

The principles adopted in compofing this allegory,
vary not a little from thofe ufually introduced in this
character. It is common to reprefent Justice as
*' holding aloft her fcales," and waiting with her fvvord
unfheathed, to employ her force in punifhment: but
punifhment feems to be only one idea contained in the
notion of Justice ; and it feems no lefs proper, that
whoever has diftin2;uifhed himfelf bv his merit, mould
alfo be diftinguifhed by Justice, and rewarded, than
that a villain fhould fuffer vindictive retribution-

In order to combine thefe two ideas, we have given
to this figure .of Justice, in one hand a palm branchy
as cxprcfling that dignified and honorable recoinpenfs
befiowed on worthy and exemplary behaviour j the
reward of meritorious actions and laudable principles !
In the other hand, the flaming thunderbolt denounces
vengeance againft whatever is repugnant to virtue and
propriety : and that neither reward nor punifhment.
may exceed due proportion, the fcales are introduced
in order to mark the exacrnefs of this character : which
yet is more ready to reward, than inclined to punifh ;
as appears from her offering the palm, and holding baclg
the thunder.