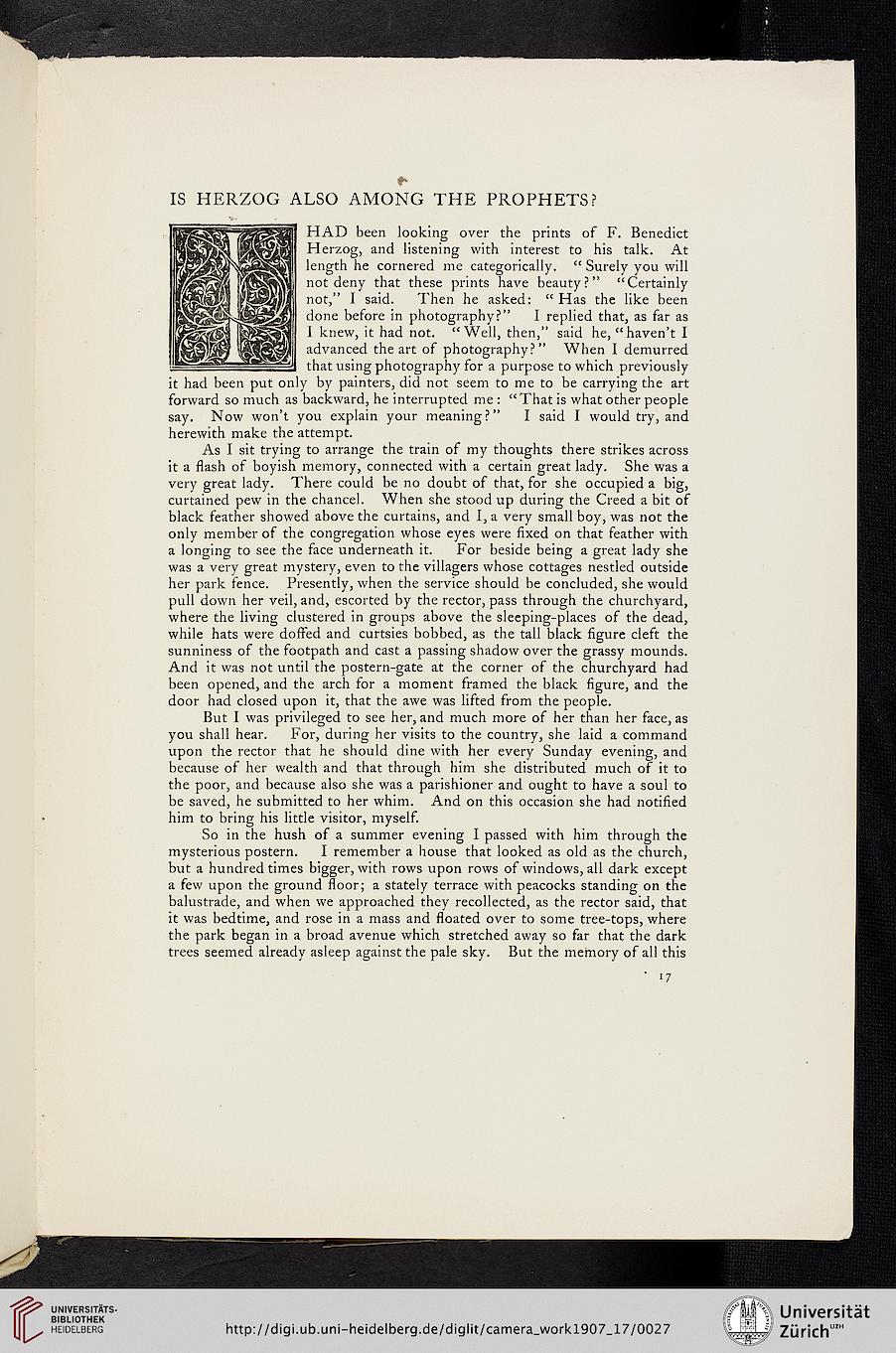 A manually made transcription or edition is also available for this page. Please change to the tab "transrciption" or "edition."
IS HERZOG ALSO AMONG THE PROPHETS?
HAD been looking over the prints of F. Benedict
Herzog, and listening with interest to his talk. At
length he cornered me categorically. " Surely you will
not deny that these prints have beauty?" " Certainly
not," I said. Then he asked: " Has the like been
done before in photography?" I replied that, as far as
I knew, it had not. " Well, then," said he, "haven't I
advanced the art of photography? " When I demurred
that using photography for a purpose to which previously
it had been put only by painters, did not seem to me to be carrying the art
forward so much as backward, he interrupted me : " That is what other people
say. Now won'tyou explain your meaning?" I said I would try, and
herewith make the attempt.
As I sit trying to arrange the train of my thoughts there strikes across
it a flash of boyish memory, connected with a certain great lady. She was a
very great lady. There could be no doubt of that, for she occupied a big,
curtained pew in the chancel. When she stood up during the Creed a bit of
black feather showed above the curtains, and I, a very small boy, was not the
only member of the congregation whose eyes were fixed on that feather with
a longing to see the face underneath it. For beside being a great lady she
was a very great mystery, even to the villagers whose cottages nestled outside
her park fence. Presently, when the service should be concluded, she would
pull down her veil, and, escorted by the rector, pass through the churchyard,
where the living clustered in groups above the sleeping-places of the dead,
while hats were doffed and curtsies bobbed, as the tall black figure cleft the
sunniness of the footpath and cast a passing shadow over the grassy mounds.
And it was not until the postern-gate at the corner of the churchyard had
been opened, and the arch for a moment framed the black figure, and the
door had closed upon it, that the awe was lifted from the people.
But I was privileged to see her, and much more of her than her face, as
you shall hear. For, during her visits to the country, she laid a command
upon the rector that he should dine with her every Sunday evening, and
because of her wealth and that through him she distributed much of it to
the poor, and because also she was a parishioner and ought to have a soul to
be saved, he submitted to her whim. And on this occasion she had notified
him to bring his little visitor, myself.
So in the hush of a summer evening I passed with him through the
mysterious postern. I remember a house that looked as old as the church,
but a hundred times bigger, with rows upon rows of windows, all dark except
a few upon the ground floor; a stately terrace with peacocks standing on the
balustrade, and when we approached they recollected, as the rector said, that
it was bedtime, and rose in a mass and floated over to some tree-tops, where
the park began in a broad avenue which stretched away so far that the dark
trees seemed already asleep against the pale sky. But the memory of all this