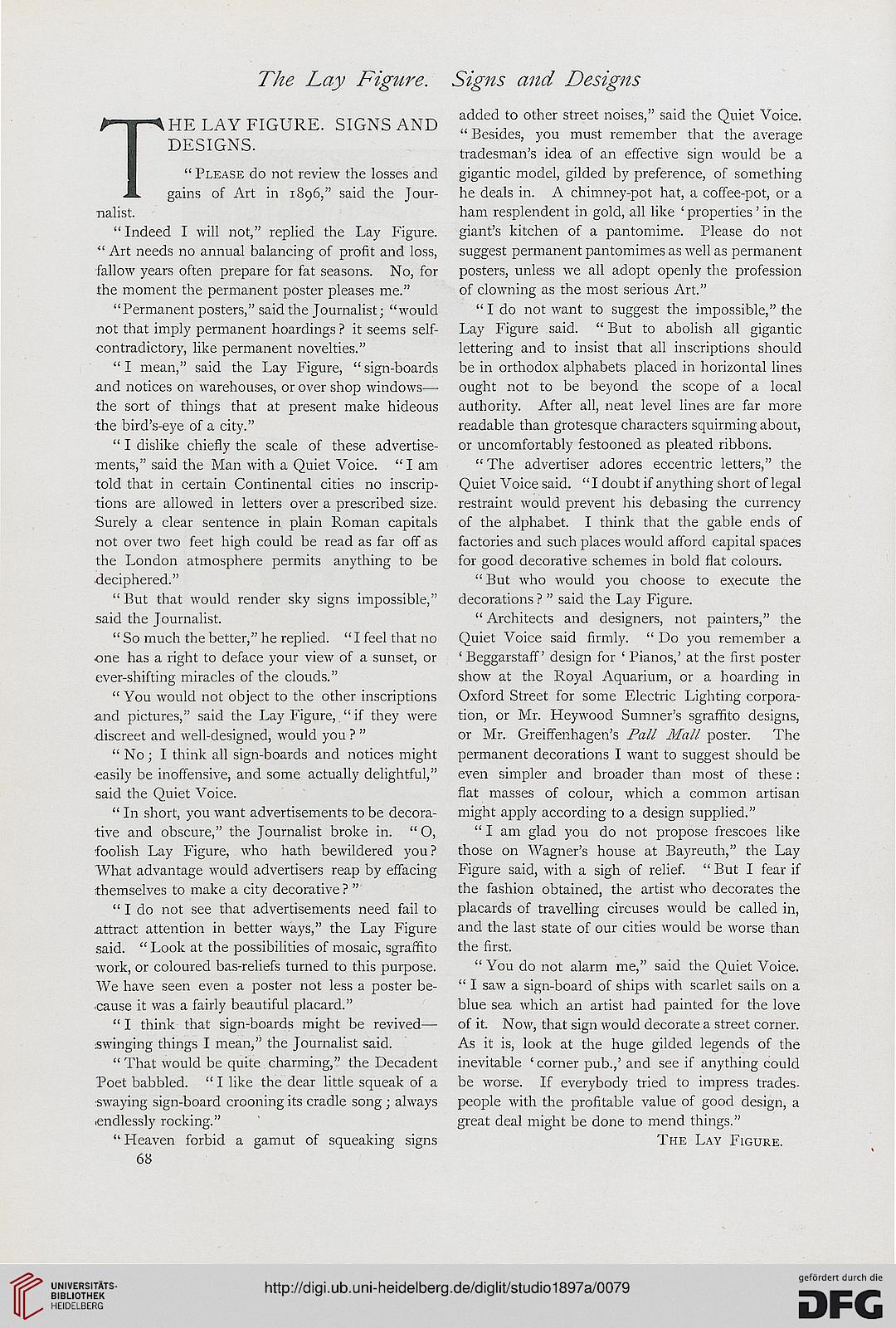 Signs and Designs

THE LAY FIGURE. SIGNS AND
DESIGNS.
" Please do not review the losses and
gains of Art in 1896," said the Jour-
nalist.

"Indeed I will not," replied the Lay Figure.
" Art needs no annual balancing of profit and loss,
fallow years often prepare for fat seasons. No, for
the moment the permanent poster pleases me."

"Permanent posters," said the Journalist; "would
not that imply permanent hoardings ? it seems self-
contradictory, like permanent novelties."

"I mean," said the Lay Figure, "sign-boards
and notices on warehouses, or over shop windows—
the sort of things that at present make hideous
the bird's-eye of a city."

" I dislike chiefly the scale of these advertise-
ments," said the Man with a Quiet Voice. "I am
told that in certain Continental cities no inscrip-
tions are allowed in letters over a prescribed size.
Surely a clear sentence in plain Roman capitals
not over two feet high could be read as far off as
the London atmosphere permits anything to be
deciphered."

"But that would render sky signs impossible,"
said the Journalist.

" So much the better," he replied. "I feel that no
one has a right to deface your view of a sunset, or
ever-shifting miracles of the clouds."

" You would not object to the other inscriptions
and pictures," said the Lay Figure, " if they were
discreet and well-designed, would you ? "

" No ; I think all sign-boards and notices might
easily be inoffensive, and some actually delightful,"
said the Quiet Voice.

" In short, you want advertisements to be decora-
tive and obscure," the Journalist broke in. " O,
•foolish Lay Figure, who hath bewildered you ?
What advantage would advertisers reap by effacing
themselves to make a city decorative ? "

" I do not see that advertisements need fail to
.attract attention in better ways," the Lay Figure
said. " Look at the possibilities of mosaic, sgraffito
work, or coloured bas-reliefs turned to this purpose.
We have seen even a poster not less a poster be-
cause it was a fairly beautiful placard."

" I think that sign-boards might be revived—
.swinging things I mean," the Journalist said.

" That would be quite charming," the Decadent
Poet babbled. " I like the dear little squeak of a
■swaying sign-board crooning its cradle song ; always
endlessly rocking."

" Heaven forbid a gamut of squeaking signs
68

added to other street noises," said the Quiet Voice.
" Besides, you must remember that the average
tradesman's idea of an effective sign would be a
gigantic model, gilded by preference, of something
he deals in. A chimney-pot hat, a coffee-pot, or a
ham resplendent in gold, all like ' properties ' in the
giant's kitchen of a pantomime. Please do not
suggest permanent pantomimes as well as permanent
posters, unless we all adopt openly the profession
of clowning as the most serious Art."

" I do not want to suggest the impossible," the
Lay Figure said. " But to abolish all gigantic
lettering and to insist that all inscriptions should
be in orthodox alphabets placed in horizontal lines
ought not to be beyond the scope of a local
authority. After all, neat level lines are far more
readable than grotesque characters squirming about,
or uncomfortably festooned as pleated ribbons.

" The advertiser adores eccentric letters," the
Quiet Voice said. "I doubt if anything short of legal
restraint would prevent his debasing the currency
of the alphabet. I think that the gable ends of
factories and such places would afford capital spaces
for good decorative schemes in bold flat colours.

" But who would you choose to execute the
decorations ? " said the Lay Figure.

" Architects and designers, not painters," the
Quiet Voice said firmly. " Do you remember a
' Beggarstaff' design for ' Pianos,' at the first poster
show at the Royal Aquarium, or a hoarding in
Oxford Street for some Electric Lighting corpora-
tion, or Mr. Heywood Sumner's sgraffito designs,
or Mr. Greiffenhagen's Pall Mall poster. The
permanent decorations I want to suggest should be
even simpler and broader than most of these:
flat masses of colour, which a common artisan
might apply according to a design supplied."

" I am glad you do not propose frescoes like
those on Wagner's house at Bayreuth," the Lay
Figure said, with a sigh of relief. " But I fear if
the fashion obtained, the artist who decorates the
placards of travelling circuses would be called in,
and the last state of our cities would be worse than
the first.

" You do not alarm me," said the Quiet Voice.
" I saw a sign-board of ships with scarlet sails on a
blue sea which an artist had painted for the love
of it. Now, that sign would decorate a street corner.
As it is, look at the huge gilded legends of the
inevitable ' corner pub.,' and see if anything could
be worse. If everybody tried to impress trades-
people with the profitable value of good design, a
great deal might be done to mend things."

The Lay Figure.