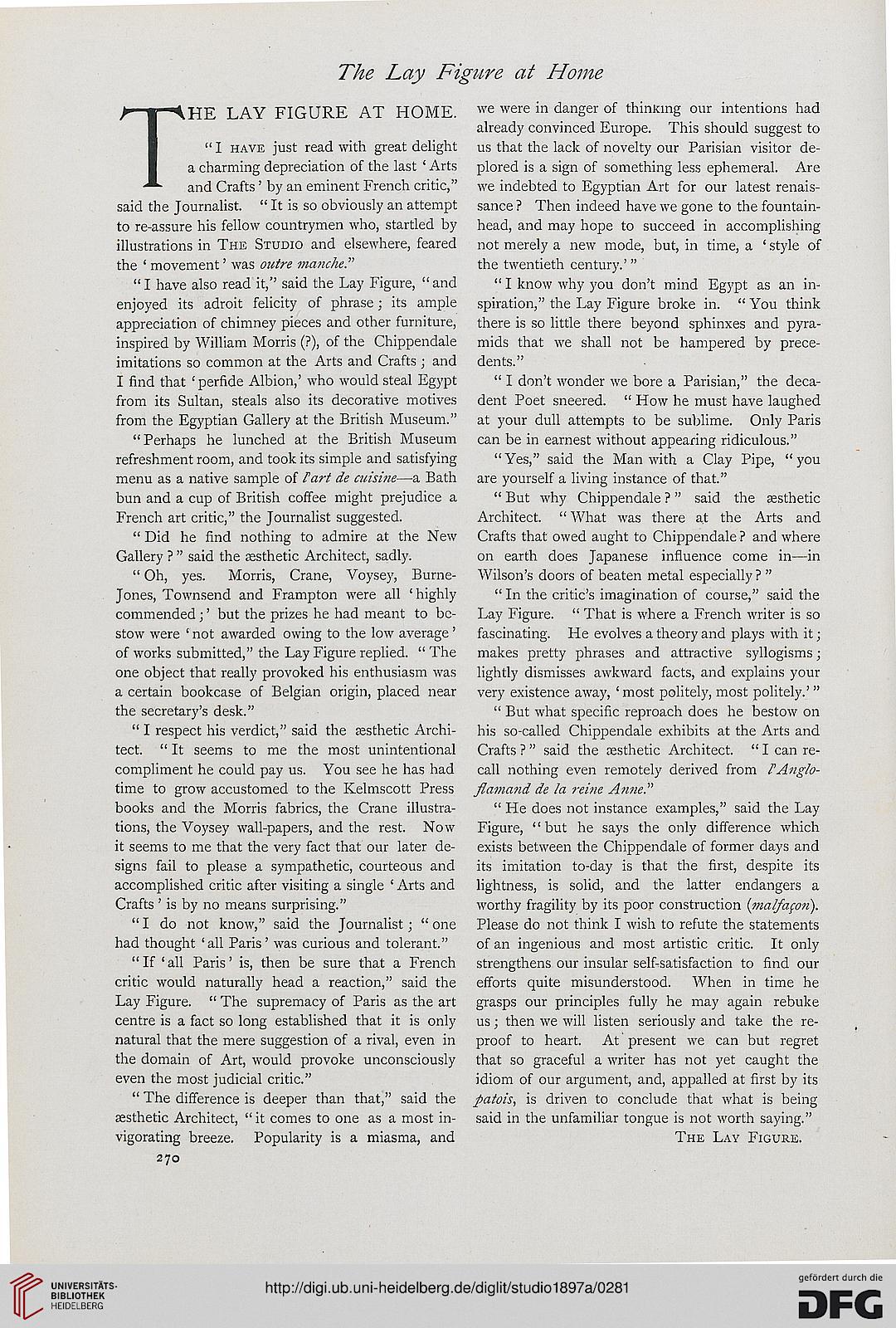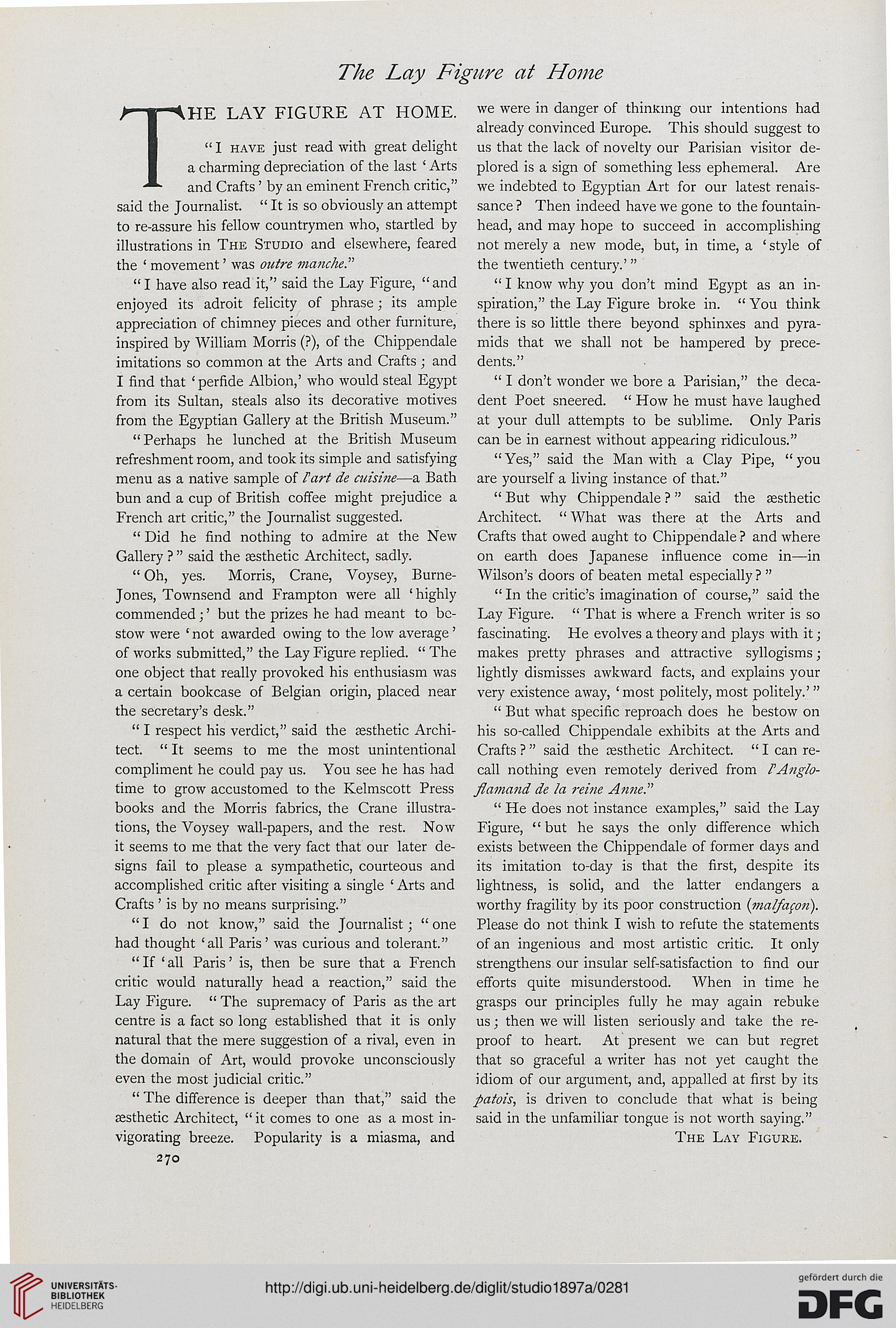 THE LAY FIGURE AT HOME.
" I have just read with great delight
a charming depreciation of the last ' Arts
and Crafts ' by an eminent French critic,"
said the Journalist. " It is so obviously an attempt
to re-assure his fellow countrymen who, startled by
illustrations in The Studio and elsewhere, feared
the ' movement' was outre manche."

"I have also read it," said the Lay Figure, "and
enjoyed its adroit felicity of phrase; its ample
appreciation of chimney pieces and other furniture,
inspired by William Morris (?), of the Chippendale
imitations so common at the Arts and Crafts ; and
I find that ' perfide Albion,' who would steal Egypt
from its Sultan, steals also its decorative motives
from the Egyptian Gallery at the British Museum."

"Perhaps he lunched at the British Museum
refreshment room, and took its simple and satisfying
menu as a native sample of Fart de cuisine—a Bath
bun and a cup of British coffee might prejudice a
French art critic," the Journalist suggested.

" Did he find nothing to admire at the New
Gallery ? " said the aesthetic Architect, sadly.

" Oh, yes. Morris, Crane, Voysey, Burne-
Jones, Townsend and Frampton were all ' highly
commended ;' but the prizes he had meant to be-
stow were ' not awarded owing to the low average '
of works submitted," the Lay Figure replied. " The
one object that really provoked his enthusiasm was
a certain bookcase of Belgian origin, placed near
the secretary's desk."

" I respect his verdict," said the aesthetic Archi-
tect. " It seems to me the most unintentional
compliment he could pay us. You see he has had
time to grow accustomed to the Kelmscott Press
books and the Morris fabrics, the Crane illustra-
tions, the Voysey wall-papers, and the rest. Now
it seems to me that the very fact that our later de-
signs fail to please a sympathetic, courteous and
accomplished critic after visiting a single 1 Arts and
Crafts ' is by no means surprising."

"I do not know," said the Journalist; "one
had thought 'all Paris' was curious and tolerant."

" If ' all Paris' is, then be sure that a French
critic would naturally head a reaction," said the
Lay Figure. " The supremacy of Paris as the art
centre is a fact so long established that it is only
natural that the mere suggestion of a rival, even in
the domain of Art, would provoke unconsciously
even the most judicial critic."

" The difference is deeper than that," said the
aesthetic Architect, " it comes to one as a most in-
vigorating breeze. Popularity is a miasma, and
270

we were in danger of thinKmg our intentions had
already convinced Europe. This should suggest to
us that the lack of novelty our Parisian visitor de-
plored is a sign of something less ephemeral. Are
we indebted to Egyptian Art for our latest renais-
sance ? Then indeed have we gone to the fountain-
head, and may hope to succeed in accomplishing
not merely a new mode, but, in time, a ' style of
the twentieth century.' "

" I know why you don't mind Egypt as an in-
spiration," the Lay Figure broke in. " You think
there is so little there beyond sphinxes and pyra-
mids that we shall not be hampered by prece-
dents."

" I don't wonder we bore a Parisian," the deca-
dent Poet sneered. " How he must have laughed
at your dull attempts to be sublime. Only Paris
can be in earnest without appearing ridiculous."

"Yes," said the Man with a Clay Pipe, "you
are yourself a living instance of that."

" But why Chippendale ? " said the aesthetic
Architect. " What was there at the Arts and
Crafts that owed aught to Chippendale ? and where
on earth does Japanese influence come in—in
Wilson's doors of beaten metal especially ? "

" In the critic's imagination of course," said the
Lay Figure. " That is where a French writer is so
fascinating. He evolves a theory and plays with it;
makes pretty phrases and attractive syllogisms;
lightly dismisses awkward facts, and explains your
very existence away, ' most politely, most politely.' "

" But what specific reproach does he bestow on
his so-called Chippendale exhibits at the Arts and
Crafts ? " said the aesthetic Architect. " I can re-
call nothing even remotely derived from FAnglo-
flamand de la reine Anne."

" He does not instance examples," said the Lay
Figure, "but he says the only difference which
exists between the Chippendale of former days and
its imitation to-day is that the first, despite its
lightness, is solid, and the latter endangers a
worthy fragility by its poor construction (ma/fafon).
Please do not think I wish to refute the statements
of an ingenious and most artistic critic. It only
strengthens our insular self-satisfaction to find our
efforts quite misunderstood. When in time he
grasps our principles fully he may again rebuke
us; then we will listen seriously and take the re-
proof to heart. At present we can but regret
that so graceful a writer has not yet caught the
idiom of our argument, and, appalled at first by its
patois, is driven to conclude that what is being
said in the unfamiliar tongue is not worth saying."

The Lay Figure.