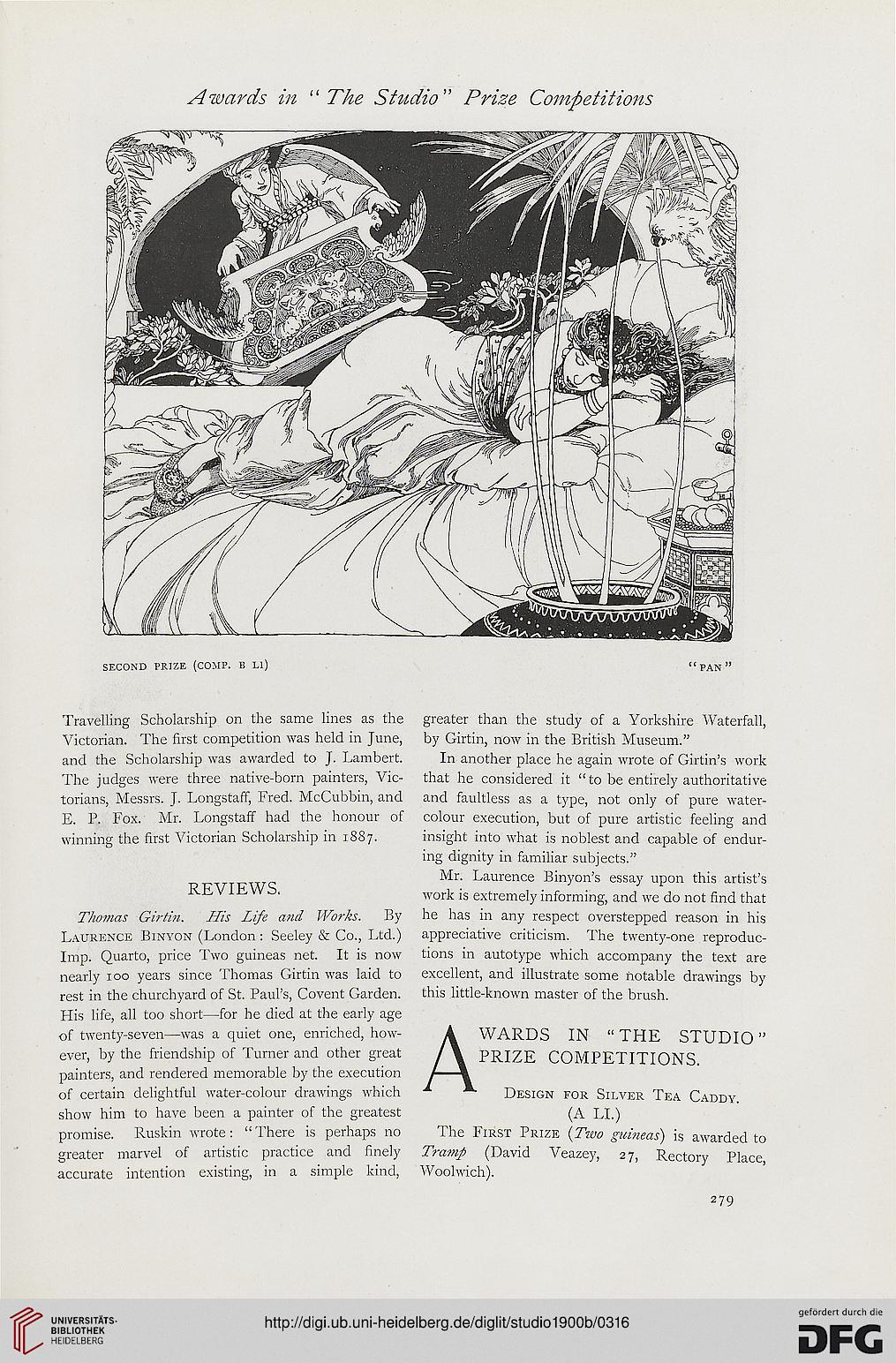 Travelling Scholarship on the same lines as the
Victorian. The first competition was held in June,
and the Scholarship was awarded to J. Lambert.
The judges were three native-born painters, Vic-
torians, Messrs. J. Longstaff, Fred. McCubbin, and
E. P. Fox. Mr. Longstaff had the honour of
winning the first Victorian Scholarship in 1887.

REVIEWS.

Thomas Girtin. His Life and Works. By
Laurence Binyon (London : Seeley & Co., Ltd.)
Imp. Quarto, price Two guineas net. It is now
nearly 100 years since Thomas Girtin was laid to
rest in the churchyard of St. Paul's, Covent Garden.
His life, all too short—for he died at the early age
of twenty-seven—was a quiet one, enriched, how-
ever, by the friendship of Turner and other great
painters, and rendered memorable by the execution
of certain delightful water-colour drawings which
show him to have been a painter of the greatest
promise. Ruskin wrote: " There is perhaps no
greater marvel of artistic practice and finely
accurate intention existing, in a simple kind,

greater than the study of a Yorkshire Waterfall,
by Girtin, now in the British Museum."

In another place he again wrote of Girtin's work
that he considered it " to be entirely authoritative
and faultless as a type, not only of pure water-
colour execution, but of pure artistic feeling and
insight into what is noblest and capable of endur-
ing dignity in familiar subjects."

Mr. Laurence Binyon's essay upon this artist's
work is extremely informing, and we do not find that
he has in any respect overstepped reason in his
appreciative criticism. The twenty-one reproduc-
tions in autotype which accompany the text are
excellent, and illustrate some notable drawings by
this little-known master of the brush.

AWARDS IN "THE STUDIO"
PRIZE COMPETITIONS.
Design for Silver Tea Caddy
(A LI.)

The First Prize (Two guineas) is awarded to
Tramp (David Veazey, 27, Rectory Place,
Woolwich).