Ausschreiben Vnd Gründlicher warhaffter Bericht VNser Gebhardts/ von Gottes Gnaden erwelten vnd bestetig=ten Ertzbischoffs zu Cölln ...: Warumb wir vns mit etlichen Solda=ten/ zubeschützung vnserer Land/ Leut/ vnd eigenen Person/ auch fol=gends in weitere Kriegsrüstung/ wider vnsere Feind vnd widerwer=tige/ zubegeben genottrangt ...die freylassung der wahren Christlichen Religion Augspurgischen Confession verstattet ... vorgenom=men sey worden.
[Magdeburg]: [Paul Donat], 1583 [VD16 K 1747]
Seitenzählung in der Vorlage teilweise inkorrekt.
Citation link: https://digi.ub.uni-heidelberg.de/diglit/gebhard1583
URN: urn:nbn:de:bsz:16-diglit-515712
DOI: https://doi.org/10.11588/diglit.51571
Metadata: METS
IIIF Manifest: https://digi.ub.uni-heidelberg.de/diglit/iiif/gebhard1583/manifest.json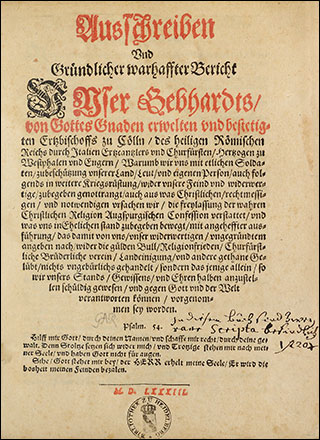 There are annotations to this facsimile. Individual pages with annotations are marked in "Overview" with the symbol .
Content