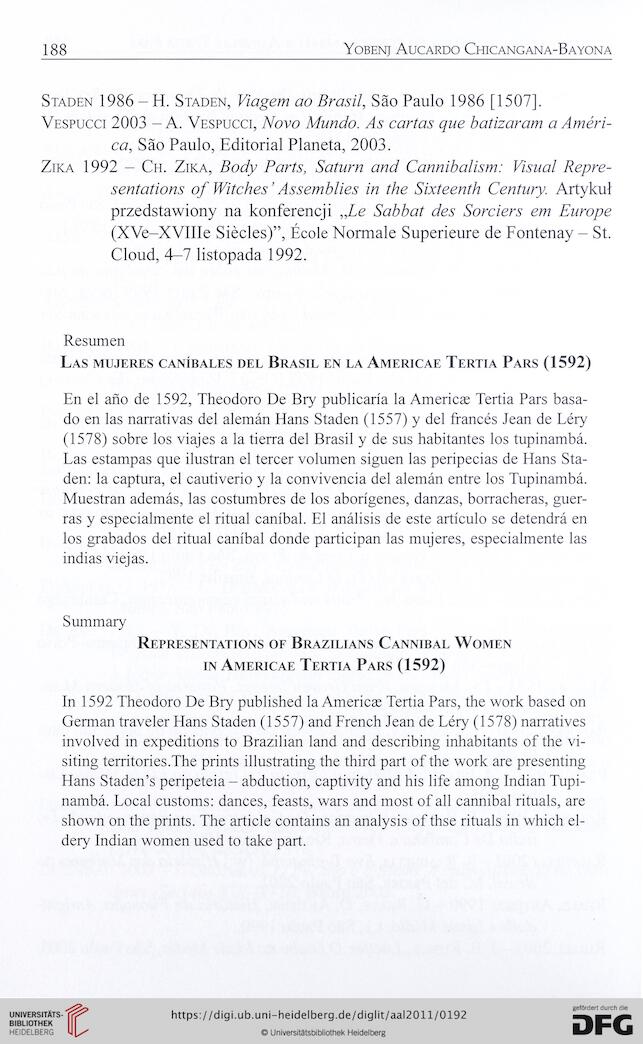 Yobenj Aucardo Chicang ana-Ba yon a

Staden 1986 - H. Staden, Viagem ao Brasil, Sao Paulo 1986 [1507].
Vespucci 2003 - A. Vespucci, Novo Mundo. As cartas que batizaram a Améri-
ca, Sao Paulo, Editorial Planeta, 2003.
Zika 1992 - Ch. Zika, Body Parts, Saturn and Cannibalism: Visual Repre-
sentations of Witches' Assemblies in the Sixteenth Century. Artykuł
przedstawiony na konferencji "Le Sabbat des Sorciers em Europe
(XVe-XVIIIe Siécles)", École Nórmale Superieure de Fontenay - St.
Cloud, 4-7 listopada 1992.

Resumen
Las mujeres caníbales del Brasil en la Americae Tertia Pars (1592)
En el año de 1592, Theodoro De Bry publicaría la Americae Tertia Pars basa-
do en las narrativas del alemán Hans Staden (1557) y del francés Jean de Léry
(1578) sobre los viajes a la tierra del Brasil y de sus habitantes los tupinambá.
Las estampas que ilustran el tercer volumen siguen las peripecias de Hans Sta-
den: la captura, el cautiverio y la convivencia del alemán entre los Tupinambá.
Muestran además, las costumbres de los aborígenes, danzas, borracheras, guer-
ras y especialmente el ritual caníbal. El análisis de este artículo se detendrá en
los grabados del ritual caníbal donde participan las mujeres, especialmente las
indias viejas.
Summary
Representations of Brazilians Cannibal Women
in Americae Tertia Pars (1592)
In 1592 Theodoro De Bry published la Americae Tertia Pars, the work based on
German traveler Hans Staden (1557) and French Jean de Léry (1578) narratives
involved in expeditions to Brazilian land and describing inhabitants of the vi-
siting territories.The prints illustrating the third part of the work are presenting
Hans Staden's peripeteia - abduction, captivity and his life among Indian Tupi-
nambá. Local customs: dances, feasts, wars and most of all cannibal rituals, are
shown on the prints. The article contains an analysis of thse rituals in which el-
dery Indian women used to take part.