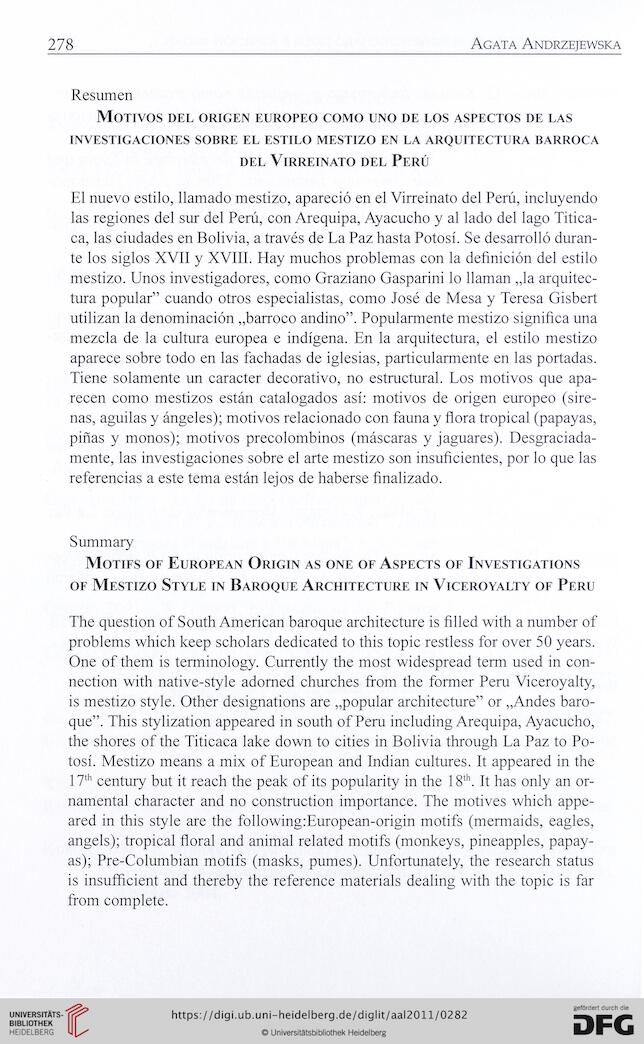 278

Resumen
Motivos del origen europeo como uno de los aspectos de las
INVESTIGACIONES SOBRE EL ESTILO MESTIZO EN LA ARQUITECTURA BARROCA
del Virreinato del Perú
El nuevo estilo, llamado mestizo, apareció en el Virreinato del Perú, incluyendo
las regiones del sur del Perú, con Arequipa, Ayacucho y al lado del lago Titica-
ca, las ciudades en Bolivia, a través de La Paz hasta Potosí. Se desarrolló duran-
te los siglos XVII y XVIII. Hay muchos problemas con la definición del estilo
mestizo. Unos investigadores, como Graziano Gasparini lo llaman "la arquitec-
tura popular" cuando otros especialistas, como José de Mesa y Teresa Gisbert
utilizan la denominación "barroco andino". Popularmente mestizo significa una
mezcla de la cultura europea e indígena. En la arquitectura, el estilo mestizo
aparece sobre todo en las fachadas de iglesias, particularmente en las portadas.
Tiene solamente un carácter decorativo, no estructural. Los motivos que apa-
recen como mestizos están catalogados así: motivos de origen europeo (sire-
nas, agudas y ángeles); motivos relacionado con fauna y flora tropical (papayas,
pinas y monos); motivos precolombinos (máscaras y jaguares). Desgraciada-
mente, las investigaciones sobre el arte mestizo son insuficientes, por lo que las
referencias a este tema están lejos de haberse finalizado.
Summary
Motifs of European Origin as one of Aspects of Investigations
of Mestizo Style in Baroque Architecture in Viceroyalty of Peru
The question of South American baroque architecture is filled with a number of
problems which keep scholars dedicated to this topic restless for over 50 years.
One of them is terminology. Currently the most widespread term used in con-
nection with native-style adorned churches from the former Peru Viceroyalty,
is mestizo style. Other designations are "popular architecture" or "Andes baro-
que". This stylization appeared in south of Peru including Arequipa, Ayacucho,
the shores of the Titicaca lake down to cities in Bolivia through La Paz to Po-
tosi. Mestizo means a mix of European and Indian cultures. It appeared in the
17th century but it reach the peak of its popularity in the 18th. It has only an or-
namental character and no construction importance. The motives which appe-
ared in this style are the following:European-origin motifs (mermaids, eagles,
angels); tropical floral and animal related motifs (monkeys, pineapples, papay-
as); Pre-Columbian motifs (masks, pumes). Unfortunately, the research status
is insufficient and thereby the reference materials dealing with the topic is far
from complete.