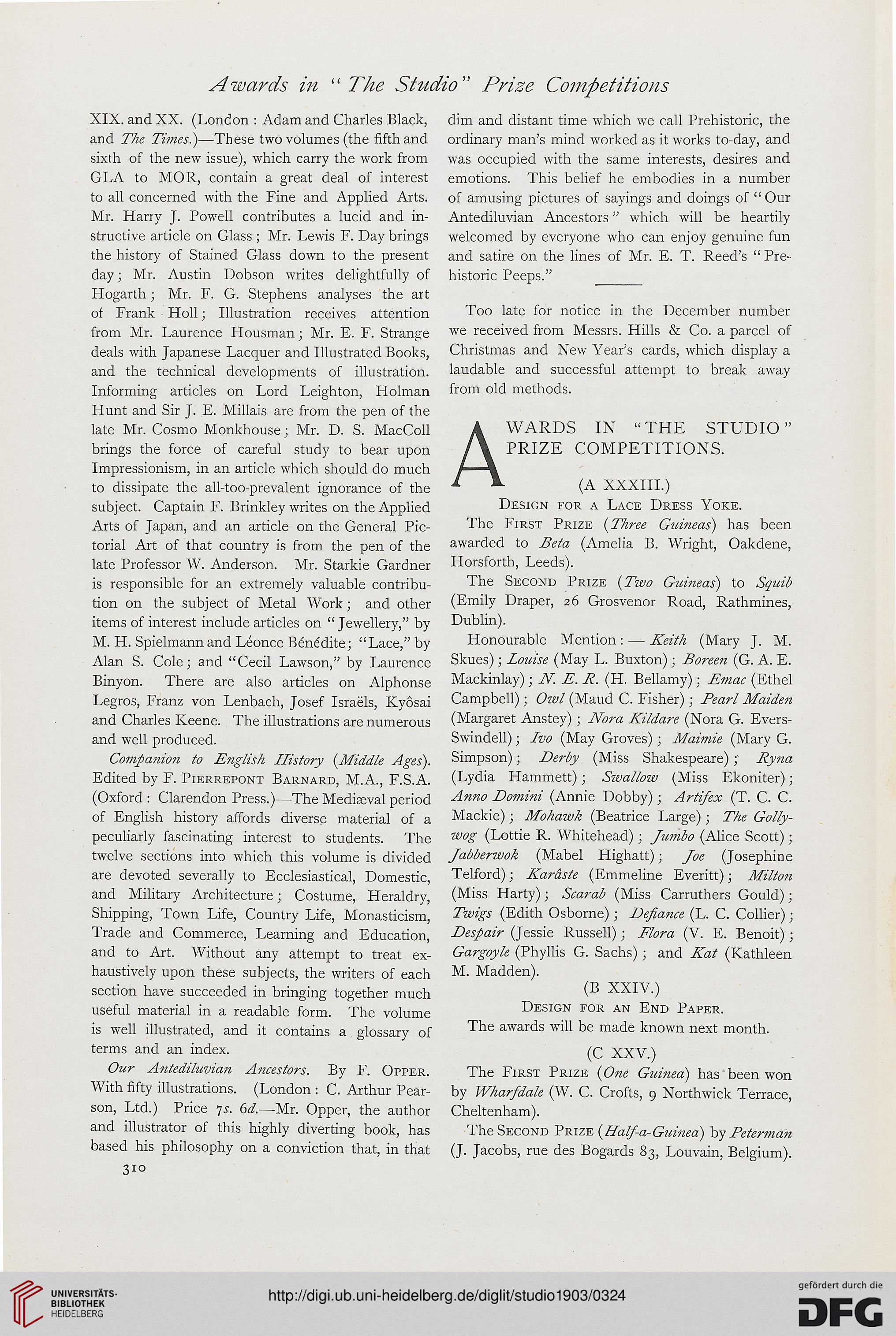 XIX. and XX. (London : Adam and Charles Black,
and The Times?)—These two volumes (the fifth and
sixth of the new issue), which carry the work from
GLA to MOR, contain a great deal of interest
to all concerned with the Fine and Applied Arts.
Mr. Harry J. Powell contributes a lucid and in-
structive article on Glass ; Mr. Lewis F. Day brings
the history of Stained Glass down to the present
day; Mr. Austin Dobson writes delightfully of
Hogarth; Mr. F. G. Stephens analyses the art
of Frank Holl; Illustration receives attention
from Mr. Laurence Housman; Mr. E. F. Strange
deals with Japanese Lacquer and Illustrated Books,
and the technical developments of illustration.
Informing articles on Lord Leighton, Holman
Hunt and Sir J. E. Millais are from the pen of the
late Mr. Cosmo Monkhouse; Mr. D. S. MacColl
brings the force of careful study to bear upon
Impressionism, in an article which should do much
to dissipate the all-too-prevalent ignorance of the
subject. Captain F. Brinkley writes on the Applied
Arts of Japan, and an article on the General Pic-
torial Art of that country is from the pen of the
late Professor W. Anderson. Mr. Starkie Gardner
is responsible for an extremely valuable contribu-
tion on the subject of Metal Work; and other
items of interest include articles on " Jewellery," by
M. H. Spielmannand Leonce Benedite; "Lace," by
Alan S. Cole; and "Cecil Lawson," by Laurence
Binyon. There are also articles on Alphonse
Legros, Franz von Lenbach, Josef Israels, Kyosai
and Charles Keene. The illustrations are numerous
and well produced.

Companion to English History (Middle Ages).
Edited by F. Pierrepont Barnard, M.A., F.S.A.
(Oxford : Clarendon Press.)—The Mediseval period
of English history affords diverse material of a
peculiarly fascinating interest to students. The
twelve sections into which this volume is divided
are devoted severally to Ecclesiastical, Domestic,
and Military Architecture; Costume, Heraldry,
Shipping, Town Life, Country Life, Monasticism,
Trade and Commerce, Learning and Education,
and to Art. Without any attempt to treat ex-
haustively upon these subjects, the writers of each
section have succeeded in bringing together much
useful material in a readable form. The volume
is well illustrated, and it contains a glossary of
terms and an index.

Our Antediluvian Ancestors. By F. Opper.
With fifty illustrations. (London : C. Arthur Pear-
son, Ltd.) Price -js. 6d.—Mr. Opper, the author
and illustrator of this highly diverting book, has
based his philosophy on a conviction that, in that
310

dim and distant time which we call Prehistoric, the
ordinary man's mind worked as it works to-day, and
was occupied with the same interests, desires and
emotions. This belief he embodies in a number
of amusing pictures of sayings and doings of "Our
Antediluvian Ancestors" which will be heartily
welcomed by everyone who can enjoy genuine fun
and satire on the lines of Mr. E. T. Reed's " Pre-
historic Peeps."

Too late for notice in the December number
we received from Messrs. Hills & Co. a parcel of
Christmas and New Year's cards, which display a
laudable and successful attempt to break away
from old methods.

AWARDS IN "THE STUDIO"
PRIZE COMPETITIONS.
(A XXXIII.)
Design for a Lace Dress Yoke.
The First Prize (Time Guineas) has been
awarded to Seta (Amelia B. Wright, Oakdene,
Horsforth, Leeds).

The Second Prize (Two Guineas) to Squib
(Emily Draper, 26 Grosvenor Road, Rathmines,
Dublin).

Honourable Mention: — Keith (Mary J. M.
Skues); Louise (May L. Buxton); Boreen (G. A. E.
Mackinlay); N. E.R. (H. Bellamy); Emac (Ethel
Campbell); Owl (Maud C. Fisher) ; Pearl Maiden
(Margaret Anstey); Nora Kildare (Nora G. Evers-
Swindell); Ivo (May Groves) ; Maimie (Mary G.
Simpson); Derby (Miss Shakespeare); Eyna
(Lydia Hammett); Szvallow (Miss Ekoniter);
Anno Domini (Annie Dobby); Artifex (T. C. C.
Mackie) ; Mohawk (Beatrice Large) ; The Golly-
wog (Lottie R. Whitehead); Jumbo (Alice Scott);
Jabberwok (Mabel Highatt); Joe (Josephine
Telford); Kardste (Emmeline Everitt); Milton
(Miss Harty); Scarab (Miss Carruthers Gould);
Twigs (Edith Osborne); Defiance (L. C. Collier) ;
Despair (Jessie Russell); Flora (V. E. Benoit) ;
Gargoyle (Phyllis G. Sachs) ; and Kat (Kathleen
M. Madden).

(B XXIV.)
Design for an End Paper.
The awards will be made known next month.

(C XXV.)

The First Prize (One Guinea) has been won
by Wharfdale (W. C. Crofts, 9 Northwick Terrace,
Cheltenham).

The Second Prize (ffdlf-a-Guinea) by Peterman
(J. Jacobs, rue des Bogards 83, Louvain, Belgium).