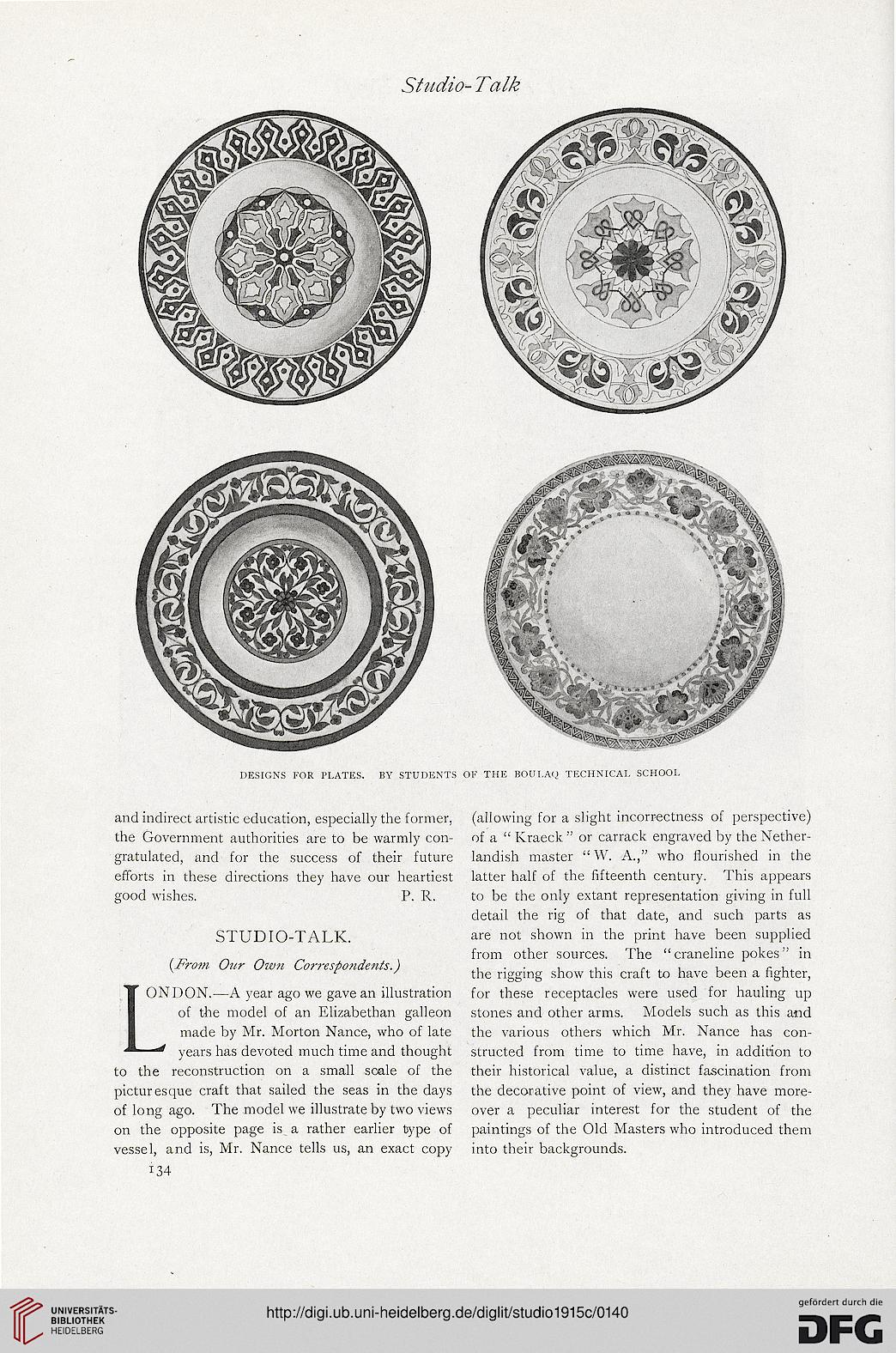 DESIGNS FOR PLATES. BY STUDENTS

and indirect artistic education, especially the former,
the Government authorities are to be warmly con-
gratulated, and for the success of their future
efforts in these directions they have our heartiest
good wishes. P. R.

STUDIO-TALK.

(From Our Own Correspondents.)

IONDON.—A year ago we gave an illustration
of the model of an Elizabethan galleon
made by Mr. Morton Nance, who of late
years has devoted much time and thought
to the reconstruction on a small scale of the
picturesque craft that sailed the seas in the days
of long ago. The model we illustrate by two views
on the opposite page is a rather earlier type of
vessel, and is, Mr. Nance tells us, an exact copy
134

OF THE BOUI.AQ TECHNICAL SCHOOL

(allowing for a slight incorrectness of perspective)
of a " Kraeck " or carrack engraved by the Nether-
landish master "W. A.," who flourished in the
latter half of the fifteenth century. This appears
to be the only extant representation giving in full
detail the rig of that date, and such parts as
are not shown in the print have been supplied
from other sources. The " craneline pokes " in
the rigging show this craft to have been a fighter,
for these receptacles were used for hauling up
stones and other arms. Models such as this and
the various others which Mr. Nance has con-
structed from time to time have, in addition to
their historical value, a distinct fascination from
the decorative point of view, and they have more-
over a peculiar interest for the student of the
paintings of the Old Masters who introduced them
into their backgrounds.