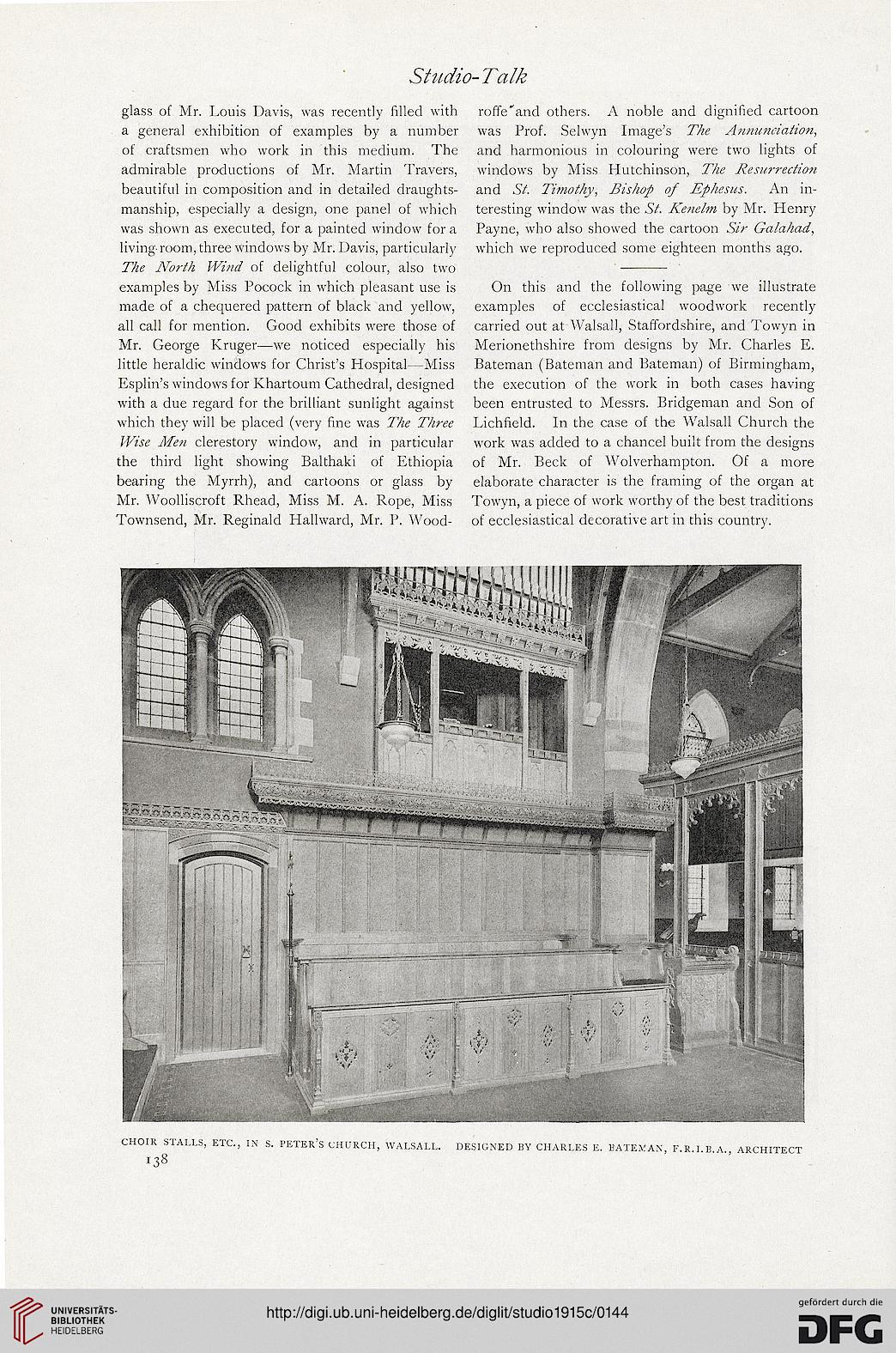 glass of Mr. Louis Davis, was recently filled with
a general exhibition of examples by a number
of craftsmen who work in this medium. The
admirable productions of Mr. Martin Travers,
beautiful in composition and in detailed draughts-
manship, especially a design, one panel of which
was shown as executed, for a painted window for a
living room, three windows by Mr. Davis, particularly
The North Wind of delightful colour, also two
examples by Miss Pocock in which pleasant use is
made of a chequered pattern of black and yellow,
all call for mention. Good exhibits were those of
Mr. George Kruger—we noticed especially his
little heraldic windows for Christ's Hospital—Miss
Esplin's windows for Khartoum Cathedral, designed
with a due regard for the brilliant sunlight against
which they will be placed (very fine was The Three
Wise Men clerestory window, and in particular
the third light showing Balthaki of Ethiopia
bearing the Myrrh), and cartoons or glass by
Mr. Woolliscroft Rhead, Miss M. A. Rope, Miss
Townsend, Mr. Reginald Hallward, Mr. P. Wood-

roffe'and others. A noble and dignified cartoon
was Prof. Selwyn Image's The Annunciation,
and harmonious in colouring were two lights of
windows by Miss Hutchinson, The Resurrection
and St. Timothy, Bishop of Ephesus. An in-
teresting window was the St. Kenelm by Mr. Henry
Payne, who also showed the cartoon Sir Galahad,
which we reproduced some eighteen months ago.

On this and the following page we illustrate
examples of ecclesiastical woodwork recently
carried out at Walsall, Staffordshire, and Towyn in
Merionethshire from designs by Mr. Charles E.
Bateman (Bateman and Bateman) of Birmingham,
the execution of the work in both cases having
been entrusted to Messrs. Bridgeman and Son of
Lichfield. In the case of the Walsall Church the
work was added to a chancel built from the designs
of Mr. Beck of Wolverhampton. Of a more
elaborate character is the framing of the organ at
Towyn, a piece of work worthy of the best traditions
of ecclesiastical decorative art in this country.