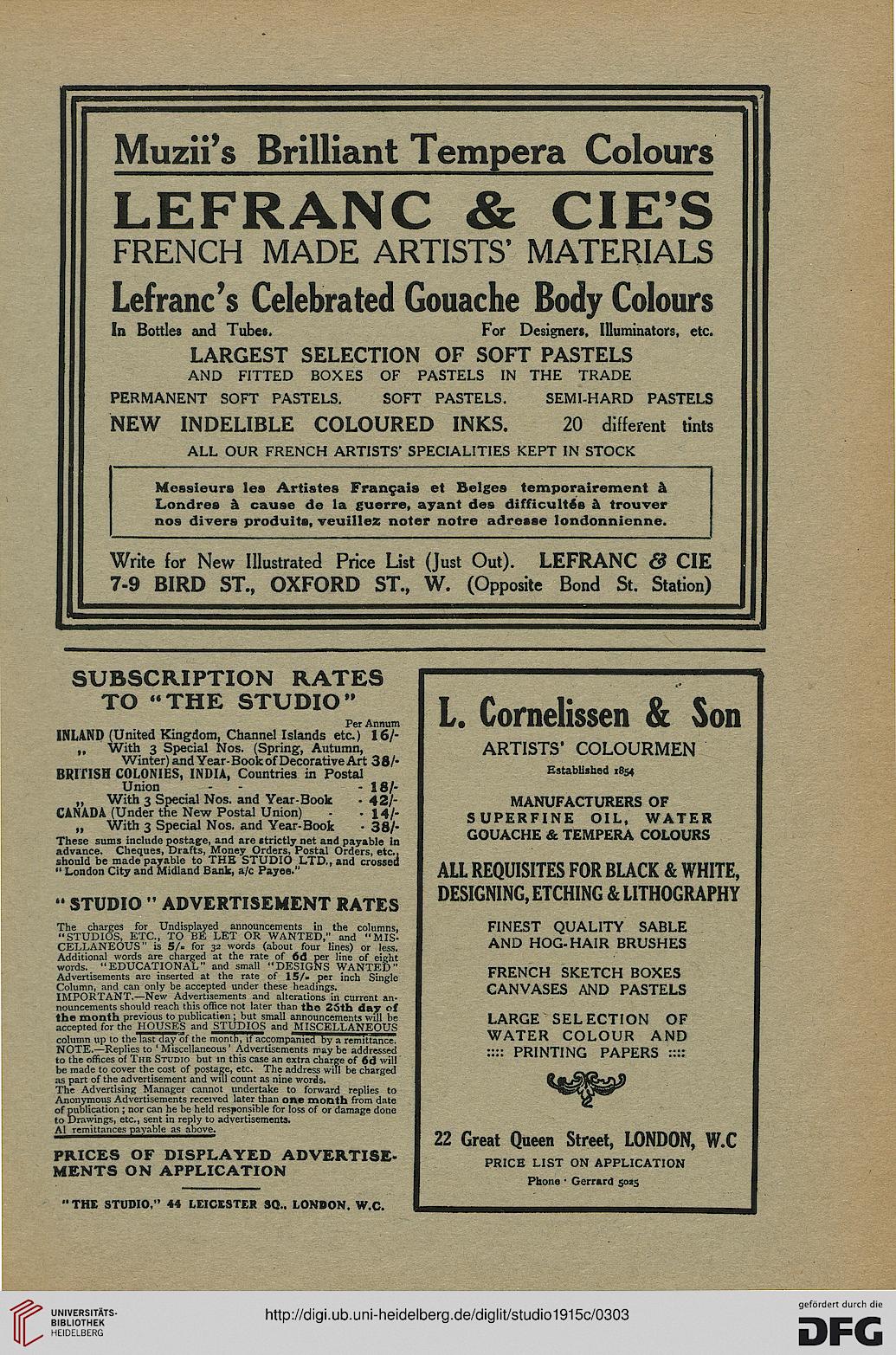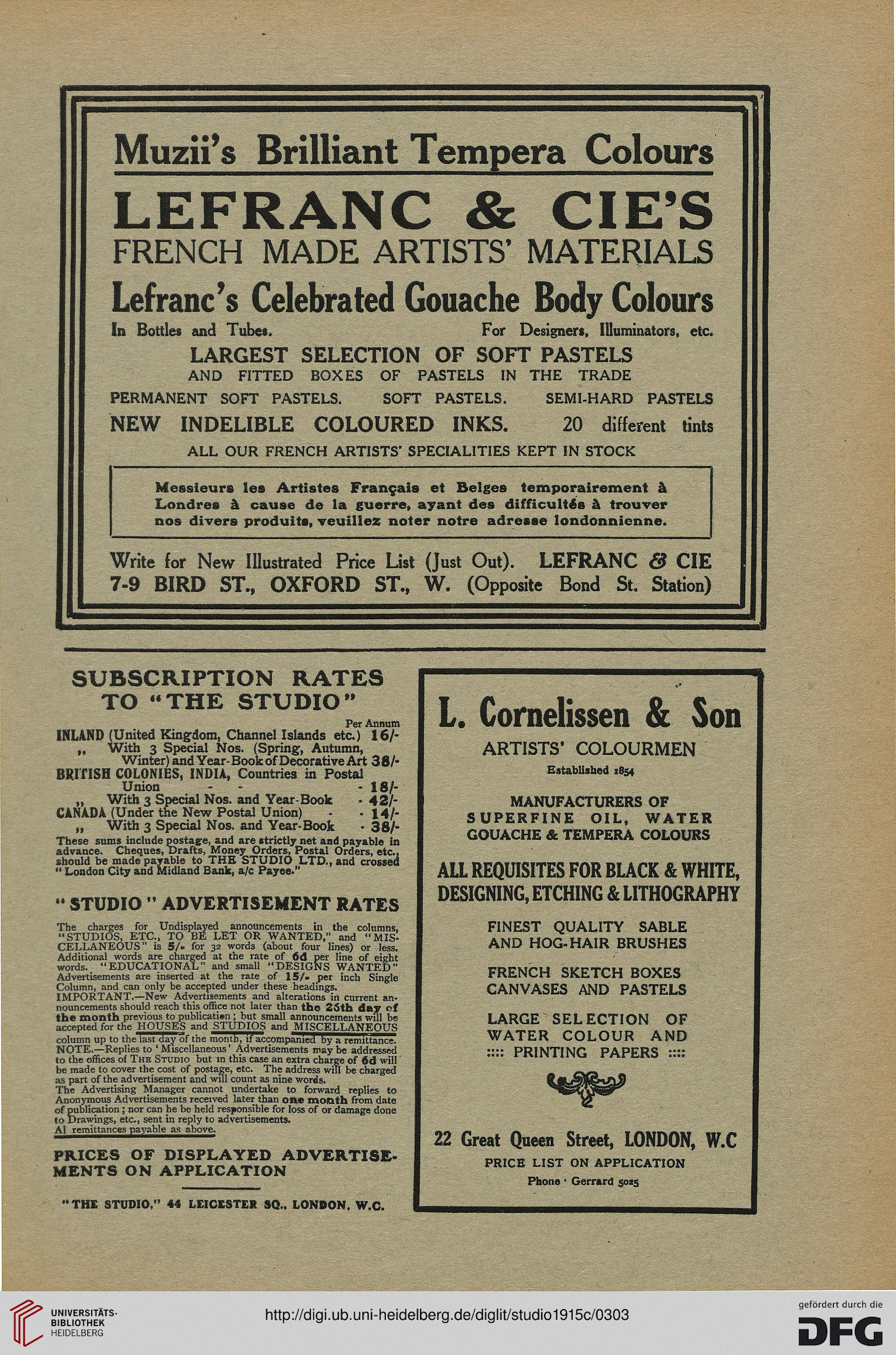 i

]

1

T

I

LEFRANC & CIE'S

FRENCH MADE ARTISTS' MATERIALS

Lefranc's Celebrated Gouache Body Colours

n Bottles and Tubes. For Designers, Illuminators, etc.

LARGEST SELECTION OF SOFT PASTELS

AND FITTED BOXES OF PASTELS IN THE TRADE
•ERMANENT SOFT PASTELS. SOFT PASTELS. SEMI-HARD PASTELS

'JEW INDELIBLE COLOURED INKS. 20 different tints

ALL OUR FRENCH ARTISTS' SPECIALITIES KEPT IN STOCK

Messieurs les Artistes Fran$ais et Beiges temporairement k
Londres k cause de la guerre, ayant des difficult4s k trouver
nos divers produits, veuillez noter notre adresse londonnienne.

Write for New Illustrated Price List (Just Out). LEFRANC & CIE
7-9 BIRD ST., OXFORD ST., W. (Opposite Bond St. Station)

SUBSCRIPTION RATES
TO "THE STUDIO"

Per Annum

INLAND (United Kingdom, Channel Islands etc.) 16/-
" With 3 Special Nos. (Spring, Autumn,

Winter) and Year-Book of Decorative Art 38/-
BRITISH COLONIES, INDIA, Countries in Postal

Union - 18/-

" With 3 Special Nos. and Year-Book - 42/-
CANADA (Under the New Postal Union) - . 14/-

" With 3 Special Nos. and Year-Book - 38/-

These sums include postage, and are strictly net and payable In
advance. Cheques, Drafts, Money Orders, Postal Orders, etc.,
should be made payable to THE STUDIO LTD., and crossed
" London City and Midland Bank, a/c Payee."

*' STUDIO " ADVERTISEMENT RATES

The charges for Undisplayed announcements in the columns.
"STUDIOS, ETC., TO BE LET OR WANTED," and "MIS-
CELLANEOUS" is 5/- for 32 words (about four lines) or less.
Additional words are charged at the rate of 6d per line of eight
words. "EDUCATIONAL" and small "DESIGNS WANTED"
Advertisements are inserted at the rate of 15/- per inch Single
Column, and can only be accepted under these headings.
IMPORTANT.—New Advertisements and alterations in current an-
nouncements should reach this office not later than the 25th day of
the month previous to publication ; but small announcements will be
accepted for the HOUSES and STUDIOS and MISCELLANEOUS
column up to the last day of the month, if accompameTTy"alremittance.
NOTE.—Replies to 'Miscellaneous' Advertisements maybe addressed
to the offices of The Studio but in this case an extra charge of 6d will
be made to cover the cost of postage, etc. The address will be charged
as part of the advertisement and will count as nine words.

The Advertising Manager cannot undertake to forward replies to
Anonymous Advertisements received later than one month from date
of publication ; nor can he be held responsible for loss of or damage done
to Drawings, etc., sent in reply to advertisements.

A1

PRICES OF DISPLAYED ADVERTISE-
MENTS ON APPLICATION

L. Cornelissen & Son

ARTISTS' COLOURMEN

Established 1854

MANUFACTURERS OF
SUPERFINE OIL, WATER
GOUACHE & TEMPERA COLOURS

ALL REQUISITES FOR BLACK & WHITE,
DESIGNING, ETCHING & LITHOGRAPHY

FINEST QUALITY SABLE
AND HOG-HAIR BRUSHES

FRENCH SKETCH BOXES
CANVASES AND PASTELS

LARGE SELECTION OF
WATER COLOUR AND
:::: PRINTING PAPERS ::::

22 Great Queen Street, LONDON, W.C

PRICE LIST ON APPLICATION
Phono • Gerrard 50*5

THE STUDIO." 44 LEICESTER SQ., LONDON. W.C.