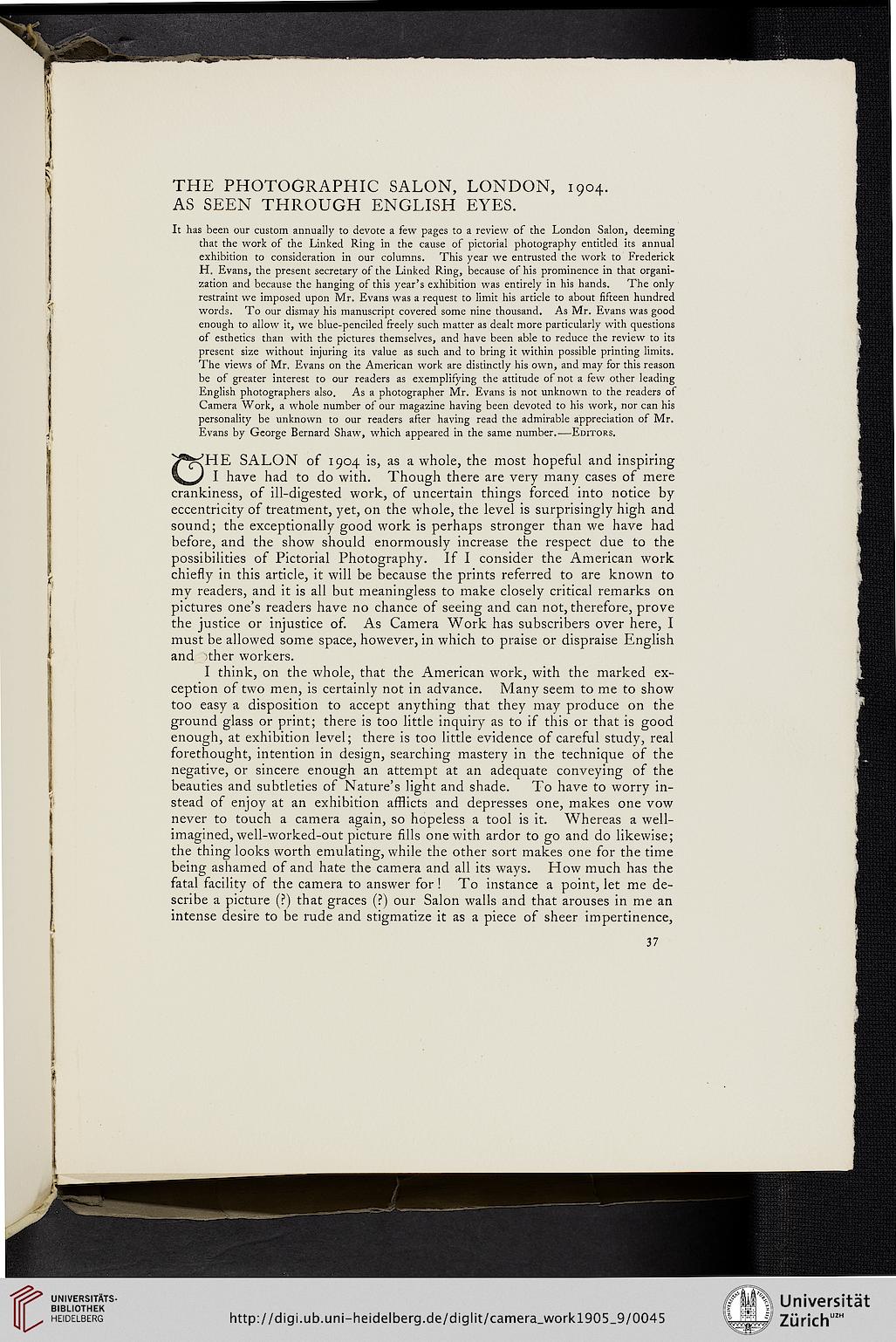 A manually made transcription or edition is also available for this page. Please change to the tab "transrciption" or "edition."
THE PHOTOGRAPHIC SALON, LONDON, 1904.
AS SEEN THROUGH ENGLISH EYES.
It has been our custom annually to devote a few pages to a review of the London Salon, deeming
that the work of the Linked Ring in the cause of pictorial photography entitled its annual
exhibition to consideration in our columns. This year we entrusted the work to Frederick
H. Evans, the present secretary of the Linked Ring, because of his prominence in that organi-
zation and because the hanging of this year'sexhibition was entirely in his hands. The only
restraint we imposed upon Mr. Evans was a request to limit his article to about fifteen hundred
words. To our dismay his manuscript covered some nine thousand. As Mr. Evans was good
enough to allow it, we blue-penciled freely such matter as dealt more particularly with questions
of esthetics than with the pictures themselves, and have been able to reduce the review to its
present size without injuring its value as such and to bring it within possible printing limits.
The views of Mr. Evans on the American work are distinctly his own, and may for this reason
be of greater interest to our readers as exemplifying the attitude of not a few other leading
English photographers also. As a photographer Mr. Evans is not unknown to the readers of
Camera Work, a whole number of our magazine having been devoted to his work, nor can his
personality be unknown to our readers after having read the admirable appreciation of Mr.
Evans by George Bernard Shaw, which appeared in the same number.—Editors.
THE SALON of 1904 is, as a whole, the most hopeful and inspiring
I have had to do with. Though there are very many cases of mere
crankiness, of ill-digested work, of uncertain things forced into notice by
eccentricity of treatment, yet, on the whole, the level is surprisingly high and
sound; the exceptionally good work is perhaps stronger than we have had
before, and the show should enormously increase the respect due to the
possibilities of Pictorial Photography. If I consider the American work
chiefly in this article, it will be because the prints referred to are known to
my readers, and it is all but meaningless to make closely critical remarks on
pictures one's readers have no chance of seeing and can not, therefore, prove
the justice or injustice of. As Camera Work has subscribers over here, I
must be allowed some space, however, in which to praise or
and ther workers.
I think, on the whole, that the American work, with the marked ex-
ception of two men, is certainly not in advance. Many seem to me to show
too easy a disposition to accept anything that they may produce on the
ground glass or print; there is too little inquiry as to if this or that is good
enough, at exhibition level; there is too little evidence of careful study, real
forethought, intention in design, searching mastery in the technique of the
negative, or sincere enough an attempt at an adequate conveying of the
beauties and subtleties of Nature'slight and shade. To have to worry in-
stead of enjoy at an exhibition afflicts and depresses one, makes one vow
never to touch a camera again, so hopeless a tool is it. Whereas a well-
imagined, well-worked-out picture fills one with ardor to go and do likewise;
the thing looks worth emulating, while the other sort makes one for the time
being ashamed of and hate the camera and all its ways. How much has the
fatal facility of the camera to answer for! To instance a point, let me de-
scribe a picture (?) that graces (?) our Salon walls and that arouses in me an
intense desire to be rude and stigmatize it as a piece of sheer impertinence,
dispraise English
37